Building a support network for community members operating in high-pressure and high-risk environments.
Since 2017, the CCHN has been supporting the development of negotiation tools and methods, based on its research into negotiation practices across the humanitarian sector.
We are exploring practical ways of preventing and mitigating pressure, increasing resilience and managing the impact of traumatic stress when humanitarians face personal, ethical, and professional challenges and dilemmas while negotiating under pressure, in high-risk environments and in protracted or high-stake negotiations
The project aims to enhance negotiators' capacity to operate in the most demanding contexts, helping to create a more sustainable workforce.
Our exploratory work has highlighted the need for a supportive space among our community members, providing resources and peer support.
As a response to that need, we are facilitating or developing the following activities, as part of the Community of Care project.
Introductory sessions about the project, which inform participants about stress and its impact, help de-stigmatize the issue, raise awareness and provide resilience tools. These sessions are included in some CCHN Peer Workshops but can also be held on their own.
A "Passport for Resilience" composed of several modules that people can attend separately. Together, the modules provide an extensive range of information and practical tools that can help frontline negotiators increase their resilience, enhance their ability to work sustainably in pressured contexts and stay effective during difficult negotiations.
A series of ad hoc advanced activities throughout the year, providing the community with more information, tools and methods, and offering members a safe space in which to discuss this topic with peers.
A series of retreats to explore and experiment with methods, tools and best practices for stress management and resilience during difficult negotiations. Themes include "Negotiating with non-state armed groups", "Hostage negotiation" and "Psychological pressure in negotiation". The retreats are also an opportunity for the Community of Care to meet, exchange and support each other.
This initiative is supported by a consultative working group brought together by the CCHN, composed of professionals in the fields of physical, mental and alternative health.
Most of the Community of Care activities are reserved for members of our Community of Practice.
Click on the icon above to find a list of helpful resources for you.
Insights from this project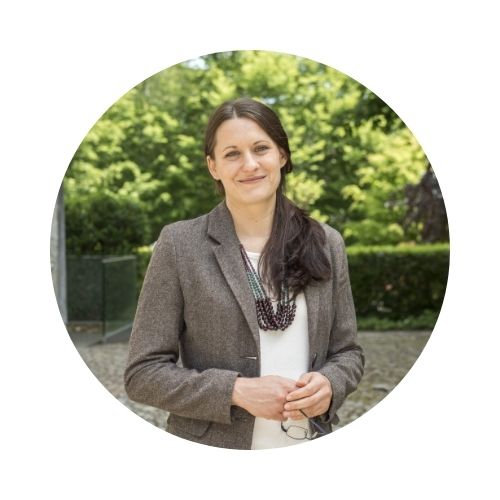 Maude Pittet Nazareno
Research & Development Project Officer