Field Manual on Humanitarian Negotiation
Our Field Manual on Frontline Humanitarian Negotiation offers a comprehensive and systematic method for carrying out humanitarian negotiations. The manual includes a set of practical tools, drawn from field practices, and a step-by-step pathway to plan and implement negotiation processes in a structured and customized way.
The negotiation model presented is intended to assist humanitarian professionals and their team to plan and review negotiation processes in a systematic and critical manner. It also provides various exercises informed by field practice to test one's knowledge and experience in addressing some of the recurring difficulties and constraints confronting humanitarian negotiators.
The first edition was launched in December 2018. Later in November 2019, we updated its contents with additional practical tools. Our Field Manual is now available in PDF for free download and in the hardback version to purchase. It is translated into French and Spanish.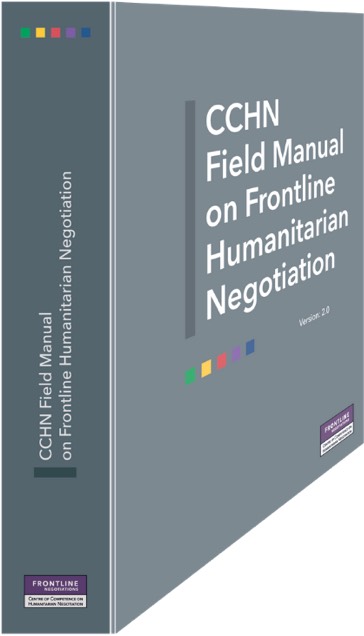 In addition to our Field Manual, we have developed a comprehensive toolkit for those who conduct humanitarian negotiations for the purpose of assisting and protecting populations affected by armed conflicts and other forms of violence. Some of them are used to deliver learning contents during our community workshops and sessions. While the others can directly be used for planning a negotiation step-by-step with your team and for you to connect and network with our global community of frontline negotiators.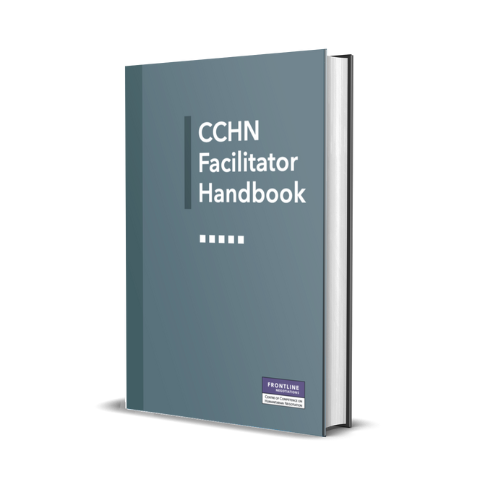 Facilitator Handbook
Our Facilitator Handbook provides all the information and references needed to facilitate a peer workshop with members of staff on humanitarian negotiation. We mainly use it during the Training of Facilitators as a guide to building our community of facilitators' own skills in presenting and using our tools and methods. Our facilitators have it as guidance when delivering our tools and methods during Peer Workshops.
Download
Order Item
French version
Spanish version
Arabic version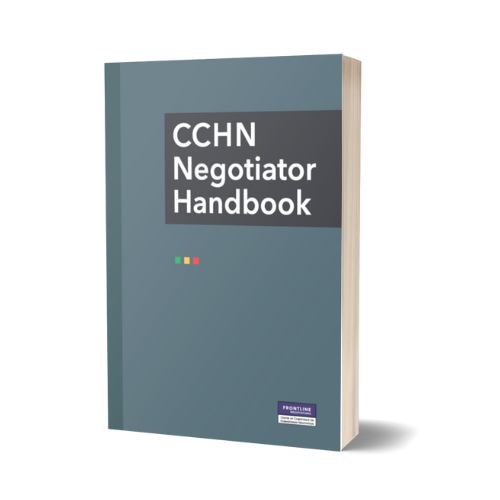 Negotiator Handbook
Our Negotiator Handbook offers a set of updated negotiation tools that we have developed, for direct use in current negotiation processes. It outlines how to apply each tool in the Field Manual with background guidance and step-by-step instructions. During our Peer Workshops, it also serves as the point of reference for participants.
Download
Order item
French version
Spanish version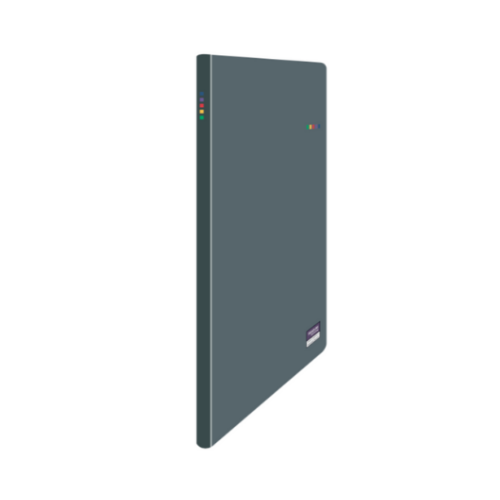 Negotiator Notebook
Our Negotiator Notebook is designed for note-taking during meetings and includes fact sheets related to humanitarian negotiation. It includes a set of cards of our negotiation tools which you can refer when planning a negotiation. With our Negotiator Notebook, you always have essential negotiation tools and concepts in hand.
Order Item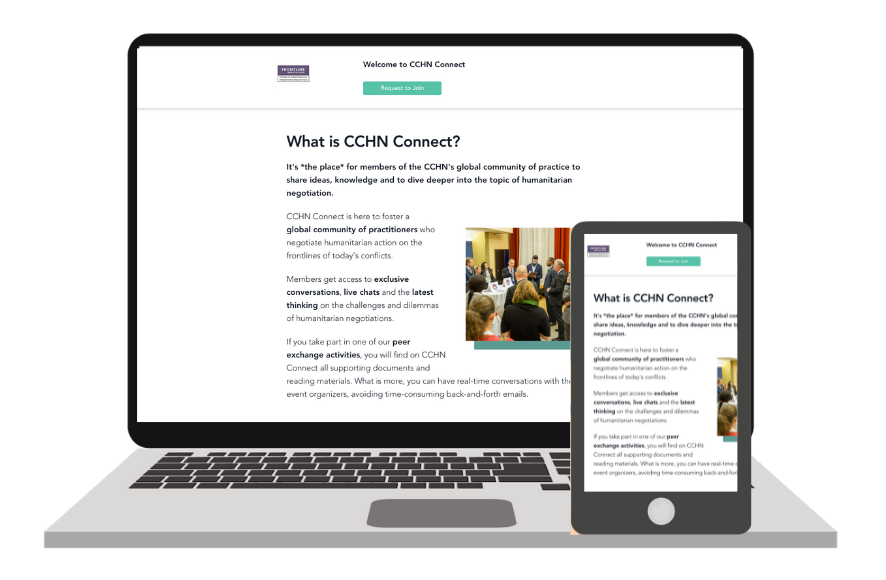 CCHN Connect
CCHN Connect is a community-powered online forum on humanitarian negotiation. It provides a platform for humanitarian professionals to discuss the challenges and dilemmas of humanitarian negotiations and connect with peers from around the world. The forum is packed full of interviews with frontline negotiators, blog series, research papers, and more. Accessible only for our Community of Practice members.
Sign in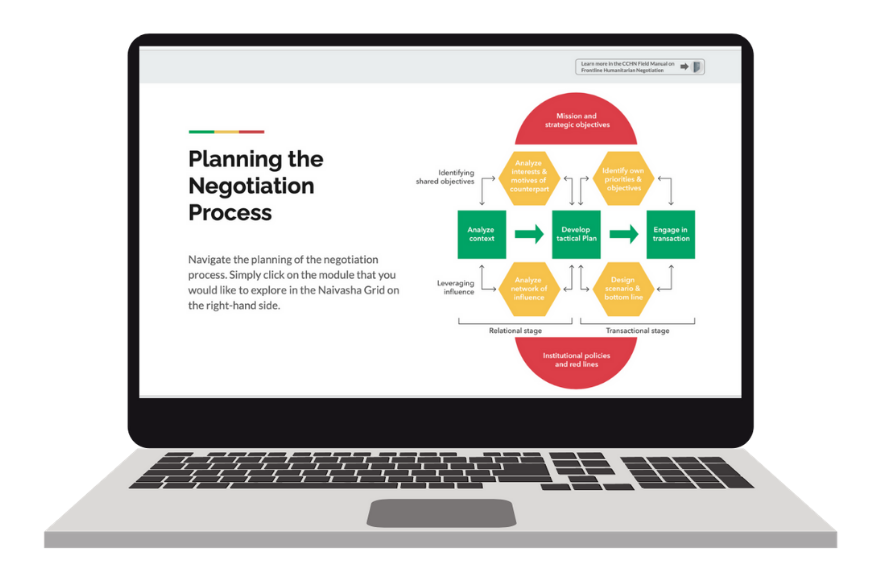 Case Studies
Our Case Studies present the application of the negotiation tools of the Field Manual to real-life situations from the field that have been synthesized and decontextualized for the purpose of the exercise and maintaining confidentiality. Each case study takes you through a negotiation process, illustrating the implementation of key tools at the different stages of the process.
Find out more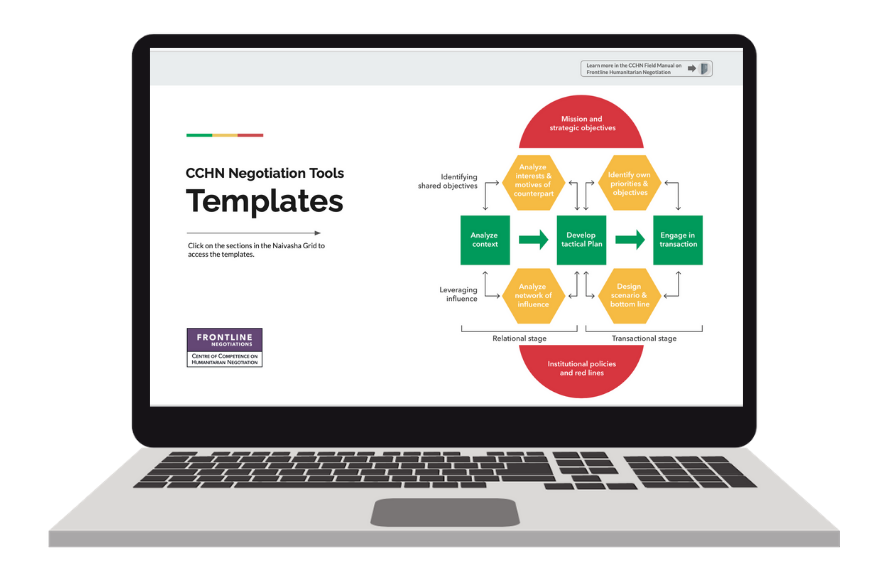 Negotiation Tool Templates
These Negotiation Tool Templates are featured in our Field Manual. They have been adapted and made accessible for every-day use to plan a negotiation in field operations. Each negotiation tool can be previewed online and downloaded for practical use.
Find out more
Publications
We collaborate with researchers and leading research institutes to conduct various studies to support the humanitarian efforts of frontline negotiators. After our flagship meetings, discussions and formal gatherings, we publish reports linked to the role of humanitarian negotiations on emerging topics and contexts. To feed evidence and importance on frontline negotiations into the wider humanitarian debate and policymaking, we also feature related publications from our Community of Practice members.