Drawing on the collective experience and perspective of hundreds of humanitarian practitioners, we have gathered a unique understanding of humanitarian negotiation practices. In December 2018, we published the first version of our Field Manual on Humanitarian Negotiation, which was later updated with additional tools in November 2019.  
Our Field Manual offers a set of concrete tools and methods called the Naivasha Grid, to plan and prepare negotiation processes for the purpose of assisting and protecting populations affected by armed conflicts and other forms of violence.  
The negotiation model presented is intended to assist humanitarian professionals and their teams to plan and review negotiation processes in a systematic and critical manner. It also provides various exercises informed by field practice to test one's knowledge and experience in addressing some of the recurring difficulties and constraints confronting humanitarian negotiators. 
Our Field Manual is now available in PDF for free download and in the hardback version to purchase. It has been translated into French and Spanish.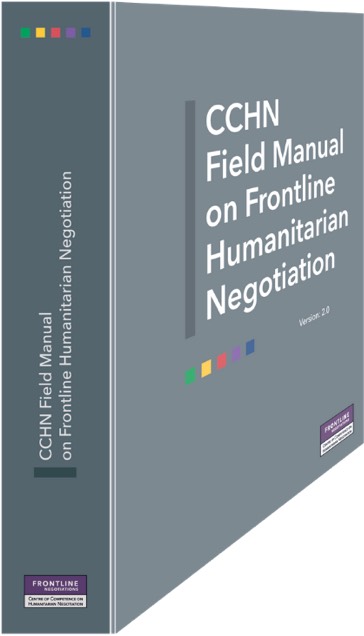 Planning & Implementing a Negotiation Strategy
Using a set of practical tools in our Field Manual on Frontline Humanitarian Negotiation, you can plan and implement a negotiation strategy through this step-by-step pathway: 
Analyze complex negotiation environments;
Assess the position, interests, and motives of all the parties involved;
Build networks and leverage influence;
Define the terms of a negotiation mandate and clarify negotiation objectives;
Set limits (red lines) to these negotiations;
Identify specific objectives and design scenarios; and
Enter transactions in an effective manner to ensure proper implementation.
The learning process in our Field Manual is organised around a set of negotiation tools within the Naivasha Grid. The Naivasha Grid is the result of an iterative process that started with an informal meeting of 25 frontline negotiators of the ICRC in Naivasha, Kenya, in November 2014, during the course of which participants reflected on the common features of their negotiation practice. 
While providing an analytical tool to observe and review humanitarian negotiation processes, the Naivasha Grid also serves as a map to plan the successive tasks, roles, and responsibilities between the frontline negotiators, their support team, and the mandator and organisation responsible for framing the negotiation exercise in a given mandate. 
The Green Section of the Naivasha Grid focuses on the roles and tasks of the frontline negotiator, while the Yellow and Red Sections examine those of the negotiator's support team and the mandator. 
Learn more