"Frontline Negotiators": The CCHN podcast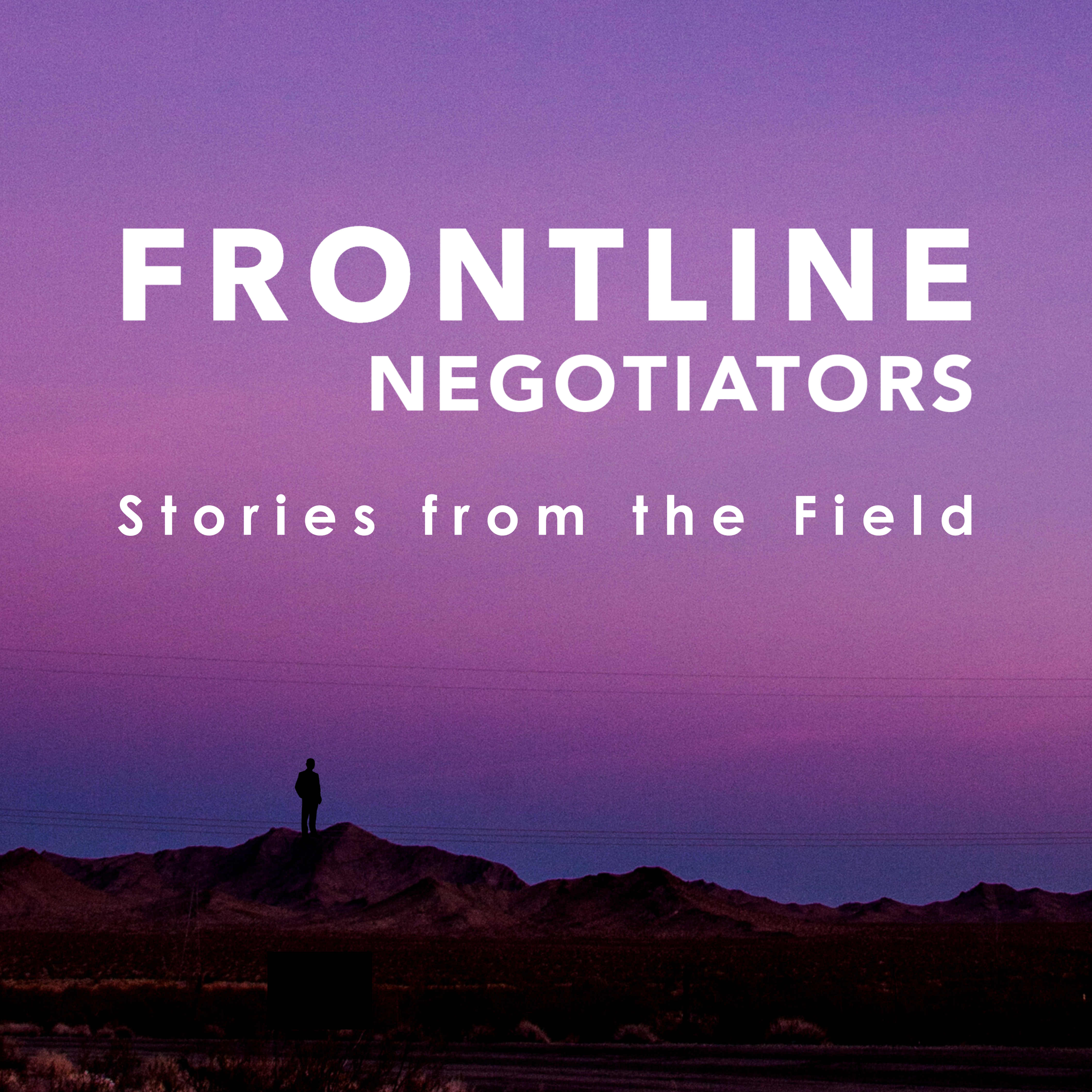 Every day, humanitarian workers negotiate with different counterparts – from armed groups to government authorities, and from religious leaders to displaced communities – to deliver aid in crisis situations. To negotiate successfully, these professionals need to carefully analyse the situation, create a strategic plan, and manage very high pressure.
In "Frontline Negotiators: Stories from the Field", we will guide you through personal stories told by humanitarian professionals who negotiate to access, assist and protect people in crises.  The first season was launched on the occasion of International Podcast Day, 30 September 2022.
New episodes released every two weeks
Season 2 of the "Frontline Negotiators" podcast was launched on all platforms on 6 September 2023. We release a new episode every other Wednesday. Subscribe to our channels and follow us on social media for updates!
Season 2: The trailer
Get a sneak peek of the stories you'll hear in the upcoming podcast season!
Subscribe to our channels
"Frontline Negotiators: Stories from the Field" is available on the following platforms. If none of them is available in your region, contact us for additional options.
1. Valerie Guarnieri's story | Setting the negotiation red lines for thousands across the globe
Valerie Guarnieri is the Assistant Executive Director at the United Nations' World Food Programme (WFP).
In this episode, we talk to her about her first experiences negotiating on the ground, her many lessons learned, and the enormous challenge of setting up institutional policies and red lines for thousands of frontline negotiators all around the globe.
2. Stephen's story | From British army officer to humanitarian negotiator
Stephen Kilpatrick first arrived in Tehran in 2003 to start a dialogue with the Iranian Revolutionary Guards. He did not expect he'd be left waiting for a meeting for 28 days.
We're about to hear from this former British army officer turned humanitarian professional as he recounts incredible negotiation stories from the time he spent in Iran, but also Africa and the Balkans, and the many learnings he picked up along the way.
3. Precillar's story | Understanding a counterpart's deeper reasoning and motives
It's the month of May in Iraq. The summer heat is scorching in the camp. Since tankers stopped getting in, people are quickly running out of drinking water and tensions are rising with the authorities. That's when Precillar  Moyo decided to sit down with her team, analyse to the situation and come up with a negotiation strategy.  
Join us as we hear from her about how teamwork and reflection can positively impact the outcome of any negotiation process. 
4. Luca's story | Finding common ground across borders
It can be hard to create rapport and find a shared interest between people who see the world very differently.
In this episode, Luca Falqui – a medical doctor with a 30-year-long humanitarian career mostly spent around Asia – explains why empathy, strategic thinking, and even a white beard can help deliver life-saving healthcare in crisis situations.
5. Raquel's story | Local communities: allies, intermediaries or counterparts?
When men in uniform stopped her at a checkpoint and refused to let her through, Raquel Moreno was quite surprised to see her fellow bus passengers step up to help. However, just a few years later, it was a group of civilians who blocked her truck and forced her team to flee, leaving all the humanitarian assistance behind.  
Whether as sympathetic allies, tough counterparts or go-betweens, local community members play a critical role in most humanitarian negotiations. Let's hear what Raquel has learned from her experience negotiating with and for people in crises. 
6. Julia's story | Shifting the negotiation focus to your advantage
Great negotiators know how to make tough conversations easier – for example by picking the right interlocutor, the most convincing team members, and the least controversial topics. In this episode, Julia Paola Garcia Zamora provides some great examples of how one can de-politicise a difficult negotiation by shifting its focus to more practical matters.
7. Rehan's story | When negotiating means thinking outside the box
Sometimes negotiating means finding creative solutions to get around a deadlock. In this episode, we hear from Rehan Zahid – Deputy Director of the Centre of Competence on Humanitarian Negotiation (CCHN) – whose expertise is lent by our partner, the World Food Programme.
Rehan has been involved with the CCHN since its creation. He has agreed to share some of the most interesting negotiation processes he experienced firsthand, when creativity really made a difference for many people in crisis.
8. Maria's story | The power of collective negotiations
When humanitarian agencies come together to negotiate for the same outcome, their leverage is stronger. But how do you coordinate a team of negotiators from different organisations?
In this episode, Maria Duncan explains why carefully composing the team and taking advantage of each member's expertise can do the trick in a complex negotiation.
1. Ana's story | The artistry of negotiation
Ana Daza, a former video-maker from Colombia, completely turned her life around when she took her first humanitarian job. She now works in challenging, high-pressure conflict situations amidst armed groups. She takes care of her mental health by cultivating her passion for art and relying on the support of her team.  
2. Kiran's story | Relying on negotiation tools to deal with armed groups
Kiran Kothari began his humanitarian career in the early 2000s, in the context of the Sri Lankan conflict, and has since then worked on several humanitarian missions internationally.
In this episode, Kiran shares about relying on the "Naivasha Grid": a methodology developed by a group of humanitarians meeting in Kenya in 2014 and a handy tool to prepare for and carry out all humanitarian negotiations. 
4. Nana's story | Preparing is just as important
Just like many of her colleagues, Nana Kharbedia – a humanitarian professional from Georgia – was often thrown into a negotiation without getting much preparation beforehand. In these situations, she had to make do by relying on her expertise and gut feeling.
From dealing with tribal leaders in South Sudan to ministers in Bosnia, Nana shares how she learned to prepare for a negotiation process in a strategic way.
5. Innocent's story | Learning local customs to build trust in a negotiation
In 2016, Innocent Sauti left his home in Zimbabwe to take up a humanitarian mission in Myanmar. Originally a teacher, he had seen the positive impact of international aid on school attendance and had decided to switch careers to join the World Food Programme.
In this episode, Innocent shares what it meant for him to leave the African continent for the first time and to start anew in a very distant and unfamiliar part of the world.
6. Dariha's story | When you identity shapes the negotiation outcome
Dariha Erketaeva is a humanitarian professional from Kyrgyzstan – a country that, she says, "very few people know about". Throughout her career and many negotiations, she's often found it challenging to be taken seriously as a young woman, as a person from a distant Asian country, or as a non-Arabic speaker.
In this episode, Dariha reflects on how the way one looks, acts, and is perceived by a counterpart can impact dramatically the outcome of a negotiation process, and how she found practical solutions to overcome the problems.
7. Apostolos' story | From medical doctor to negotiator
Working in a European country in times of peace can be just as challenging as in any other crisis around the world.
In this episode, we hear the story of medical doctor Apostolos Veizis, who returned to his native Greece after many years spent on humanitarian missions abroad. He tells us about negotiating with people escaping disasters and conflict, but also – and most importantly – with his own self.
8. Igor's story | From toy maker to helping refugees in Moldova
The Centre of Competence on Humanitarian Negotiation conducts research to better understand the challenges and dilemmas faced by humanitarian negotiators on the frontlines. Interviews are conducted with not only humanitarians but also academics, policymakers and civil society workers.
Currently, the CCHN is researching the response to the refugee crisis in Ukraine and surrounding countries. The Research team travelled to Moldova, where people are taking on new 'professions' overnight to support the displaced as best as they can. One of them is Igor Hincu, a social entrepreneur who is helping refugee children express and relieve negative emotions thanks to his toy-making business.
9. Mariana's story | How language skills can help in negotiations
Mariana Ariestyawati, from Indonesia, tells us how she used her interpreting skills in a time of crisis and helped her team build trust with people they had to negotiate with.
In her career, she's been an interpreter and teacher. She started out in Journalism, where she realised she was interested in humanitarian work.
Are you an interpreter or working with interpreters? Every month, the CCHN holds thematic group discussions on negotiating with interpreters. Read these insights on how to avoid the potential pitfalls of negotiating with interpreters.