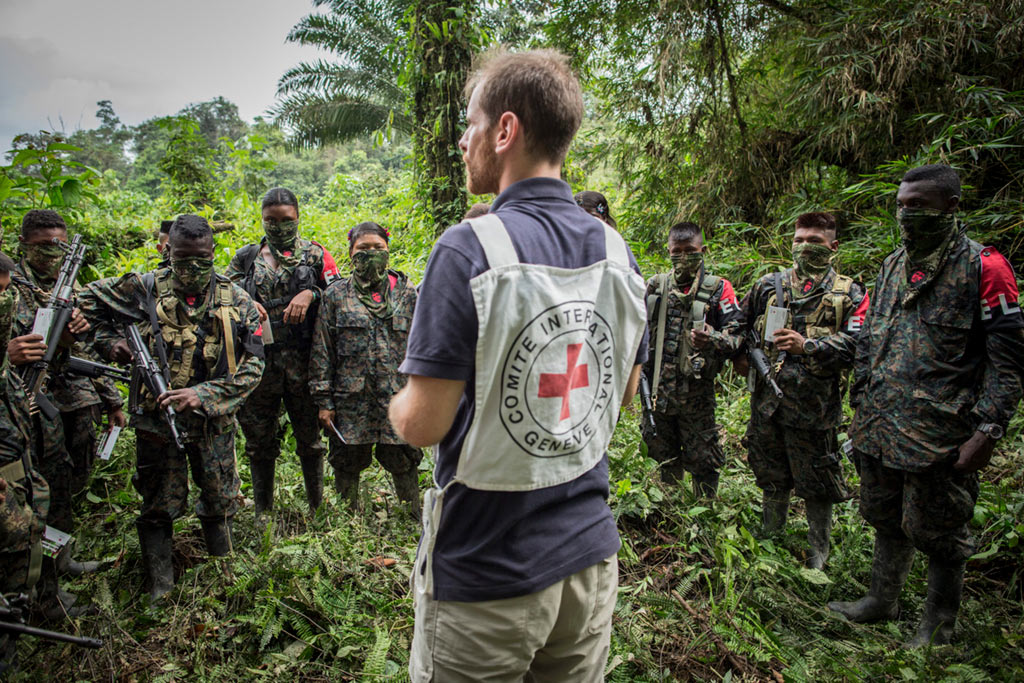 Chocó Chocó Department. An ICRC employee speaks to members of the ELN armed group about the principles of the international humanitarian rights and the obligation to respect the lives of the civilians. Photo Credit: ICRC/Juan Arredondo
Humanitarians operating on the front lines of today's armed conflicts need to employ a skill set that combines both wit and tactics in order to overcome the strength and territorial supremacy of their armed group counterparts. In this article, we explore the challenges that humanitarians face when negotiating with non-state armed groups, the strategies available to them, and how these link to the practice of humanitarian diplomacy.
Humanitarian diplomacy is often understood as being a part of humanitarian action, and it encompasses the ever-expanding field of humanitarian negotiation. There is a close symbiosis: humanitarian diplomacy cannot truly be separated from humanitarian negotiation as it risks becoming meaningless without proximity to operational realities. Similarly, humanitarian negotiation without humanitarian diplomacy will have only a limited impact and the quality of the negotiated agreements is likely to be poor.
Common challenges with armed groups
Before discussing solutions, we first need to discuss the challenges. They partly stem from the complexity of today's global humanitarian system, which is highly decentralized and, despite a tendency to morph, is often driven by consensus. Furthermore, its foundations in humanitarian principles and international humanitarian law are used to operate in environments where the same ideology is lacking, which means humanitarians face a range of practical and operational dilemmas.
An illustrative and typical example is negotiating access with armed groups. When faced with armed groups, humanitarians often negotiate from a position of weakness. The challenges often begin within the humanitarian sector itself; at the field level, the range of humanitarian agencies is more varied than ever before. These challenges may manifest themselves as actor-dependent operational priorities, varying multiparty agreements and even different interpretations about the nature of humanitarianism, among others. This creates a complex framework for humanitarians to operate in. It is difficult for anyone individual to represent the entirety of a cause or a system, and this fragmented approach can only be an impediment for effective negotiation.
When one considers negotiation counterparts, the question of what and who constitutes an armed group is important in different contexts. Not all armed groups are open to negotiation and humanitarians often cannot or will not negotiate with terrorist groups, for example. Negotiation counterparts, such as armed groups, recognize these scattered approaches and complex dynamics and may use them to serve their own interests. Humanitarian actors may be played off against each other or set up to compete within a given sector. Even if a green light is given, the endeavour may be torpedoed at the next stage because of practical difficulties in gaining access or because the potential risks and dangers are too great.
Overcoming the power asymmetry
The good news is that humanitarians can negotiate access and delivery of aid more effectively than the odds against them would suggest. Despite the above-mentioned challenges, and sometimes because of them, humanitarians have a range of tactics and strategies at their disposal.
Enhancing the capacity to deal with armed groups, at individual and institutional levels, has proved effective, as have stronger policies and research. Capacity can be enhanced through training, cooperation with different humanitarian actors, tapping into the knowledge of local and experienced staff members, building relationships and repetition. Building trust is an important activity for humanitarians to demonstrate their impartiality and neutrality. Generally, humanitarians should not undermine their own non-intimidating qualities, as that is often where the dialogue for trust and relationship-building begins.
Another crucial tool is demonstrating awareness of the context. One of the most effective ways of doing this is to take into account the interests of the negotiation counterparts. Humanitarians should ask themselves what the armed group in question is aiming for. An armed group's goals may include maintaining and increasing its legitimacy or reputation, or substituting the provision of a certain service that it provides with something else.
Importantly, humanitarian strength sometimes lies in the interconnectedness of our world. The opportunity to be at the negotiating table with a prominent, international humanitarian organization may give an armed group a sense of legitimacy, which may be further boosted by the signing of a ceasefire or peace agreement. Leveraging third parties, such as lobbying the UN Security Council, is another option at the international level. Alternative methodologies are another avenue to explore; we should ask what can be done remotely (a timely conversation given the COVID-19 pandemic) or through local partners. Sometimes, the question should be about what not to do – withdrawal and conditionality can be acceptable tactics in certain situations.
Humanitarian diplomacy: the praxis between the apolitical and political
By engaging in negotiations with armed groups, humanitarians are helping to set the international political agenda, whether they agree with it or not. Humanitarian negotiations are central to world affairs – and not peripheral, as they might once have been perceived. These negotiations are inherently political: the frontline diplomacy takes place at the frontlines of ongoing conflicts. Humanitarians are engaging at unprecedented levels and shaping the political reality in which other actors operate, such as traditional state diplomats and their respective foreign and security interests.
Navigating this political humanitarian arena is where humanitarian diplomacy serves as a useful instrument, using diplomatic methods and tools to achieve humanitarian aims. Humanitarian diplomacy embodies humanitarian pragmatism and, where applicable, compromise. In humanitarian diplomacy, humanitarian principles are a route map but not the final destination, as Ashley Clements[1] states, "Failure to make some level of ethical compromise through negotiation risks fetishizing humanitarian principles at the expense of addressing humanitarian needs. These principles – fundamental and foundational though they are a means to an end and not an end in themselves."
If humanitarian needs are dire, there is often a race against time to meet them, but the obstacles may get more difficult to overcome. Neglecting humanitarian diplomacy or approaching it in an ad hoc manner can limit the humanitarian impact. By integrating humanitarian diplomacy and its practices into practitioners' work in a cognizant and reflective manner through learning, training and expertise, humanitarians are better equipped to navigate operational realities in a sustainable way. When trying to find solutions to complex settings, a core part of humanitarian diplomacy means involving all official and non-official stakeholders in the humanitarian context, including armed groups.
This article is the result of a face-to-face seminar and a webinar, "The Front lines of Diplomacy: Humanitarian Negotiations with Armed Groups", held on 1 October 2020 at Bergen Global in Bergen, Norway. The event featured a presentation by Ashley Jonathan Clements (consultant) and comments from Marte Nilsen from the Peace Research Institute Oslo (PRIO) and Salla Turunen from the Chr. Michelsen Institute (CMI). You can also view a recording of the event.
[1] A.J. Clements, Humanitarian Negotiations with Armed Groups: The Front lines of Diplomacy, 1st ed., Routledge, London and New York, 2020, p. 183.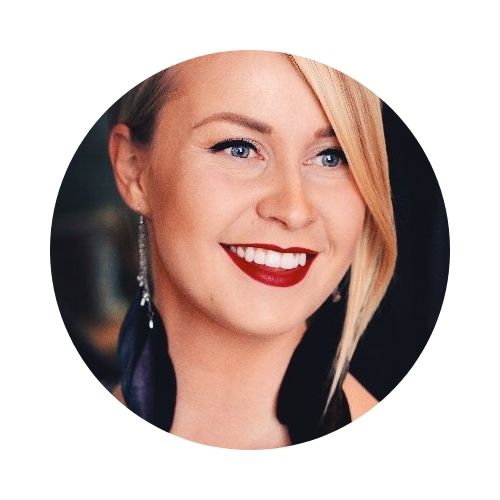 Salla Turunen is a doctoral researcher at the CMI and the Department of Comparative Politics at the University of Bergen, Norway. With a background as a practitioner with the UN, her research investigates the articulation of humanitarian diplomacy and negotiations in complex emergencies, with the aim of informing both academic debates and contributing to the work of humanitarian professionals. Her current research work at the UN is part of a research project, "Humanitarian Diplomacy: Assessing Policies, Practices and Impact of New Forms of Humanitarian Action and Foreign Policy", which is funded by the Research Council of Norway.
The views expressed in this article are those of the author and do not necessarily reflect the official opinion of CCHN nor any of its Strategic Partners.