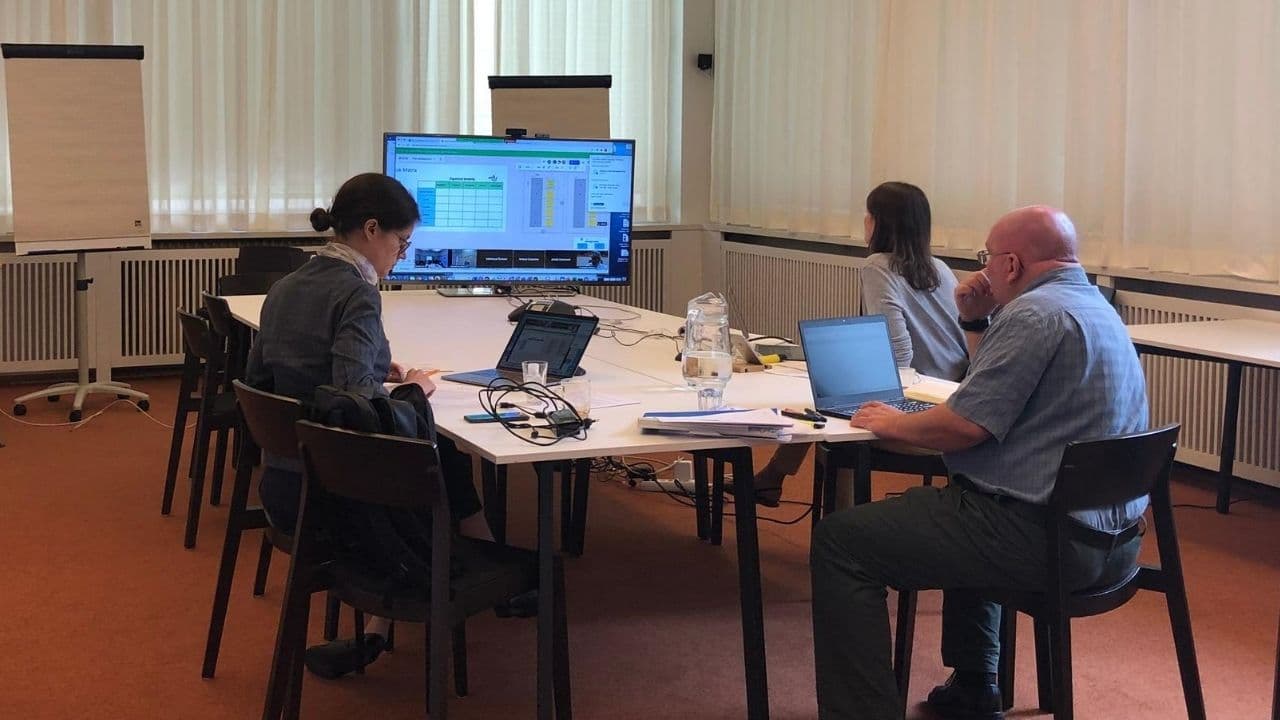 Group work during hybrid briefing session in Caux, Switzerland. (Photo credit: Agusmia Putri Haerani/CCHN)
Impacted by the global pandemic of COVID-19, many humanitarians have switched to online training and self-development activities to prepare themselves in maintaining their programs under the current circumstances. To continue providing support for frontline negotiators and humanitarian staff in the Middle-East, CCHN has provided not only online but also hybrid events in a series of Summer Briefing Sessions on the Response to COVID-19.
The CCHN Summer Briefing Sessions on the Response to COVID-19 in the Middle East were organized to prepare humanitarian practitioners in the region confronted with specific challenges and dilemmas related to the current health crisis and its social and humanitarian impact. It was designed in three different online and hybrid sessions; focusing on informing the current public health situation, developing required negotiation techniques and skills in crisis, and preventing and mitigating risk in a negotiation impacted by the pandemic.
From Public Health, Negotiation Skills to Mitigating Risk
"We have continued to seek ways of supporting humanitarian negotiators in a meaningful way even in the face of the pandemic. The hybrid briefing session with onsite locations in Jordan, Oman and Switzerland, is away for the CCHN to combine both elements of onsite and online into one platform where participants that are able to meet in person are able to engage with those who are only available to participate online. Combining online with onsite presents new opportunities to reach humanitarian negotiators, and when possible, the CCHN will rollout this method more widely in the future," explained Claude Bruderlein, CCHN Director.
After the three sessions of the online briefing, we invite the participants to apply to the Advanced Professional Certificate on Crisis Negotiation taking place from 20 – 24 September 2020. This Advanced Professional Certificate is also to serve middle to senior managers working on the crisis response from governments, national, and international agencies with a minimum of 5 – 7 years of relevant experience. 
Hybrid Session: Strengthen the Peer-to-Peer Engagement
As experiential learning and peer exchanges lie at the heart of our activities, we have tried different approaches to ensure the incorporation of these elements during our online activities. Recently, COVID-19 measures have been eased in some countries. Therefore, we decided to organize the last summer briefing session on 'How to Prevent and Mitigate Risks in a Negotiation' in a whole-day hybrid event. The event was hosted in Caux, Switzerland, at one of our Scientific Collaboration Partners, the Initiative Changes Switzerland.  
During the hybrid event, we connected the onsite participants in Caux, Switzerland; Amman, Jordan; and Muscat, Oman, as well as around 40 online participants based in different countries in the Middle East. The onsite working groups were remotely organized thanks to our community members in Amman, Jordan, and in collaboration with ICRC Oman and Oman Charitable Organization (O.C.O). 
Yesterday, we organized the first 𝗛𝘆𝗯𝗿𝗶𝗱 𝗢𝗻𝗹𝗶𝗻𝗲 𝗕𝗿𝗶𝗲𝗳𝗶𝗻𝗴 𝘀𝗲𝘀𝘀𝗶𝗼𝗻 hosted at @caux_iofc. We connected onsite participants in Amman, 🇯🇴 & Muscat 🇴🇲 in coordination with 𝗜𝗖𝗥𝗖 𝗢𝗺𝗮𝗻 (@ICRC_kw) and @ocooman, & 40 online participants in the Middle-East. pic.twitter.com/TIHExW80zE

— Centre of Competence (@frontline_nego) July 23, 2020

At the beginning of the event, Claude Bruderlein gave a presentation and engaged with both online and onsite participants before dividing them into working groups. With a facilitator in each working group, the participants were asked to work on an exercise about a fictional negotiation case during the COVID-19, designed by Pascal Daudin, a risk negotiation expert and a former ICRC Senior Policy Adviser on humanitarian action. During the afternoon session, we connected directly online and onsite participants to perform a multiparty negotiation, led by Robert Weibel, founder of the Centre of Experiential Negotiation and Applied Diplomacy (CENAD). 
Whil

e

 

the COVID-19 pandemic measures 

remain in effect

, 

the 

CCHN will continue to 

offer

 online and hybrid events to 

continue

 

support 

for

humanitarians all over the world to enhance their capacity on humanitarian negotiations.