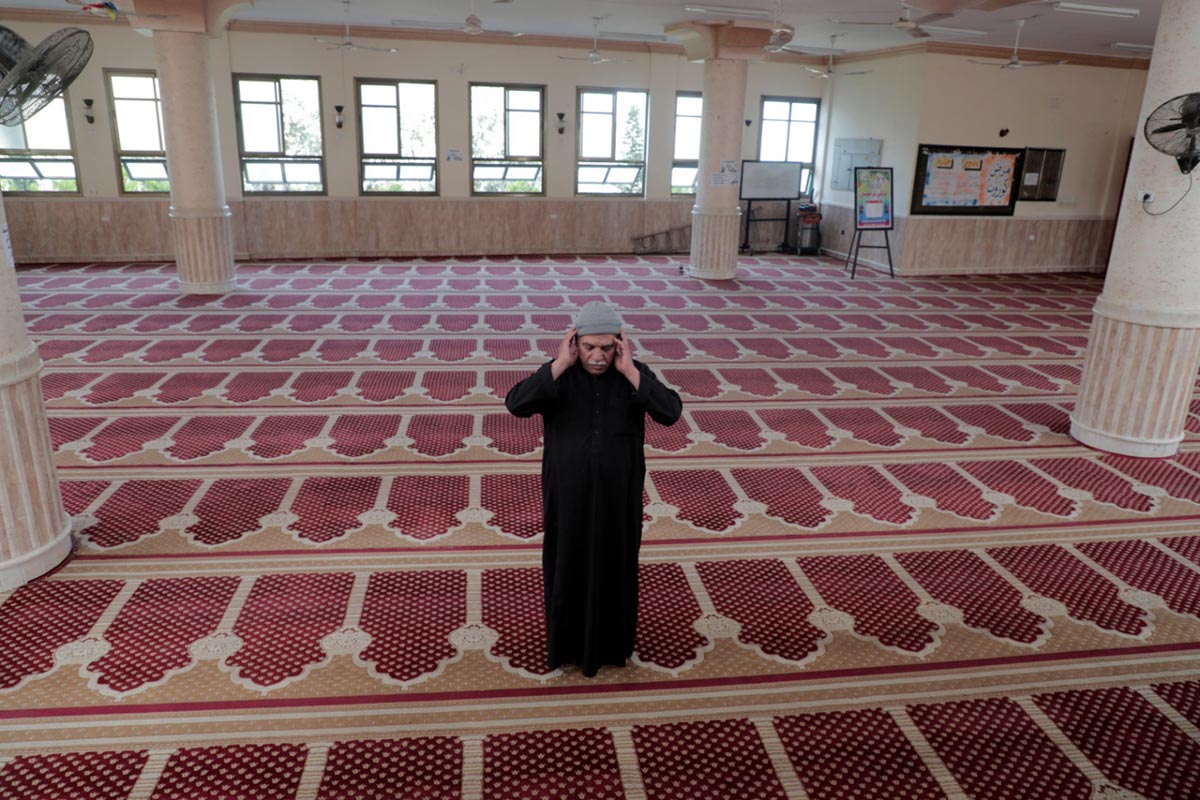 Mosques close their doors but call to prayer continues to ring out in Gaza; reminding people to perform their prayers at home to limit public gatherings. (Photo: Mohammed Zaanoun)
During the growing global turmoil over the COVID-19 pandemic, physical distancing measures become essential, so responding to the communication needs of people and providing them with necessary information remains a key element in humanitarian response.
Also, the impact of the pandemic in armed conflict zones poses an additional set of challenges to vulnerable populations that are already suffering from dense population, poor water and sanitation services, and/or limited access to accurate information. That is why providing timely and reliable information on the pandemic and prevention measures to vulnerable communities is an essential element to save their lives.
Disseminating Accurate Information on the Pandemic and the Measures
In many of these conflict zones, religious and community leaders are well respected among their communities. Their unique mastery to maintain social and supportive connections with their communities, as well as their capacity to reach out to the most vulnerable ones, have privileged them to act as a voice of their communities and to advocate for their needs. In Gaza for example, community and religious leaders have been actively endorsing accurate information on the pandemic and on preventive measures, as well as helping to reduce and prevent stigma. With their powers of persuasion and competence over religious texts that promote the virtues of well-being and healthy living in people's values, and with them being positive role models, their role becomes even more significant in times of public health crises.
This is the reason why the International Red Cross Committee (ICRC) continues partnering with community and religious leaders: to ensure the connectivity of local communities with the evolving situation, notably the most vulnerable ones.
Early on in the COVID-19 crisis, the ICRC in Gaza mobilized key influencers from religious and community leaders to counter stigmatizing attitudes. They were asked to lead on public campaigns to raise public awareness on the issue – through WhatsApp, radio spots, TV Interview, and Friday sermons. Alongside, Islamic circles in many Muslim countries have adopted a series of measures aimed at controlling the spread of the pandemic, like shutting down mosques to limit public gatherings due to COVID-19.
Enhancing good practice through social distancing
The efforts and response to the pandemic by religious and community leaders in Gaza have been impressive. New ways of communication were adopted to maintain spiritual, social, and supportive connectivity with communities. These include for example virtual broadcast sermons and preaching sessions via social platforms, radio, and TV. On top of that and apart from faith practices, they are broadcasting online the preventive and safety guidelines issued by the World Health Organization (WHO) and the Gaza health authorities, as well as promoting values of collective humanitarian action and community solidarity.
Building on available technology and other engaging and connective communication tools i.e. social media platforms, the ICRC has been contributing to different actors of influence to craft culturally appropriate messages on the pandemic and capitalizing on the local values and spiritual beliefs. The use of local proverbs and religious texts, for instance, are more likely to resonate among local communities and hence encourage them to understand and adopt safe practices.
Mastering good practices during social distancing comes only when maintaining social and supportive connections with vulnerable members of the community. To keep up the spirit of global solidarity and meet the challenges of the pandemic partnering with local and influential actors and supporting local initiatives is a key component of the humanitarian response. Above all, religious and community leaders are well-positioned to support the local and global efforts with their moral and spiritual leadership.
Yousef Alyazji is a member of CCHN Community of Practice who has been working with ICRC Sub-delegation in Gaza since 2012; assuming the role of Head of Communication and Prevention. Yousef leads select networking files to maintain and strengthen relations with key actors of influence. He initiates, manages, and implements a consistent program of dissemination; with the aim to enhance the ICRC's acceptance and to promote IHL amongst them.
CCHN provides a space for the Community of Practice members to share their experiences and good practices in the contexts that they are working on for informative purposes. The views expressed in this article are those of the author and do not necessarily reflect the official opinion of CCHN nor any of its Strategic Partners.