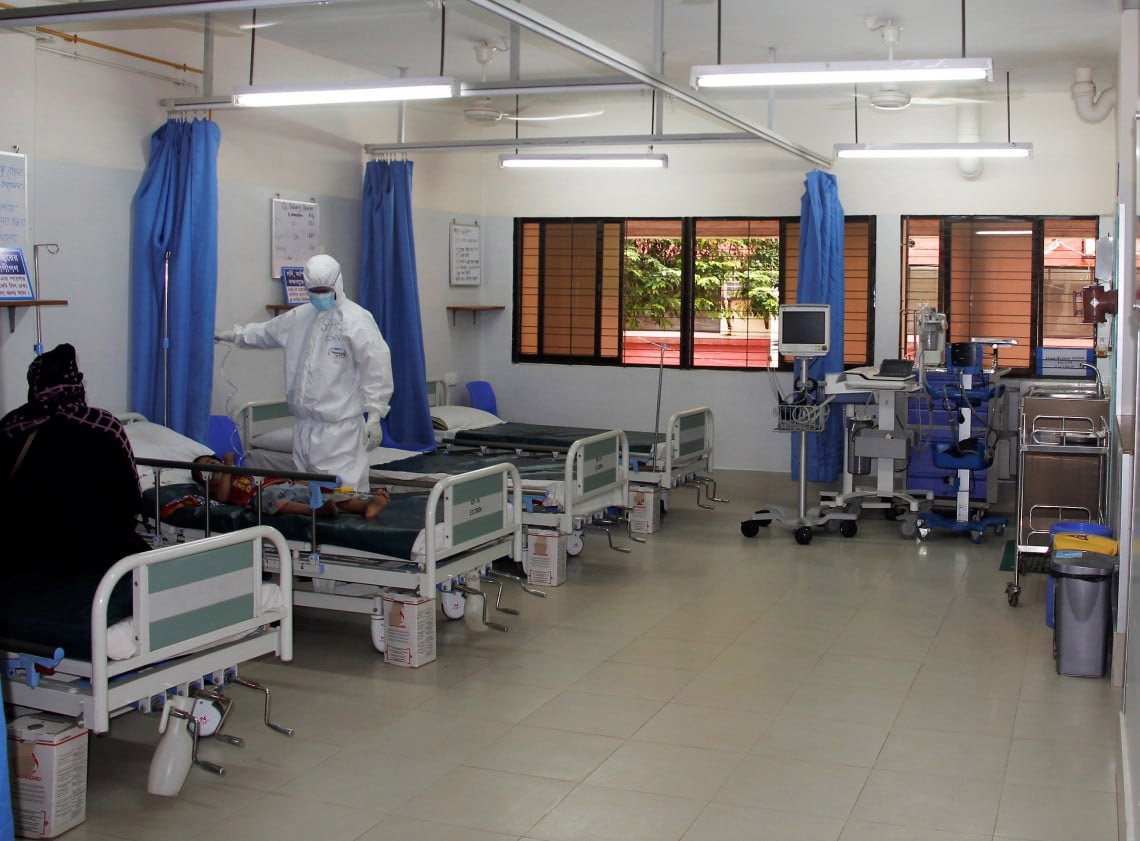 A patient is receiving emergency medical care at the ten-bed isolation centre in the emergency department of Cox's Bazar Sadar Hospital, renovated by the ICRC. (Photo Credit : M Karim / ICRC)
All staff related to the provision of healthcare to the population are playing an important frontline role to provide the best service among COVID-19 affected patients in Bangladesh. While operating under challenging conditions with a lot of limitations, these frontline healthcare workers need to be guaranteed some protection to continue saving lives and prevent the spread of the virus. Yet, having access to provide protective gear for healthcare frontliners is not instantly granted. By building strong relations with the government, ICRC managed to gain the trust to support them in responding to the pandemic issues, such as prioritizing the safety of COVID-19 healthcare workers.
In response to the current needs, ICRC in Bangladesh is working closely with the authorities to respond to COVID-19 and maintaining close cooperation with the authorized hospitals specifically assigned to take care of COVID-19 patients. Apart from protecting healthcare services, there has been a need to open negotiations related to other critical areas of concern in response to the COVID-19, not only in Cox's Bazar but at the national level as well. These negotiations were possible, on account of sustained engagement and well-established relationships between the ICRC and the government of Bangladesh.
Supplying Emergency COVID Kits
Since the first cases reported in March 2020, a huge number of health workers in Bangladesh have been regularly exposed to COVID-19, allegedly they treated patients without or with lower quality Personal Protective Equipment (PPE). Nearly 100 physicians have since died, and many health professionals have so far been infected while they were discharging their duties in the COVID-19 assigned hospitals. The Bangladesh Medical Association (BMA) said in its latest data updated on July 30 that there were 2458 who have contracted the virus, raising the number of infections among health workers to 7,086. This means, over 11% of doctors and health staff have been infected hindering the delivery of healthcare. 
Hence protecting the health and safety of frontline health workers is essential to tackling the shortages of frontline workers in dedicated COVID-19 hospitals, such as Sir Salimullah Medical College, Mitford Hospital and Sheikh Hasina (SSMCMH), Sheikh Hasina National Institute of Burn and Plastic Surgery (SNIBP), Mugda General Hospital, Kwuiet Moitree Hospital, Kurmitola Hospital, Charragram General hospital, and Dhaka Medical College Hospital.
As part of ICRC Bangladesh health services and collaboration, thousands of ICRC Emergency COVID Kits have been delivered to these assigned hospitals. These locally constituted kits comprise of surgical masks, hand sanitizer, hypochlorite solution, hand sprayer together with packing material, and a user guide. 
Health workers also need compassion and solidarity, not to be stigmatized, in their work of providing appropriate services to patients. Therefore, ICRC has been engaging in dialogue regarding the increasing violence against health staff and facilities due to COVID-19. The Ministry of Health (MoH) agreed that misinformation about the virus is of serious concern, and ignorance amongst the public about medical procedures is preventing optimal public health measures from being implemented. The Ministry of Health has been receptive to increased coordination and collaboration, agreeing to work together all over the country.
To help mitigate the risk of the spread of coronavirus infection among detainees and its staff members, the ICRC recently contributed to an increase in the capacity of the Old Dhaka Central Jail accommodation centre for guards. (Photo Credit: M Alam / ICRC)
Results of Negotiations Related to COVID-19 Responses with Local Governments
Having rapidly adapted to the evolving reality of the pandemic, the ICRC in Bangladesh has stepped up its response to the crisis and integrating COVID-19 as an important new factor in its operations.
The outbreak of COVID-19 in a prison could have devastating effects on the population, especially in an overcrowded prison where the health care system is weakened. Therefore, ICRC in Bangladesh has joined a multi-party negotiation with the Prison Directorate of the Ministry of Home Affairs and Ministry of Health to enhance the preparedness of the 68 prisons having a very limited number of health facilities across the country to prevent the transmission of COVID-19.
Technical advice given for the creation of an isolation area in prison has already begun, deploying health professionals to run the isolation center smoothly. There was a good dialogue with the Ministry of Health, committing to deploy doctors, nurses, and other staff according to needs. As part of a long bureaucratic process, negotiation will continue until prison authorities get the support from the concerned ministries.
In another negotiation with the Ministry of Health, the ICRC in Cox's Bazar continues to support different health structures in Cox's Bazar district, together with Cox's Bazar Sadar Hospital Emergency Unit. As a result of these negotiations, ICRC will establish a specialized COVID-19 three-story building Emergency Department with isolation beds, five duty of care rooms, and two radiology rooms.
ICRC has also been negotiating with the Ministry of Foreign Affairs, as the responsible ministry authorizing international organizations to implement COVID-19 activities in the field. There was a strong recommendation from them to support other health sectors beyond Cox's Bazar. This is due to their view that the COVID-19 crisis is a national crisis and ICRC needs to work according to the needs instead of according to its own mandate.
These results have emphasized the important role that well-planned negotiations have in building a long-term adversarial relationship with the Government of Bangladesh.
Building Complementary Relationships with the Bangladesh Government
The range of humanitarian problems in Bangladesh varies from poverty-driven internal displacements to the effects of natural disasters, of political and inter-communal violence, of migrations, of lack of provision of essential services. Given the contexts, in the beginning, ICRC jointly with the National society had to negotiate with the Ministry of Foreign Affairs, which has been the primary stakeholder as an influential partner and decision-maker, to provide their efforts and resources in the country. This was due to, in Bangladesh, the ICRC's image and reputation associated with armed conflicts.
As it was important to understand the context and humanitarian needs, ICRC conducted an analysis and needs assessment before starting the negotiation with the authorities. Based on the analysis findings, ICRC planned a strategy to position themselves better so that they have a better acceptances from the decision-makers of governmental institutions. This enabled the opening of humanitarian space, cooperating, and collaborating strategically on humanitarian projects, even the ones related to sensitive issues. Additionally, it was important for ICRC to make sure that there is no political agenda behind a humanitarian proposal. Their neutral approach and impartial activities have helped a lot to prove to the government that ICRC is looking for access to fulfill the humanitarian needs in line with its mandate, expertise, and mission.
COVID-19 has brought ICRC in Bangladesh's attention to respond immediately to the needs of protecting health workers and providing emergency facilities for patients. The long-term complementary relationships between ICRC and the Bangladesh Government accelerate the negotiation process to get access to their efforts in saving lives and slow down the spread of the novel coronavirus in the country.
Shirin Sultana works as a Political Adviser for ICRC in Bangladesh and is a member of the CCHN Community of Practice. Shirin maintains and broadens high-level relations with key national stakeholders including humanitarian actors, religious/community leaders, and think-tanks, and facilitates the management's access to a wide network of contacts.
CCHN provides a space for the Community of Practice members to share their experiences and good practices in the contexts that they are working on for informative purposes. The views expressed in this article are those of the author and do not necessarily reflect the official opinion of CCHN, any of its Strategic Partners nor the authors' organizations.