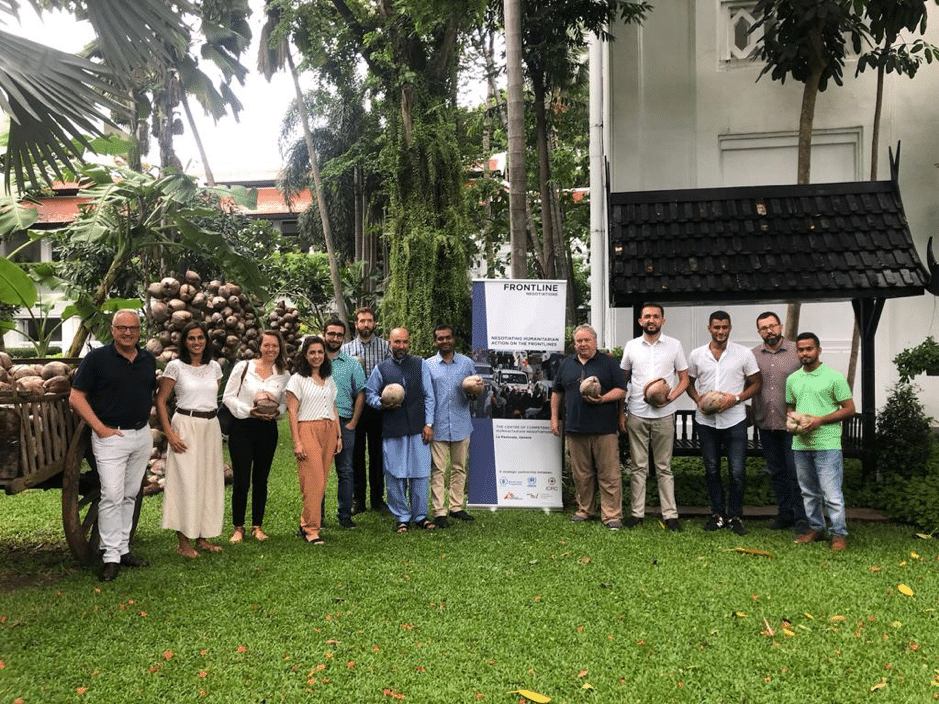 The Training of Facilitators prepares participants to facilitate peer discussions on humanitarian negotiation within their own organizations and at CCHN Peer Workshops. (Photo Credit: Sofia Mueller/CCHN)
The CCHN is pleased to welcome thirteen field practitioners to its global pool of facilitators. The group took part in the latest CCHN Training of Facilitators in Bangkok, Thailand from 23-26 July 2019.
The training was planned in response to demands from CCHN community members in Asia who had asked for an opportunity to deepen their knowledge of the CCHN negotiation methodology. Members also hoped to develop their own ability to facilitate peer discussions on humanitarian negotiation.
The Training of Facilitators is a practice-oriented training on negotiation methodology and facilitation skills. While Session A aims to deepen the participants' knowledge of the CCHN Field Manual, Session B introduces participants to a series of facilitation and peer support techniques.
Thirteen practitioners from different continents and organizations took part in the two sessions in Bangkok. The group included highly experienced field practitioners from WFP, UNOCHA, ACTED, UNHCR, RedR Australia and ICRC.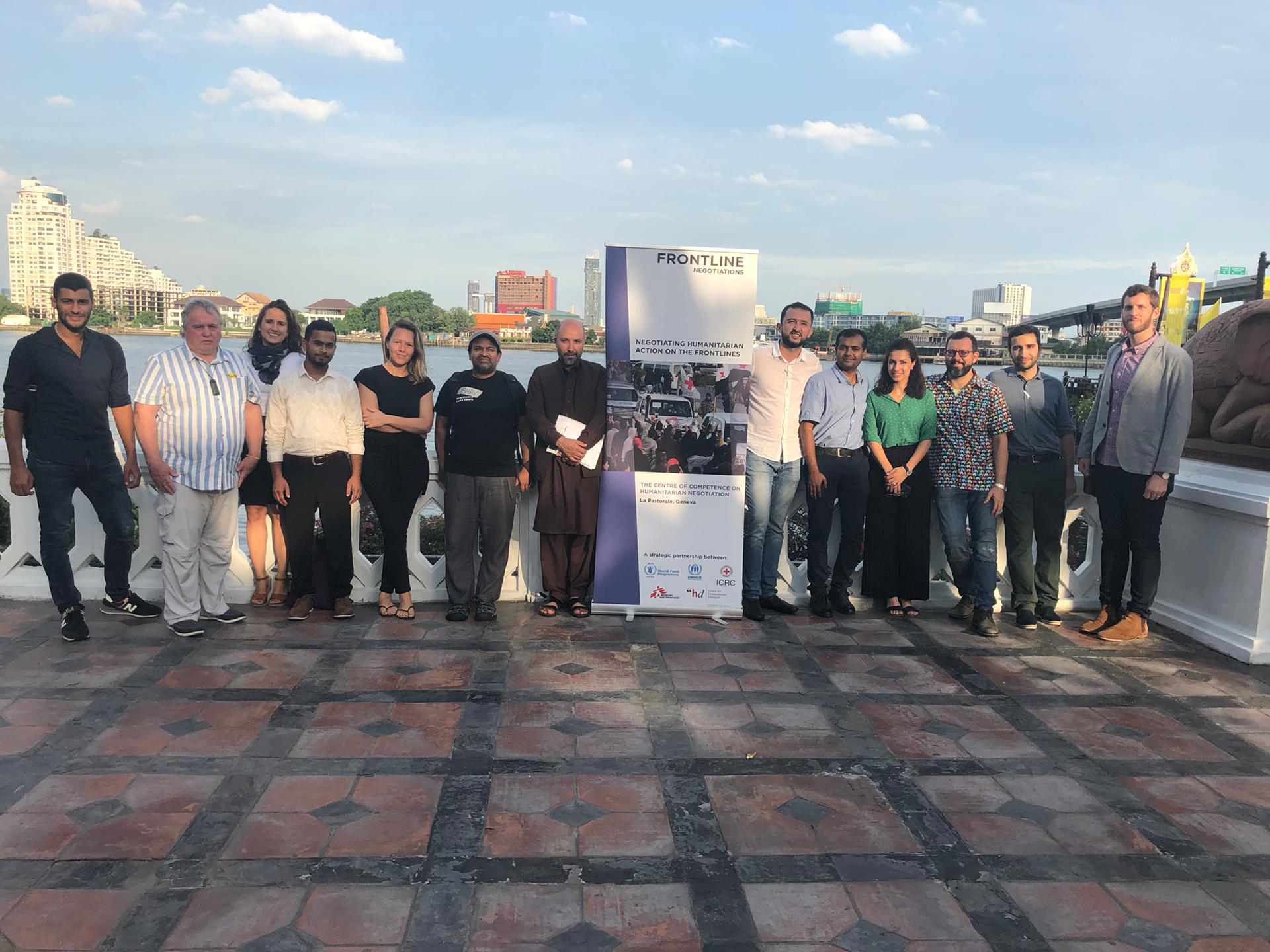 Most participants enrolled in Session A stayed on for Session B in order to sharpen their facilitation skills. They were joined by other participants who had previously completed Session A. (Photo Credit: Sofia Mueller/CCHN)
An interactive training program
"(The Session A) met my expectations, the practical experience and the feedback I received were just what I was looking for. I hope I'll be able to do session B one day but already feel confident now," said Matthieu de Raymond-Cahuzac, who is currently a Networking Advisor of ICRC in Afghanistan.
The CCHN designed the program to be as interactive as possible. "Almost everyone had an opportunity to practice the theory", said Ibrokhim Merzakmedov, the Field Team Leader of ICRC in South Sudan. During the sessions, the participants were grouped in pairs where they worked together to prepare presentations and facilitate peer discussions. Afterward, participants received feedback to further sharpen their skills.
Before each session, there was time to recap and refresh the memory of the previous lessons. In the end, participants shared their opinion and recommendations. Alan Johnson, the ASEAN Regional Coordinator of RedR Australia said, "(The Training of Facilitators is) a safe working space to further develop an understanding of the methodology and facilitators guidelines with peers".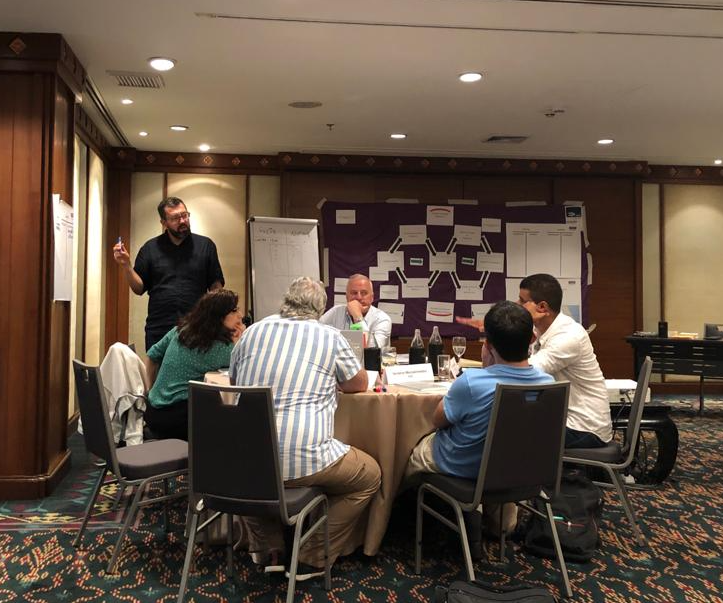 Each participant had an opportunity to facilitate a session during the training. (Photo Credit: Sofia Mueller/CCHN)
Next step: Putting facilitation skills into practice
Some participants are already preparing to facilitate internal learning sessions within their own organizations. Others plan to apply their skills at a CCHN Peer Workshop. As Nour Rady, the UNHCR Associate Field Officer in Iraq said: "I will be helping to facilitate a workshop at my duty station immediately after my return along with other CCHN facilitators."
Based on regional demands, the CCHN also conducts trainings in Spanish and French. For more information about the Training of Facilitators, please click the button below.
Find out more