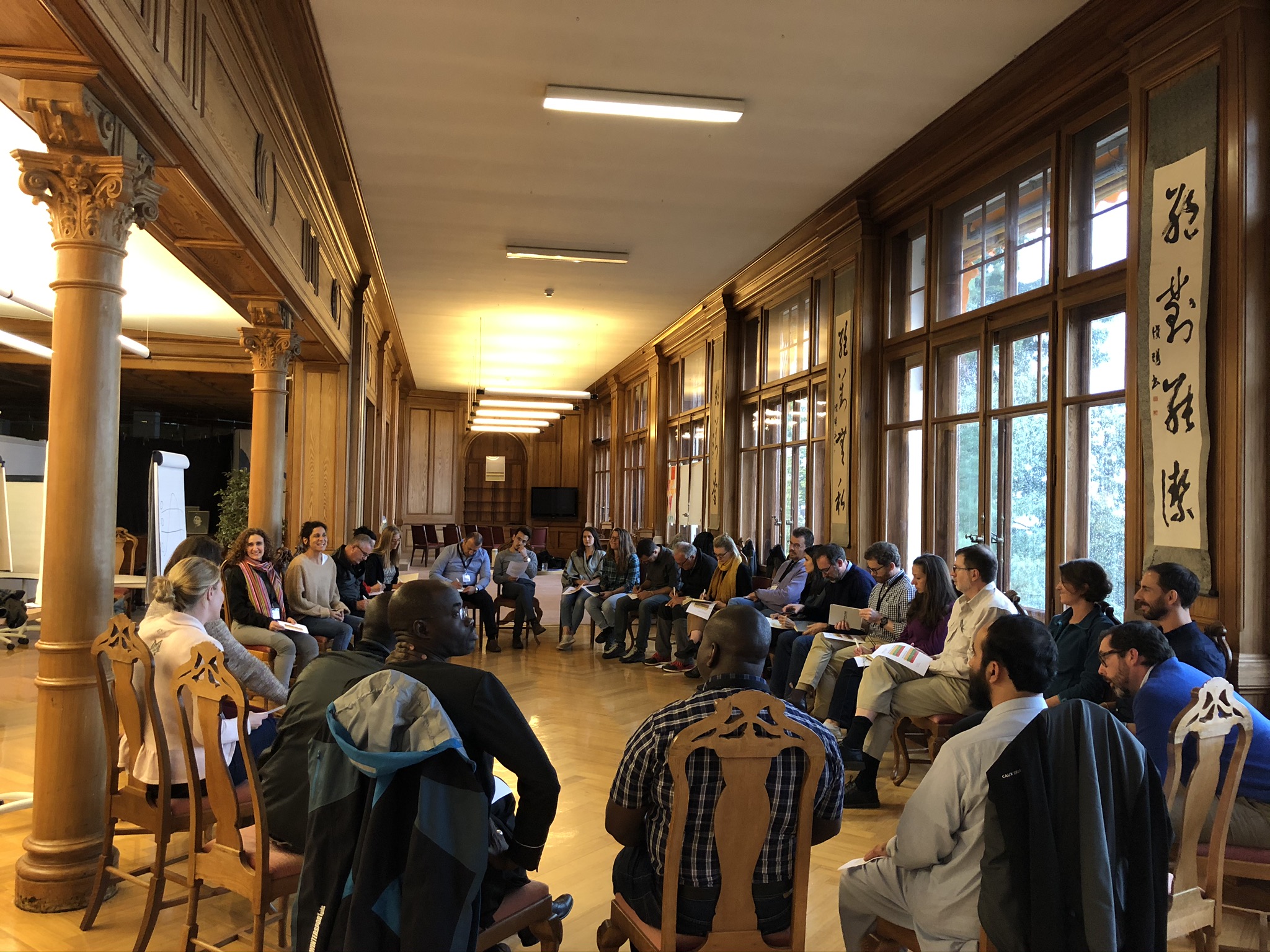 Window of Tolerance session on how to increase capacity for self-regulation in distressing situations. (Photo Credit: Sofia Mueller/CCHN)
Stress management is a central aspect of the CCHN's work on crisis negotiation. Building on its first retreat in 2018, which had looked at negotiations with non-state armed groups, the CCHN organized a second retreat from 14-18 October 2019 in Caux, Switzerland, focusing on hostage negotiation and extortion with a particular focus on the issue of self and team care in high risk environments.
"The focus of the retreat went beyond technical negotiation tools to also look at more personal and human aspects," said Maude Pittet Nazareno, CCHN Project Officer who coordinated the retreat.
The retreat was co-hosted by Initiatives of Change Switzerland, a foundation based in Caux, Switzerland that focuses on the promotion of trust, ethical leadership, sustainable living and human security. "The setting (in Caux) was really appropriate for stepping back and go a little bit more into introspection" Nazareno explained.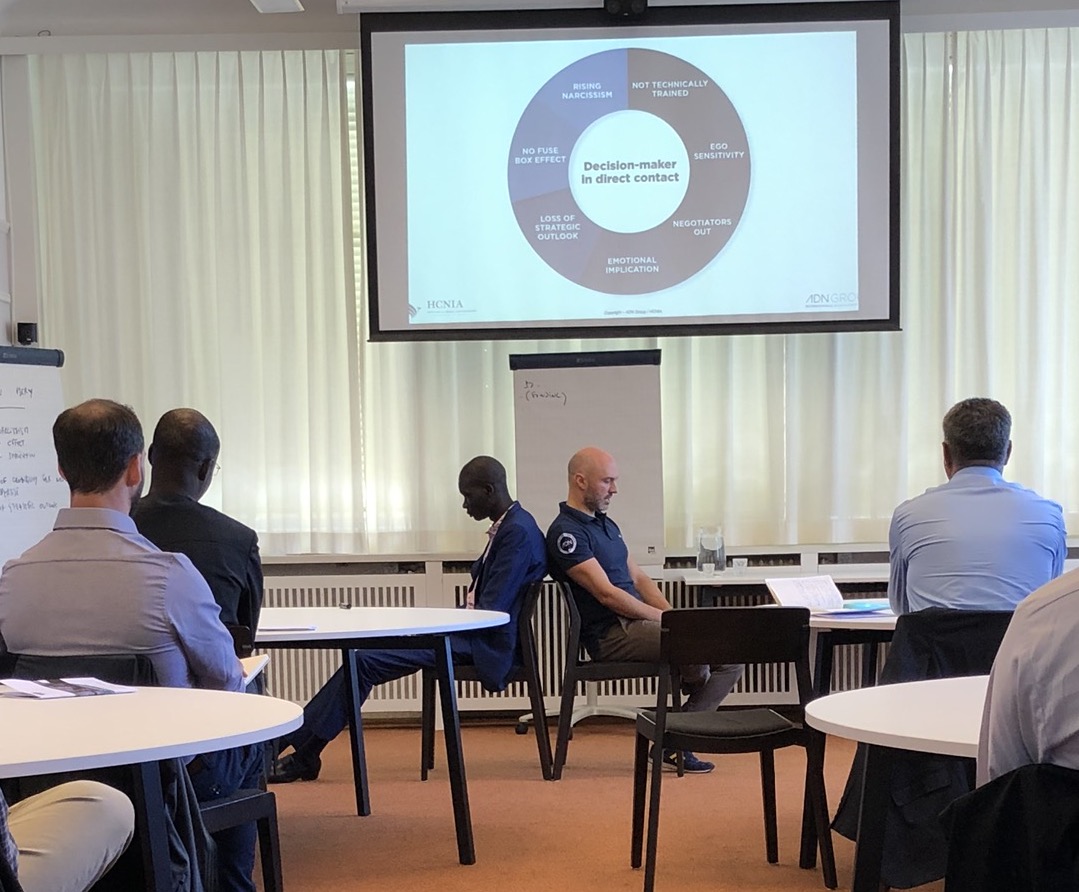 A session on a hostage negotiation and extortion looking at the implications of having the decision-maker directly in contact with perpetrators. (Photo Credit: Sofia Mueller/CCHN)
Different sources of stress
Frontline negotiators are by definition working in challenging environments, putting the level of the pressure they experience at a higher than average level.
"Imagine that you have to negotiate humanitarian access to a besieged area! You have no back up except your negotiation skills and your ability to perform in high stress situations" said Anna-Maria Rochester who is a speaker on performance in high-stress situations and crisis management.
Additionally, frontline negotiators are also exposed to cumulative stress prevalent in the humanitarian sector, caused by bureaucratic, organizational and policy constraints.
When a crisis emerges on top of these factors, it is important that frontline practitioners have access to resources and tools to help them and their teams stay efficient in dealing with the crisis in a sustainable manner.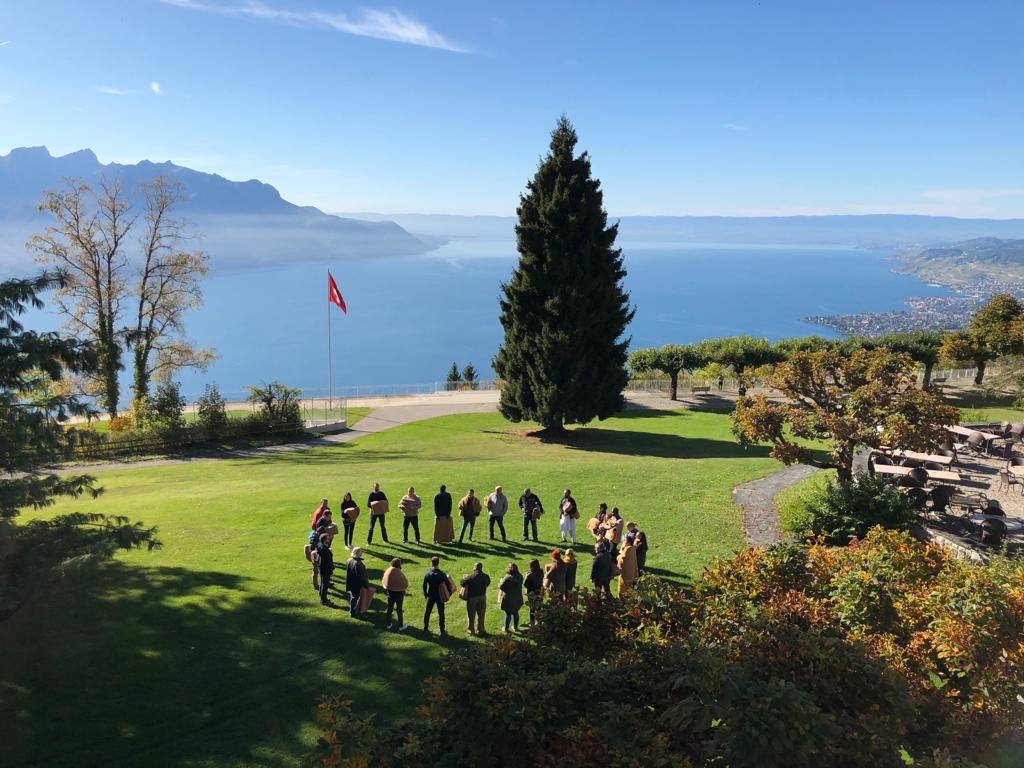 Practical session on emotional release. (Photo Credit: Sofia Mueller/CCHN)
Traumatic stress prevention and mitigation
"The selection of facilitators was very impressive and all of them were very skilled experts in their respective areas. I really enjoyed the variety of stress tools that were provided to us at the retreat as you learned that there are many different ways one can deal with stress when under pressure or in daily life", one participant said.
At the retreat, the participants explored and tested various activities to prevent and mitigate traumatic stress as well as to build their resilience, self-control and stress management capacity. Through interviews conducted with frontline negotiators prior to the retreat, these soft skills had been identified as key for successful negotiations in challenging environments and for the sustainability of the workforce. The interviews also highlighted the importance for humanitarians to be more aware of the kind of experiences they will most likely face in their career and be better prepared to deal with them.
The outcomes of the retreat are now guiding the efforts of the CCHN in the elaboration of practical measures to prevent and mitigate the impact of traumatic stress in high-risk environments and to make them available to practitioners.
Creating a safe space for community members
The retreat was attended by highly engaged members of the CCHN's global community of frontline negotiators. It created a safe space where participants could share their personal experiences of highly stressful situations in their work.
"Being part of CCHN has provided the much-needed 'fall-back' base for me as a negotiator and an aid worker as I can easily and frankly discuss with CCHN and share my needs," said Abdulrahman Najeh, WFP Head of Programme.
Marion Brastel, Protection Team Leader of Nonviolent Peaceforce added, "I really enjoy the bridge this community offers to share experiences across organizations. It is an exciting movement to be part of! looking forward to seeing and contributing to its growth."
When lives are at stake: Exploring high-pressure negotiations through storytelling
The CCHN also organized a public event to shed light on how frontline negotiators deal with high-pressure situations in frontline negotiations. The event took place during the Geneva Peace Week on 5 November 2019.