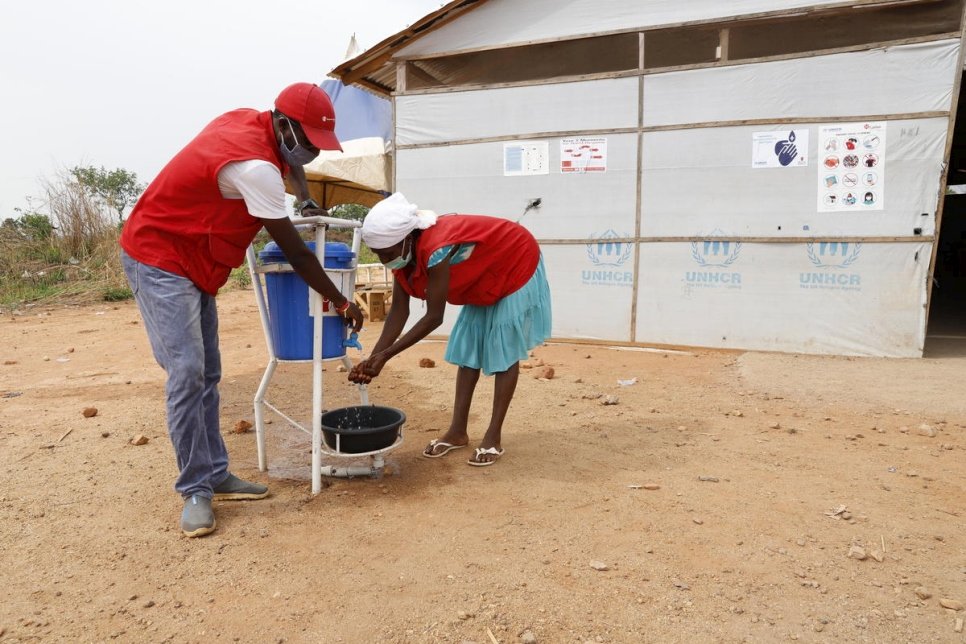 Two Cameroonian refugees are volunteers in Ukende refugee settlement, Nigeria. They are helping to raise awareness on COVID-19 prevention among refugees and the host community. Photo Credit: (UNHCR/Tony Aseh)
CCHN Monthly Forums continue to provide a platform for discussion on negotiation in the context of the humanitarian response to the COVID-19 pandemic.
During the second Monthly Forum on May 14th, humanitarians shared good practices they implemented in their region to obtain access and continue delivering assistance to beneficiaries. The second part of the forum focused specifically on the needs of people on the move. We brought together policy-makers, field practitioners, and experts from leading organizations working on issues surrounding migration, refugees, and internally displaced people (IDPs).
We were honored to have Ms. Gillian Triggs, Assistant High Commissioner for Protection at UNHCR to give her opening remarks.
"COVID-19 is a crisis that overlays many other pre-existing crises, especially considering that approximately 80 million people are currently refugees or internally displaced as a consequence of conflict, persecution, natural disaster, or food shortage. Integration and inclusion of all persons, irrespective of their status, in the provision of services must be at the center of any solution". Ms. Gillian Triggs as Assistant High Commissioner for Protection.
Presenting Collective Good Practices
The first CCHN Monthly Forum in April highlighted regional challenges and dilemmas related to the humanitarian response to the COVID-19 pandemic. These observations were prepared peer circles with members of CCHN's community of practice in Africa, Asia, Latin America and the Middle East. In preparation for the second Monthly Forum, we used a similar model to document good practices that field practitioners have tried and implemented in different regions and contexts. During the second Forum, we presented a summary of these conversations as a starting point for larger regional discussion groups.
During the regional discussions, participants could share the ways in which they had tried to maintain their programs and could explore new approaches that have worked under pandemic circumstances.
"My team and I, we tried to show collaboration to our counterparts and offer technical support to prepare and respond to COVID19 crises in the area where we work, in Yemen. With all the challenges we are facing in fighting this pandemic, it still offers us the chance to work together. Guiding the conversations to a technical level, practicing transparency and showing empathy are key. We did this. We helped in shaping the approach taken for quarantine to be focused on humanitarian principles and taking into consideration the public health imperative at the same time."
"The CCHN Monthly Forum was a great opportunity to share my challenges and practices from Yemen with a wider community. This helped me to think more of the process of negotiations, organize my thoughts and plan our engagement. The questions that other colleagues asked, had inspired me to approach the issue in other ways." Mohammad Thaer Allaw, Protection – Cluster Coordinator, Danish Refugees Council.
COVID-19: Access Challenges When Addressing the Needs of People on The Move
In the second part of the Forum, we invited a field practitioner and an expert on issues affecting people on the move to share their views on the current situation. Philippe Sacher, UNHCR Senior Inter-Agency Coordinator (Regional Bureau Americas) shared his insights on the situation in Venezuela. He specifically spoke about the specific risks related to health, WASH, food, gender-based violence and education faced by the people on the move.
Then, from the policy side, Susan Fratzke, Policy Analyst, Migration Policy Institute explained how the measures put in place to respond to COVID-19 have complicated humanitarian action.
" There have been two types of responses so far: 1) widespread border control – more than 200 countries have imposed some kind of entry restrictions and 2) tightening immigration policy. These pose immediate challenges for migrants and refugees related to access to legal status and thus to social services; suspension of processing of asylum claims, and access to the territory." – Susan Fratzke, Policy Analyst, Migration Policy Institute.
The next CCHN Monthly Forum in June will be organized on 2 July 2020 on the Role of Armed Groups in the Provision of Health Services during the COVID-19 Pandemic. Registration for the event is open by Tuesday, 30 June 2020, which is mandatory to receive information on how to join the event.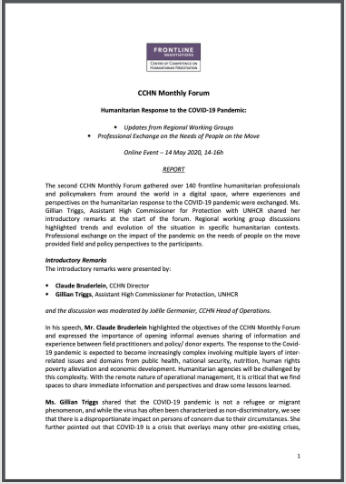 Monthly Forum Report
This report summarizes reflections and recommendations during the exchanges of humanitarians, policy-makers, and experts attending the CCHN Monthly Forum in May 2020.
Download