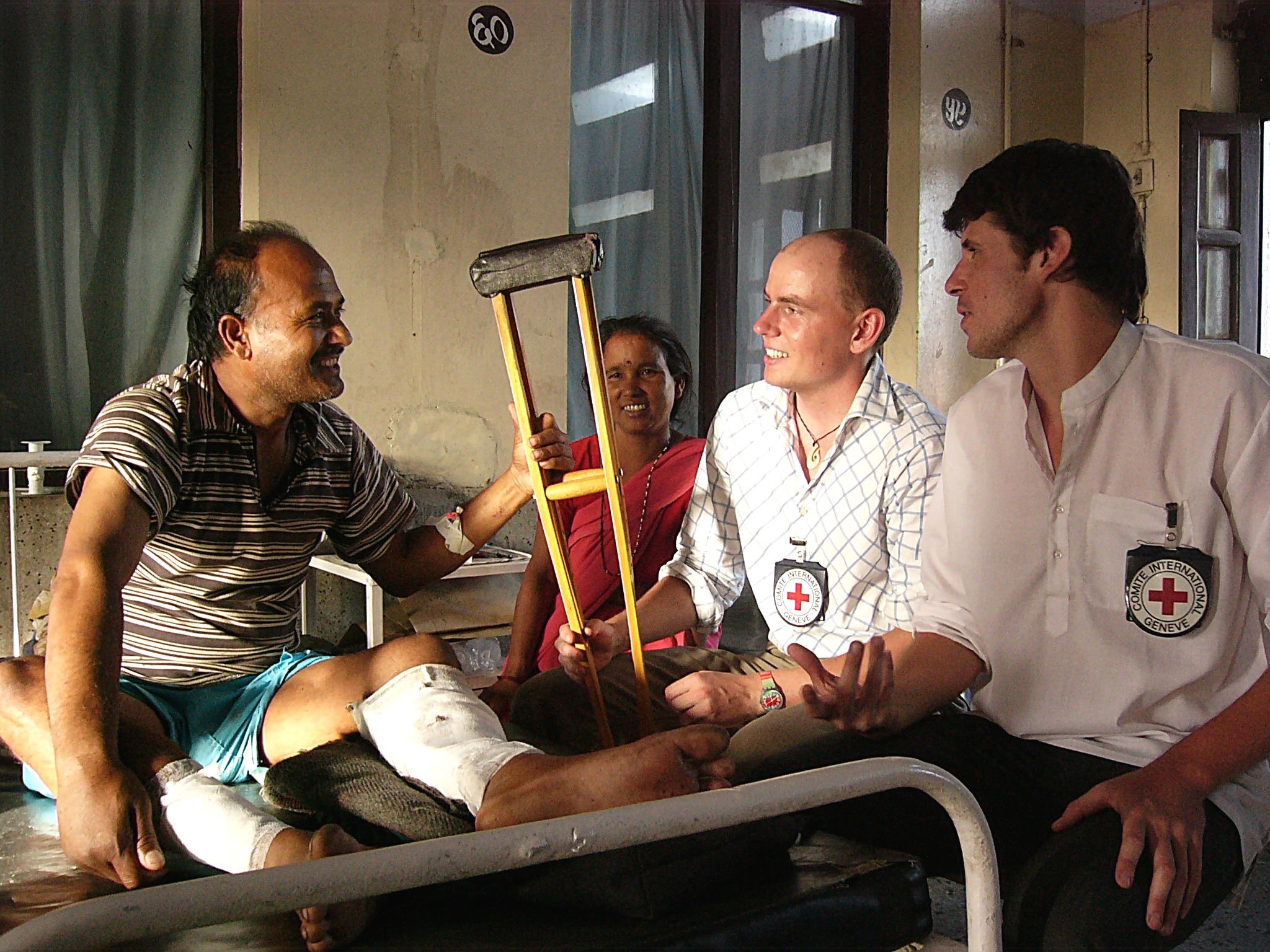 Nepalgunj, Behri Hospital. An ICRC delegate and an ICRC translator hand over crutches donated by ICRC. (Photo Credit: ICRC)
To assist affected populations, humanitarian professionals need to communicate with different stakeholders and carry out negotiations with the support of interpreters. Ideally, interpreters will be trained in interpretation skills. However, very often they work with the help of colleagues who speak the local language but have not been formally trained in interpretation. This reality brings its own set of challenges
.
Following a request from its community members, the Centre of Competence on Humanitarian Negotiation (CCHN) launched a research project on the topic of negotiating with interpreters and interpreting during negotiations. During this exploration, we reached out to the Interpreting Department at the University of Geneva (UNIGE), where Prof. Lucía Ruiz Rosendo is leading a research project on the role of interpreters in conflict zones and scenarios. This led to a new stream of collaboration with the UNIGE and the organization of a joint Peer Workshop and Specialized Session for Humanitarian Interpreters.
Understanding the dynamics of interpretation in humanitarian contexts
During an informal Peer Circle Discussion held with CCHN's community members in December 2020, humanitarian interpreters and practitioners shared their challenges and best practices to bridge the language barrier during a humanitarian negotiation. Thanks to this conversation, the CCHN clarified how it could better support the needs of its community.
Some of the identified challenges included building trust with the counterpart, security concerns and an unclear role of the interpreter within the negotiation team. Negotiators and interpreters also mentioned that accuracy could fluctuate and that it can be difficult to adapt to a new rhythm of conversation.
As Fiorella Erni, CCHN Negotiation Support Specialist for the Middle East, points out: "We spend a lot of time preparing for our negotiations, but this time is lost when we don't brief our interpreters or field officers who interpret for us properly. We realized that the role of interpreters in a negotiation is often underestimated which can have very serious consequences when negotiating in a sensitive environment."
Many humanitarian interpreters are local field officers, drivers, authorities' representatives, and even beneficiaries. This means that their main role might not be to interpret, but that they do so because they speak a local language. Because they wear many "hats", determining their role during a negotiation is essential to ensure a good negotiation outcome.
As Prof. Lucía Ruiz Rosendo from the UNIGE observed: "The interpreter's positionality in the field of humanitarian negotiation is very complex: on the one hand, the interpreter works in a team with the negotiator, sharing with him/her the organization's culture and (usually) foreign language and who, on the other hand, shares the main language and culture with the counterpart."
To face these challenges, interpreters and negotiators agreed on the importance of briefing the interpreter before the negotiation, keeping a communication channel open during as well as after a negotiation, and consulting with the interpreter about local customs and culture. Ivan Vashchuk, who works as a Language Specialist for the ICRC in Ukraine, emphasizes that, contrary to the reality in the field, interpreters who participated in the workshop weren't "perceived just as a 'tool', but as a full-fledged participant in negotiation involved at all stages, including preparation."
Tala Ezz Edin, a Health Field Officer working for the ICRC in Syria, agrees that "the tools and techniques used in planning and conducting negotiations, the role and ethics of an interpreter and the skills of interpretation are all values that have enriched my experience as a humanitarian aid worker and more importantly, as a human being." She explains that what was most relevant to her was "the pragmatic, contextualized approach to our complicated work and the nurturing, inclusive learning environment provided by the facilitators."
A first training in interpretation skills during a negotiation
During the Specialized Session for Humanitarian Interpreters, participants learned about the role of the interpreter and the difference with a cultural mediator. To understand more clearly what their role entails when they are interpreting, participants analyzed real case scenarios based on challenges and dilemmas they have faced in the field.
Jamal A. Al-Najjar, who works as the Head of Translation Unit for the WFP in Yemen, explains: "For me, the CCHN was the missing part in my professional journey in the humanitarian field, particularly with regards to interpretation and humanitarian negotiation. This is because it provides an interactive platform for learning and improving and enables interpreters and negotiators from different parts of the world to learn from the experiences of each other."
"The interpreter needs to communicate what the counterpart is saying—linguistically, culturally, environmentally, through their body language and emotionally."
To further deepen the topic, participants also learned about the ethics of interpretation to better inform their decision-making process when interpreting during a negotiation. Lastly, they learned about the importance of note taking to support their concentration and the accuracy of the message.
Vincenza Romano, an interpreter for the ICRC working in Bangladesh, explained that the workshop made interpreters feel understood and supported with new techniques, especially during the Specialized Session. She added that, as a negotiator, it made her see her weaknesses as well as her strengths, including new practical tools to be used and shared with her team.
A new line of research and support for humanitarian negotiators and interpreters
After completing the Peer Workshop, participants are considered members of the CCHN Community of Practice. They now have access to valuable resources as well as events designed specifically for them.  Ayoub Elkaroubi, an interpreter for the ICRC in Libya, believes that "these resources can help humanitarian professionals in performing better during negotiation meetings."
As part of this research project, the CCHN has elaborated its first report on negotiating with interpreters and interpreting during negotiations, which can be downloaded further below.
A guidance document for negotiators and interpreters on the pitfalls and good practices will also be made available for CCHN community members in the coming months.
Lastly, a Specialized Session will be organized at the beginning of July to bring together negotiators and humanitarian interpreters. This will be the opportunity to discuss their concerns and learn how to better work with each other to achieve positive negotiation outcomes.
Negotiating with interpreters and interpreting during negotiations
This report summarizes the reflections and insights shared by humanitarian negotiators and interpreters during interviews conducted by the CCHN at the beginning of 2021.
Download