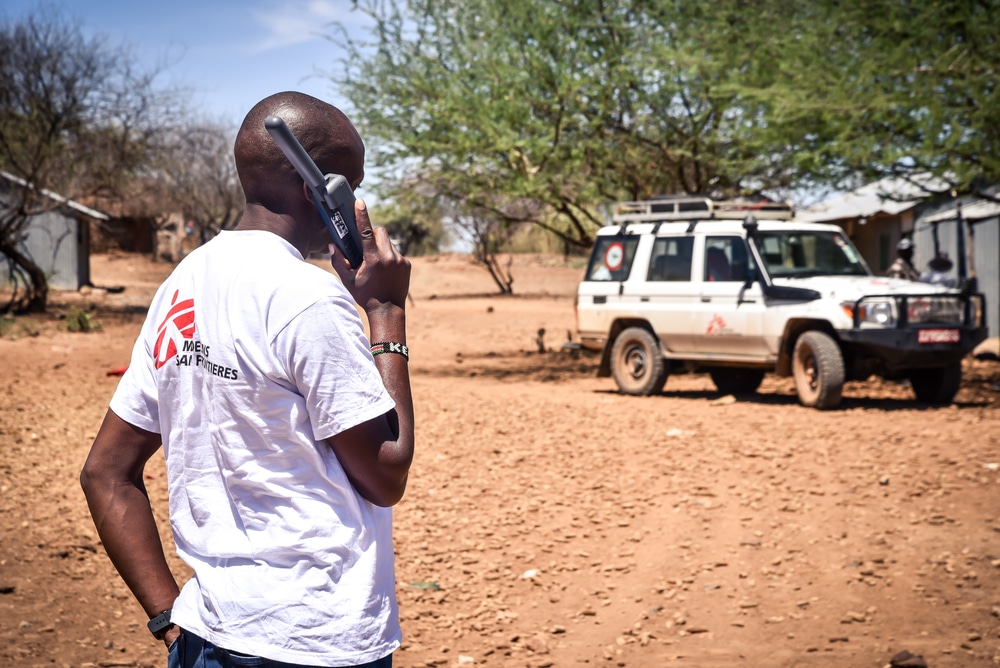 An MSF staff uses a satellite phone to make a call in Tiaty, Baringo County, Kenya. (Photo: Paul Odongo/MSF)
The Centre of Competence on Humanitarian Negotiation (CCHN) has recently launched a series of webinars on remote negotiation. The webinars have been developed in response to the COVID-19 pandemic and as a result of feedback from CCHN community members. The webinars will run over several months and aim to facilitate informed discussions within the CCHN community. They will provide practical information, guidance and advice on how to better prepare and conduct negotiations remotely. The first session was held on 31 August 2020 and focused on building rapport remotely. 
This first webinar started with a 30-minute panel discussion led by Hanalia Ferhan, CCHN Research and Development Project Manager. Hanalia was joined by two panelists with extensive experience in building rapport remotely. The session covered common challenges and how to overcome them, as well as tips and good practice on establishing relationships at a distance. In the second part of the webinar, there was an open discussion that allowed people to ask questions and share their experiences.  "When the pandemic hit us, we were in shock because we couldn't negotiate in person anymore. And our immediate reaction was 'We can't do it!' and 'It's too difficult!', but maybe it is easier than we first thought," Hanalia explained.
Adapting
y
our
s
tyle
to
b
uild
r
apport
remotely
Our first speaker, Suna Aweidah, is an Access and Liaison Officer at the United Nations Access Unit. She explained her approach to working on access issues and negotiating in Jerusalem.  
She stressed the importance of briefly introducing herself, her team and her organization's mission when calling a counterpart for the first time. She explained the value of mentioning a counterpart's predecessor as a reference point and describing how she used to work with them.  
Suna also uses this first call to touch on possible access issues in the area that she and her teamwork in. Towards the end of the call, she recommends arranging a face-to-face meeting to develop and improve the relationship. Knowing something about a counterpart's life, exchanging business cards and discussing the overview of the situation are all useful steps that can take place during a first meeting.  
"We need to build a relationship with our counterparts before we start to negotiate with them," she stressed. Suna suggests staying in touch through regular phone calls, meetings, or having a coffee with a counterpart, but without ever starting to negotiate. Regular communication means that when she does need to discuss access issues with a counterpart, the negotiation is then easier.  
Another gesture she considers important is always calling a counterpart to thank them for their help. Even after a negotiation, she tries to maintain the relationship with simple gestures, such as sending messages about a counterpart's holiday or asking how they are – all without entering any negotiation.  
Suna weighed up the pros and cons of her experience using communication platforms to negotiate. She believes that platforms do save her time. This means she can be more flexible when scheduling a meeting and hosting other people on the same call. On the other hand, she feels she could express herself better by using and reading body language during a face-to-face meeting.
Suna says it is really important to use the right tone of voice during calls to show emotion, particularly enthusiasm, surprise or joy. She also uses emojis, which her counterparts respond well to. Even when the pandemic is over, Suna would consider using communication platforms to save time and be more efficient. 
What
w
orks
w
hen
b
uilding
r
apport
r
emotely
Our second speaker, Kirk Kinnell, shared many of Suna's views. Kirk is the director of Negotiated Resolutions Ltd and a professional negotiator at the ADN Group in the UK. He has 20 years' experience as a hostage negotiator in law enforcement and over 15 years' experience in teaching negotiation techniques. 
Kirk's experience has proved to him that building rapport remotely is not only possible but very often essential. He agrees with Suna that it is a good idea to establish rapport and create an environment where you can build a relationship before focusing on the negotiation's objective. 
"When you are starting to build a relationship, it is important to find as many connections with your counterpart as you can. Once a rapport has been established, humanitarians can move on to building trust." Kirk also mentioned a few essential techniques when building rapport at a distance, such as strengthening shared experiences and being consistent and transparent about your intentions. He also highlighted the importance of knowing what your counterpart values so that you are able to influence them. 
If you missed this first webinar in the series on remote negotiation and building rapport, you can watch the video below. 
In order to build the skills of humanitarians in remote negotiation, the CCHN will host other webinars on this topic. These will be accessible to members of CCHN Community of Practice and other professionals who are interested in the topic.