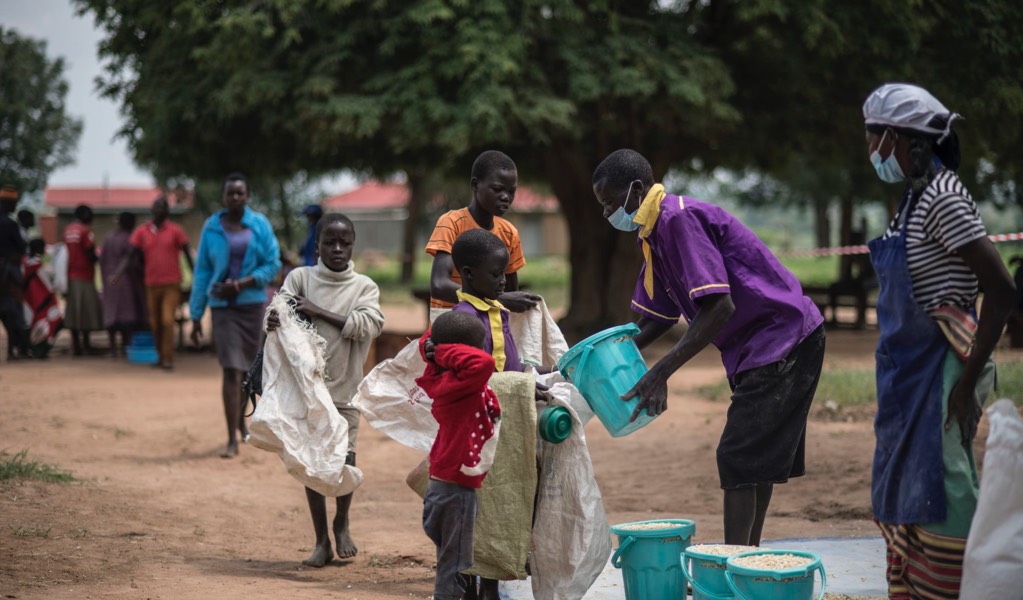 The Government of Uganda and the United Nations World Food Programme (WFP) are distributing take-home food rations to school children in the Karamoja sub-region in north-eastern Uganda to support home-learning while schools remain closed due to the COVID-19 outbreak across the country. Photo: WFP/Hugh Rutherford
At the 2020 Geneva Peace Week (GPW), the Centre of Competence on Humanitarian Negotiation (CCHN) organized a joint live event in collaboration with the Permanent Missions of France and Germany to the United Nations in Geneva to discuss collective efforts on how humanitarian organizations can ensure access to respond to the COVID-19 pandemic. The CCHN invited distinguished speakers and experts to exchange their views with members of the CCHN Community of Practice and to discuss the multifaceted challenges of responding to the COVID-19 pandemic.
The event was opened with opening remarks, from H.E. Ambassador Michael Ungern-Sternberg, Permanent Mission of Germany to the United Nations in Geneva and François Gave, Deputy Permanent Representative of France to the United Nations in Geneva.
We thank @GPPlatform for hosting our #livesession on collective efforts in humanitarian responses to #COVID19 @GenevaPeaceWeek 2020. This year we're proud to collaborate with @FranceONUGeneve and @GermanyUNGeneva pic.twitter.com/rrfy0Aj8fe

— Centre of Competence (@frontline_nego) November 4, 2020
Collective Efforts in Local, Regional, and Headquarter Levels
The panel discussion was moderated by Hanalia Ferhan, CCHN Project Manager. To identify the impacts of COVID-19 on humanitarian responses, the discussion covered public health, security, protection, supply, and budget issues affected by the current pandemic situation from different operational contexts. A pertinent point to take was on collective best practices to coordinate in all operational levels, to ensure and maintain access to deliver aid and protection to vulnerable populations.
Starting the panel discussion, Dr. Rudi Coninx Senior Policy Adviser to the Assistant-Director General for Emergency Response of the WHO stressed, "Nobody is safe until everyone is safe. The virus knows no boundaries, nor should we. We need to work on the triggers of conflict and on the capacitors for health and Peace in action."
While focusing more on the humanitarian efforts, Abdulrahman Najeh, WFP's Head of Field Office in Deir Ezzor, Syria described, "Conflict, poverty, hunger, and a pandemic have made us humanitarians realize more than ever how crucial it is to coordinate amongst each other and unify in an integrated response to achieve the highest sustainable impact."
"MSF teams have continued working in more than 70 countries during this global health crisis which has pushed some of the world's most advanced and well-resourced healthcare systems to the brink of collapse," added Reshma Adatia International Operations Coordinator / Head of Humanitarian Diplomacy, MSF.
Touching on the peacebuilding topic during the pandemic, Peter Scott-Bowden, WFP Director COVID-19 Surge – Afghanistan reminded us of the relation of humanitarian efforts and peacemaking."Hunger is a silent killer in this pandemic. This is a pivotal moment for us all, to gear up like never before. As the Nobel Peace Prize Committee recognized this year that food security delivered by WFP and its partners is fundamental to achieving peace."
A Voice from the CCHN Community of Practice
Apart from the joint event, CCHN also contributed to the GPW 2020 Digital Series, entitled 'Voices from the Field: Coordinating & Securing Access in Eastern and Southern Africa during COVID-19', under A New Vision for Peacemaking theme. We interviewed a community member, Benedetta de Alessi, who is the Access Focal Point at the United Nations Office for the Coordination of Humanitarian Affairs (OCHA) Regional Office for Eastern and Southern Africa (ROSEA), based in Nairobi, Kenya.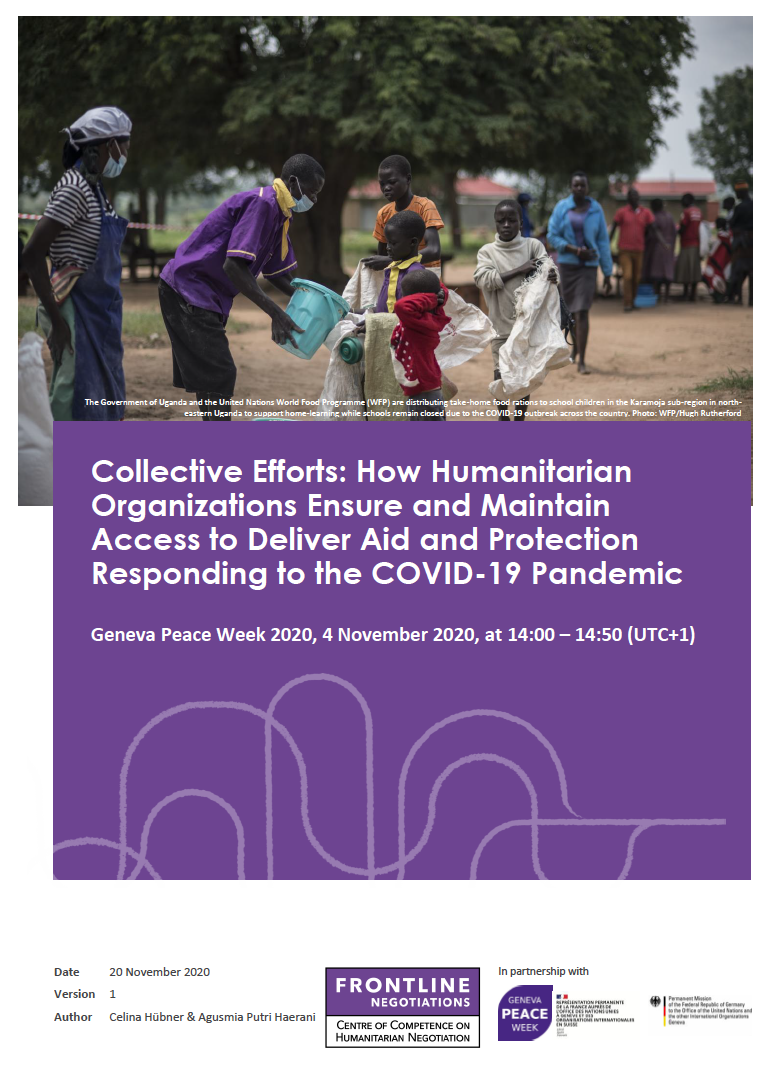 Event Report
This report summarizes reflections during the exchanges of the speakers at 'Collective Efforts: How Humanitarian Organizations Ensure and Maintain Access to Deliver Aid and Protection Responding to the COVID-19 Pandemic' panel discussion. This joint live event was taken place at Geneva Peace Week, on 4 November 2020, hosted by the Geneva Peacebuilding Platform.
Download