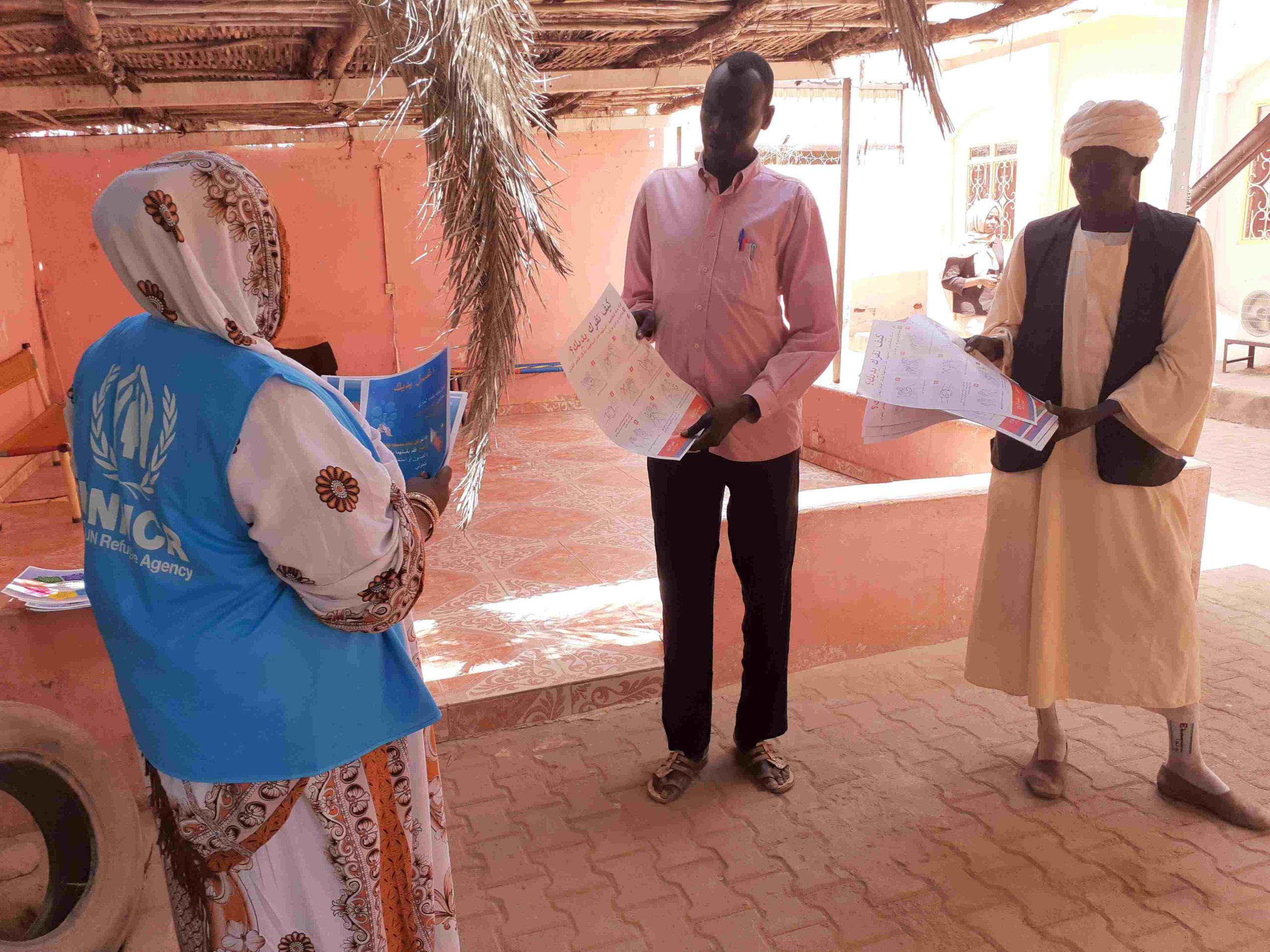 A UNHCR staff raised awareness of COVID-19 prevention through community leaders. (Photo credit: Abdulgadir Ibrahim/UNHCR)
UNHCR, in collaboration with CCHN, launched a new Humanitarian Negotiation Learning Programme (HNLP) in March 2020. It is a pilot course targeting fourteen staff members working in the UNHCR Regional Bureaus and some of its key operations. The Learning Programme was launched as UNHCR recognized the importance of strengthening key skills and competencies for UNHCR staff who undertake humanitarian negotiations on a daily basis. It is also hoped that the course will stimulate an internal discussion on how UNHCR, with its partners, approaches humanitarian negotiation in its specific contexts.
The content of the Learning Programme draws heavily from the tools and knowledge that CCHN provides and CCHN was seen as a natural partner in designing this course. As the coordinator of the course, I hope that the Learning Programme will contribute to strengthening the competencies of UNHCR staff who engage in humanitarian negotiation.
This learning Programme integrates content from the CCHN Peer Workshop and the CCHN Training of Facilitators. In addition, it provides an opportunity for staff to reflect on their experience as humanitarian negotiators and to apply the CCHN tools through a distance-learning tutored component. For those who complete the Learning Programme, it is hoped that they, in turn, will take on the role of further promoting humanitarian negotiation within UNHCR and become part of the global network of CCHN facilitators.
Adjusting the Curriculum due to COVID-19 Pandemic
UNHCR has been a Strategic Partner of the CCHN since its inception in 2016 and many of our staff members have benefitted from the peer exchanges and training activities organized by CCHN. The Humanitarian Negotiation Learning Programme is a further stage in that collaboration. The course enables the learners to familiarize themselves with the CCHN analysis and planning tools and to test themselves in situations where UNHCR operates. In addition to this Learning Programme, UNHCR strongly encourages its staff to also enroll in the CCHN events and workshops and to be part of the broader CCHN Community of Practice.
The UNHCR Global Learning and Development Centre (GLDC) is responsible for designing and implementing all the UNHCR learning opportunities and it often collaborates with centers of expertise and training providers in developing and delivering its learning programmes. The collaboration with CCHN on this specific programme was extremely valuable and a way of incorporating CCHN's approach into UNHCR's way of working.
Shortly after launching the Learning Programme to UNHCR participants, the COVID-19 pandemic forced us to change the curriculum, as the planned face-to-face Peer workshops would no longer be able to take place. CCHN and UNHCR then quickly built new distance learning components, including extra webinars and incorporating the CCHN Online Peer Workshop into the programme. With the privilege of this close cooperation, Toufik Naili, CCHN Negotiation Support Specialist – Curriculum & Network, and I designed and facilitated the first two webinars of the Learning Programme.
Two Webinars to Learn Analyzing, Planning and Executing Negotiations Step-by-Step
The first webinar was our kick-off event and served to clarify the overall purpose and focus of the programme. It also gave us the chance to introduce CCHN and its work to the participants. We focused on the conceptual and practical developments that CCHN has undertaken over the years, starting from the Naivasha Grid, a template that helps frame the roles and responsibilities of the negotiator, of the supporting team and of the hierarchy of an organization.
In the second webinar, we focused on the use of some of the CCHN tools which are part of the Naivasha Grid. The event concentrated on analyzing the context, on developing a tactical plan and on the steps to adequately prepare for engagement with our interlocutors in a negotiation. We chose to explain the application of the tools through a concrete case study on IDP food distribution, as it is a situation familiar to many UNHCR staff in field operations. Given the difficulties the current situation created in organizing face-to-face interactions and Workshops, webinars became the modality for 'live' exchange amongst the participants of the Learning Programme.
As Toufik reminded us: "In the framework of Humanitarian Negotiation Learning Programme the webinars are an efficient platform to build the capacities and reinforce the knowledge of UNHCR staff on humanitarian negotiations. Some CCHN tools were presented and explained in order to provide a relevant baseline in negotiating humanitarian access."
COVID-19: More Complex Negotiation Settings
In general, the COVID-19 pandemic has highlighted the necessity for closer collaboration between humanitarian actors since there is a need to negotiate in ever more complex humanitarian settings, with previous crises being overlaid by this global health crisis. Initiatives such as the CCHN Online Peer Workshops or the Monthly Forum on COVID-19 represent an opportunity for UNHCR staff and others to participate in global reflection on the humanitarian challenges posed by the spread of the virus.
For UNHCR, the work with CCHN on the Humanitarian Negotiation Learning Programme is a reminder of the need to work even more closely with our partners to address the increasing challenges that COVID-19 brings, both in the short and long-term. Now, it is really time to turn this into an opportunity and based on this positive collaborative experience.  Let us see how we can build and create new ideas to strengthen this area that is so vital to our humanitarian work.
"There is no element of comparison between when you bargain at local markets for goods, negotiate with your parents as a child to get a pet, and when you negotiate for populations in need and to save lives. Infield operations and for example in contexts where armed conflicts persist and rule of law is weak or inexistent, the decision-making entrusted on one's shoulders as a humanitarian worker can be heavy and plays a key role in determining whether assistance is provided to populations or not. Our ability to negotiate with various stakeholders in complex environments with high risks evolves essentially around balancing timely delivery of assistance and maintaining humanitarian standards at the same time. The HNLP with its various tools prepares us, equips us but also makes us stop for a moment to reflect and reconnect to and re-analyze our past experiences and to rethink more tactically about humanitarian negotiations."  (Roda Ismael, Head of the UNHCR eCentre)
Having worked in various conflict and remote field locations, the element of humanitarian negotiation has been a continuous companion – even without knowing about many of the academic concepts or the structured approaches that would underline situations. Be it accessing a particular area of a country, planning a particular health intervention or even discussing a particular manner in which to phrase a needs assessment for displaced persons, humanitarian negotiation forms part of our day-to-day work. Owed to the techniques, anecdotes, peer-to-peer exchange and guidance, the collaboration with the GLDC's HNLP and with CCHN allows staff to systematize and structure this vital part of our work. Recognizing the logic and structure to such situations, not only can we better prepare ourselves for such situations, and therefore achieve better results, but overall, UNHCR's focus on this important aspect of our work will be strengthened, permitting a greater number of colleagues to benefit. The medium- to long-term impact should be much in the strategic interest of the organization, and in turn to enhance our ability to reach and deliver vital assistance to the person of concern. (Philippe Sacher, Senior Inter-Agency Coordinator, UNHCR Regional Bureau Americas)
Jacopo Giorgi works as Senior Staff Staff Development Officer (Protection) at the UNHCR Global Learning and Development Center, where he is in charge of learning interventions on the protection of refugees and other displaced persons. As liaison to the CCHN, he collaborates with CCHN's other Strategic Partners in defining ways by which CCHN can continue to support humanitarian actors to engage professionally in humanitarian negotiation.