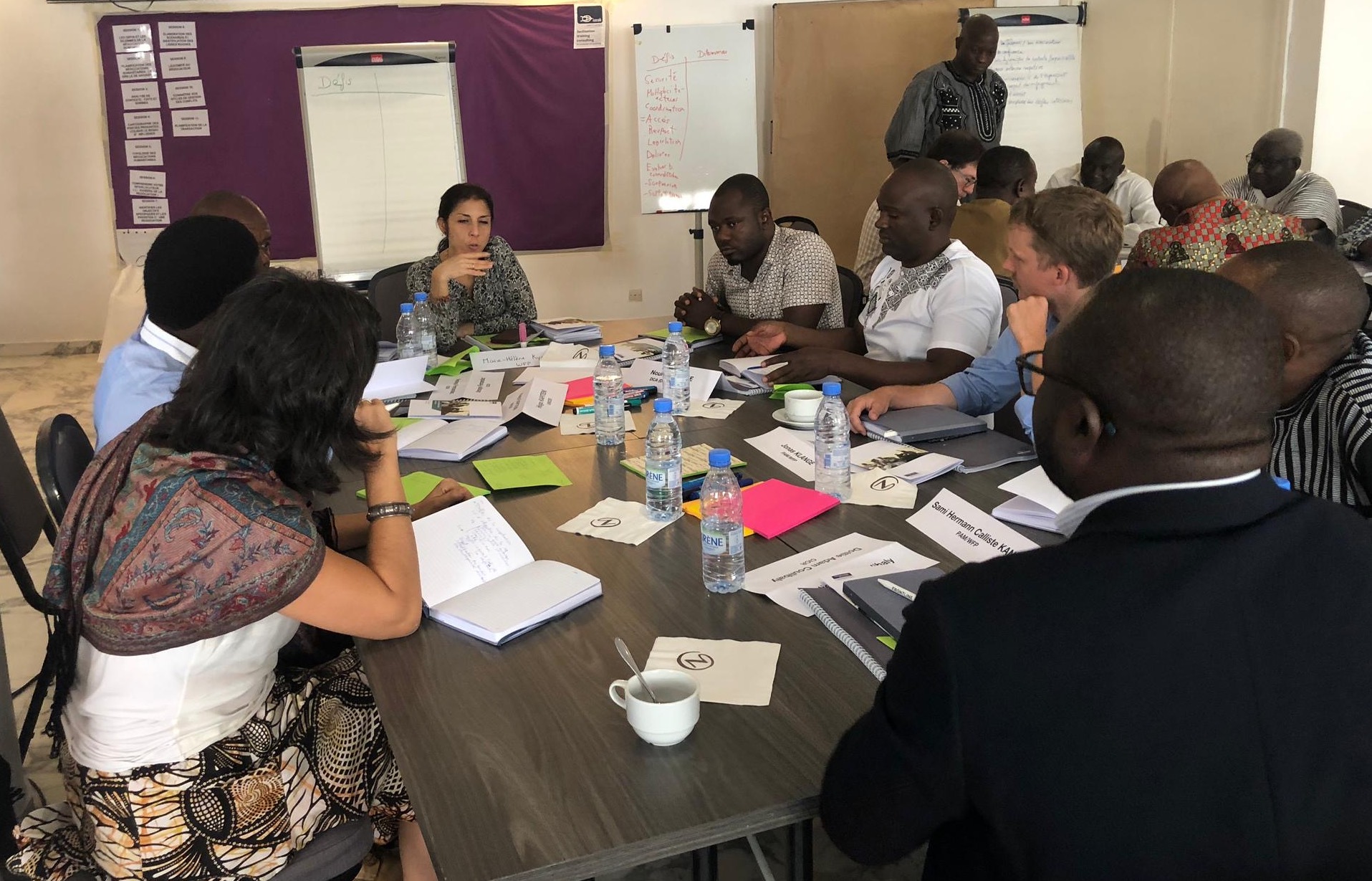 Each participant could share challenges that they faced when negotiating in different countries in Africa where they work. (Photo: Sofia Mueller/CCHN)
The Centre of Competence on Humanitarian Negotiation (CCHN) has continued to facilitate humanitarians working in the Sahel and West Africa to be better negotiators. In 2019, the CCHN held two French-language Peer Workshops on Humanitarian Negotiation in Dakar and Kinshasa. Subsequently, on 2-4 March 2020 in Dakar, CCHN organized another French-language Peer Workshop.
Will Harper explained, "We are growing the numbers of French speakers in our community of practice as we understand the importance of their work in the Sahel and West and Central Africa. 
The hope is that these participants will eventually be able to pass on their skills to their negotiation team members and CCHN members of the community of practice, by becoming facilitators themselves. A workshop to train facilitators was due to be held in Dakar in early April but has been postponed because of the COVID-19 pandemic. In the meantime, CCHN members can join online events to learn more about CCHN tools and methods, as well as discuss current humanitarian issues.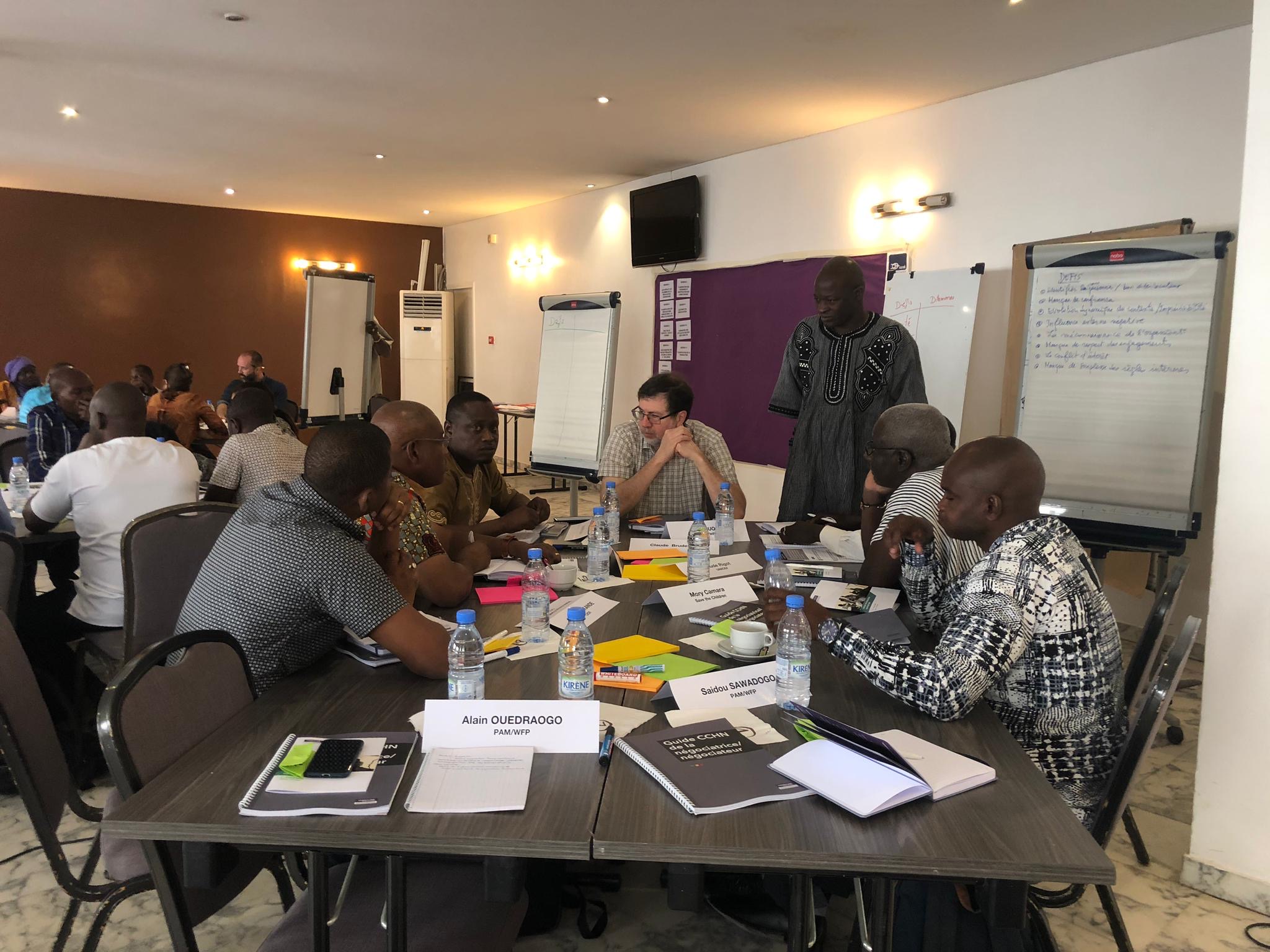 Claude Bruderlein, CCHN Director also facilitated the workshop in the French language. (Photo: Sofia Mueller/CCHN)
Tools and techniques for their everyday work
At the March 2020 workshop, three facilitators engaged with 23 participants from ten different humanitarian organizations working in Senegal, Burkina Faso, Mali, Cameroon, Chad, Democratic Republic of Congo and the Central African Republic. In their feedback, the participants said they felt able to apply what they learned in their work, which indicates that the workshop was effective, and the tools were seen as practical and relevant.
"It was an excellent workshop: well organized, interactive, with a very good exchange between the trainers and participants. The experiences were rich and there were enough practical exercises. I am very satisfied – this workshop has opened up possibilities for me to do better humanitarian work, particularly in places where it is difficult to get access for operations." Saidou Sawadogo, WFP Programme Officer said.
"This workshop was very useful for me because I now know a lot about humanitarian negotiation and understand the methods well. This course allowed us to further strengthen our ability to do our everyday work in difficult and sometimes hostile environments. All the trainers were extraordinary because of their knowledge and their ability to share it." Kodio Djimtan Francis, WFP Security Associate added.
Participants liked the context-analysis session best, but they also enjoyed learning about some of the other tools and methods, such as the Naivasha grid and the iceberg analysis of the negotiation counterpart.
"Now I know how to prepare for and conduct negotiations, and I know that if negotiations fail, it doesn't mean the negotiator was incompetent, like I used to think. My favorite session was on the Iceberg of Negotiation. It taught me that, to reach an agreement, trust must be built with the counterpart by exploring common values and points of convergence." Alzouneidi Ag Sidi Lamine, NRC Access Humanitarian Coordinator concluded.
Once the pandemic measures will be lifted, CCHN will prioritize a Training of Facilitators in French language to strengthen engagement and building community of frontline negotiators in West and Central Africa.