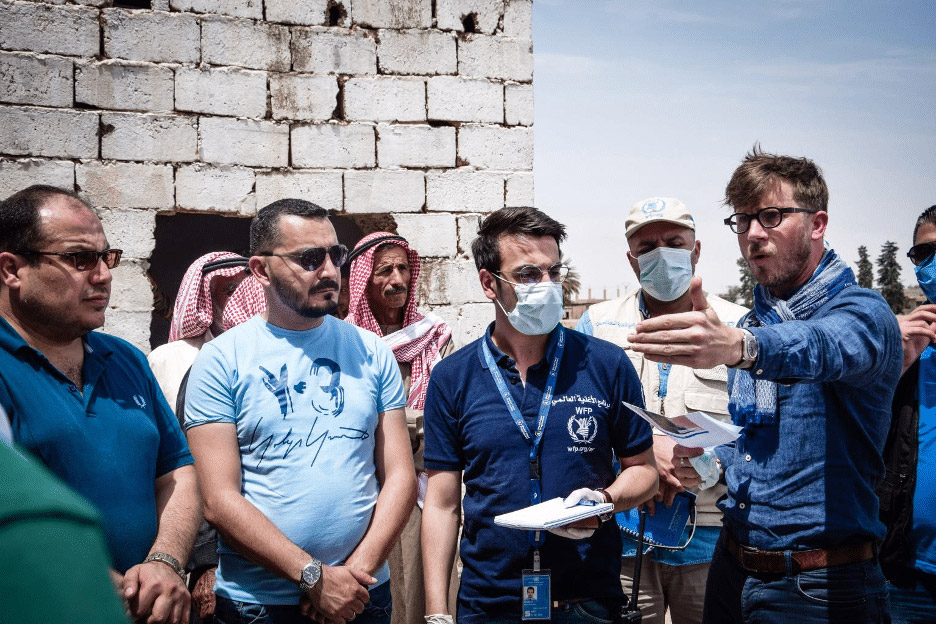 In partnership with Food and Agriculture Organization (FAO), World Food Programme (WFP) is joining a project to fully upgrade an irrigation system in areas previously controlled by the Islamic State group in Mayadeen district, Deir Ezzor, Syria. (Photo: WFP)
Located in north-eastern Syria, Deir Ezzor is the second largest Syrian province in terms of area, with a pre-crisis population of 1.7 million. Deir Ezzor is considered wealthy, with diverse agriculture, premium cattle herds, and several oilfields. When the Islamic State group lay siege to the city between 2014 and 2017, its residents were forced to leave their homes. Those who remained had to rely on the WFP for airdrops of food assistance to survive.
Deir Ezzor is currently divided into two by the Euphrates River, with areas to the north and south that are under the control of the Syrian Democratic Forces and the Syrian government respectively. There are also layers of proxies controlling different sub-areas and there is a high number of Islamic State group sleeper cells – all of which have created a complex and challenging geopolitical situation.
During the three-year siege, the Islamic State group controlled Deir Ezzor's rural areas, blocked access to food hindering the movement of goods. The result was that people in the city suffered high levels of food insecurity, while those in rural areas struggled to produce food because of damaged infrastructure.
Restoring livelihoods and food security after the siege
With its fertile soil and well-organized irrigation system, Deir Ezzor's main source of income before the siege had always been agriculture. Unfortunately, most of the irrigation systems were seriously damaged during the siege, which forced people to rely on food assistance. The WFP has therefore been scaling up its activities in rural areas.
There are eight irrigation systems in rural Deir Ezzor, most of which are still operating at limited capacity because of the damage they suffered. This is having a significant impact on livelihoods and food supply, which is why WFP launched a project to rehabilitate community-level irrigation systems in the area in partnership with the Food and Agricultural Organization (FAO). In total, some 12,700 families and over 27,000 hectares will benefit from improved access to water for agricultural activities as a result production will increase and along with access to food.
Given that bread and water are two of the most important ways of improving food security, the WFP also began a project to refurbish two bakeries in Deir Ezzor that can produce up to 24 tonnes of bread a day to feed 37,000 households.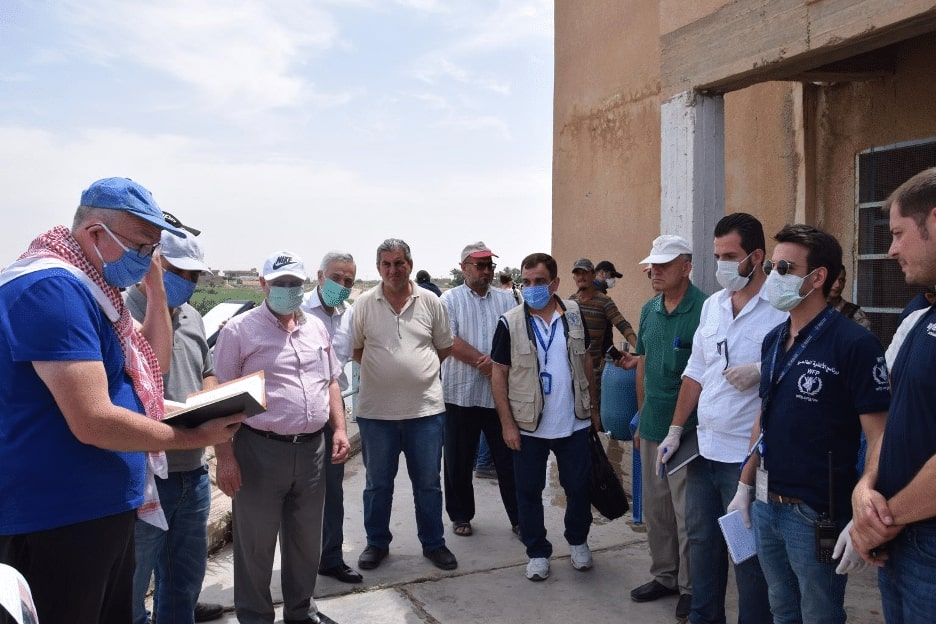 Discussing the project of an irrigation system for 3,565 hectares of land, supporting more than 70,000 people in Deir Ezzor, Syria. (Photo: WFP)
Preparing negotiations during the COVID-19 pandemic
In February 2020, when the COVID-19 started spreading through Deir Ezzor, the government banned all movement between the city and rural areas, with curfews during specific hours. The restrictive measures to contain the novel coronavirus have seriously limited WFP's ability to reach vulnerable people. Given the complexity of Deir Ezzor, coordination is required among numerous actors on the ground to implement livelihood projects.
My team needed to exercise caution during this process, and we created a dynamic map of the various interest groups and partners who can influence and facilitate access to different areas. This demonstrated WFP's ability to deliver humanitarian projects in high-risk and complex situations while ensuring it fully complies with global health standards and local laws.
While preparing to negotiate, we used negotiation skills and tools from the Centre of Competence on Humanitarian Negotiation (CCHN), which I had learned during a peer workshop. Once we had created the map of all the parties involved, we could analyze and assess their positions, motives, influence, and leverage. We then made sure that our operations reached a wide area and were visible to the parties involved. This helped demonstrate that the WFP is able to operate in remote areas and ensured it was more widely accepted and trusted by all parties.
These tactics have enabled WFP and its partners to be fully exempt from the movement restrictions, allowing us to operate across Deir Ezzor, including in the most remote areas.
Upholding humanitarian principles when delivering much-needed food assistance
There are always going to be challenges for any humanitarian organization working in a complex environment like Syria – and particularly in a complex area like Deir Ezzor. My team is still unable to reach some areas because of the extreme security risks resulting from the multiple layers of influence and control, as well as frequent attacks.
Before any high-level negotiation, I always remember to assess the balance of power, while also analyzing the perceived value of the potential services we can offer. A colleague who is highly experienced in humanitarian negotiations once gave me a useful tip: "In any negotiation, you always have three options ready at hand: one that can be easily approved, one that is your main goal, and one that will probably get rejected."
WFP has put in place efficient processes so that much-needed food assistance can be distributed regularly to the people who need it, without compromising its standards and humanitarian principles. However, WFP sometimes comes under pressure to help others, but we tackle this by communicating clearly with our partners, and by explaining that WFP has limits and red lines it will not cross because of our mandate. That said, we are still trying to negotiate more frequent access to some areas in Deir Ezzor in order to properly assess those areas and decide on new projects that will have a greater impact.
Humanity, neutrality, impartiality, and operational independence are the main principles when negotiating WFP access to reach people affected by armed conflict in Deir Ezzor. The current uncertainty caused by the pandemic, combined with the complex and conflict-driven political challenges, means that negotiators need to uphold their humanitarian principles more than ever before and to continue to negotiate to reach people who need help most.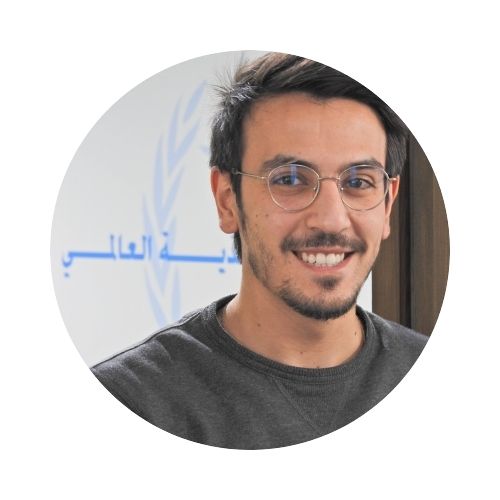 Abdulrahman Najeh is the Head of Office for WFP in Deir Ezzor, Syria, and is a member of the CCHN community of practice. Abdulrahman is focused on establishing the WFP office and expanding its operations in Deir Ezzor, including recruiting and building the capacity of WFP staff. He is also working to develop and improve critical relationships with strategic counterparts, humanitarian partners, and other interest groups to facilitate the implementation of WFP's programmes in the area.
CCHN provides a space for the Community of Practice members to share their experiences and good practices in the contexts that they are working on for informative purposes. The views expressed in this article are those of the author and do not necessarily reflect the official opinion of CCHN, any of its Strategic Partners nor the authors' organizations.