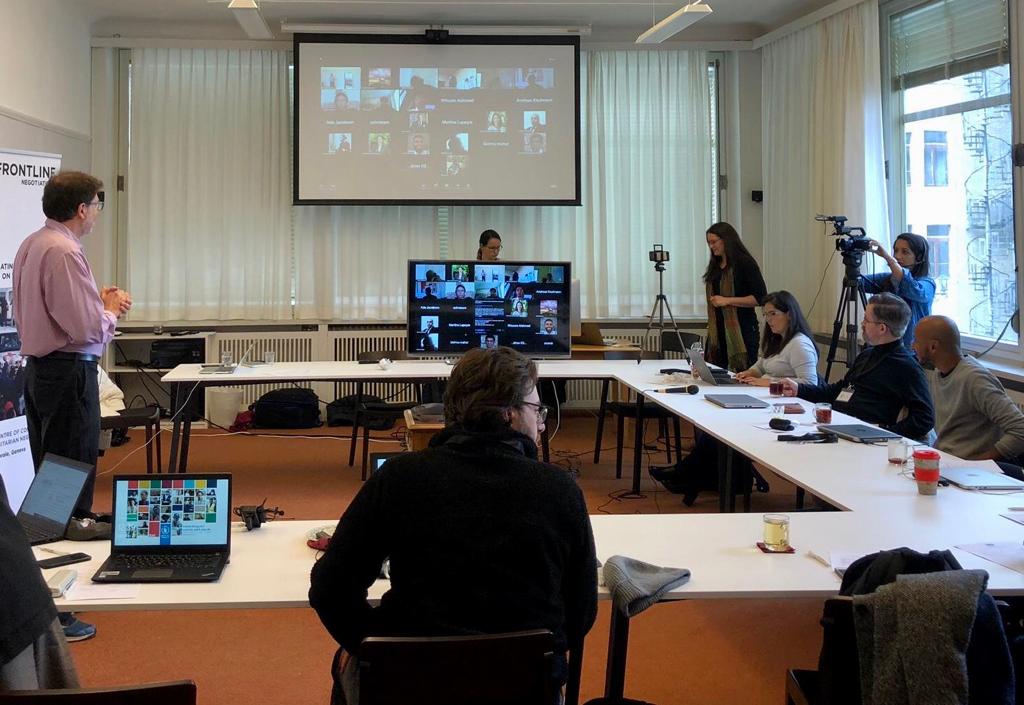 Humanitarian workers participate in the 2020 Caux Retreat online as well as on site. (Photo: CCHN)
Humanitarian professionals are dedicated to assisting vulnerable people in high-risk environments. To do this, they often engage in high-stakes negotiations, during which they face personal, ethical and professional dilemmas. Living and working under such stressful conditions can take a toll on their physical and mental well-being, and many negotiators have expressed the need for self-care tools and peer support.
The Centre of Competence on Humanitarian Negotiation (CCHN) held its third retreat – on "Negotiating under pressure: Building resilience" – at the Initiatives of Change (IofC) conference centre in Caux, Switzerland, in autumn 2020.
Resilience on the frontline
This retreat follows two years of work on the topic of self-care for frontline negotiators. In autumn 2018 and 2019, the CCHN held retreats on negotiating with non-state armed groups and hostage negotiation. These events revealed a need for space that would provide community members with resources and peer support.
The focus of this year's retreat emerged from the needs expressed by the participants as members of the CCHN community and built upon the online dialogue series "How do you negotiate under pressure?", conducted in summer 2020.
These dialogues aimed at building on the community's experience and expertise to capture and model best practices used over the years to overcome high levels of stress, and to explore the development of an online platform offering support methods, tools and peer support for community members and their teams. Ultimately, the project aims to enhance negotiators' capacity to operate in the most demanding contexts and thereby contribute to the development of a more sustainable workforce.
Self-care for negotiators working under pressure
Participants attended the retreat in person and online. By following Swiss government COVID-19 measures and guidance, we were able to gather selected members of our Community of Practice on-site, including members who had participated in a peer workshop in Athens a few days before.
The hybrid format of the retreat made it possible to connect people from organizations working in countries that included Cameroon, Greece, Iraq, Myanmar, Syria and many others.
Participants take part in a session on how to handle groups in a crisis, and learn about practical tools they can use in their field work. (Photo credit: CCHN)
During the retreat, a safe space was created for open, informal peer-to-peer exchanges on negotiating under pressure and on stress-management practices. Participants could share their views on the challenges and dilemmas of negotiating under such conditions.
"The Caux retreat also used a very innovative array of tools and was adapted to work in a post-COVID-19 world. From the technological whiteboard (Miro), to the projectors, screens, breakout sessions – everything worked and had a purpose. Participants joined in from very remote locations and this created a sense of spatial community – reaching far beyond Villa Maria [one of the facilities at the Caux centre]. The methodologies used during the retreat opened my mind to possibilities and gave me more insight into the CCHN, its history, its purpose and where it can go and how I can be part of it," explained Kimon Ioannides, Programme Coordinator for the Arbeiter-Samariter-Bund (ASB).
Under the guidance of experts, participants also had the opportunity to explore powerful self-care tools and methods to enhance their resilience, personal well-being and capacity, and to work sustainably. These tools and methods included breathwork, visualizations, drama therapy and behavioural analysis. Participants unable to attend the live sessions had access to recordings they could follow at their own pace.
Marwan Mery, CEO of the ADN Group who facilitated a day-session described, "As usual, it is always a great pleasure to share high-stakes negotiation experiences with frontline negotiators. This year, we focused on lie detection and behavioural analysis in complex situations. How to assess the credibility of threats and ultimatums? How to understand the genuine emotions of the opposing parties? Those questions found answers during the training. CCHN and ADN Group have been privileged partners for years now. We will always try to give the best of ourselves to help and assist those in the field."
From the participant's perspective, Bishnu Mahat, ICRC Weapon Contamination Coordinator found it beneficial for his works. As a programme coordinator, I work with my team that I have to manage. Teams are made up of different persons, different feelings, emotions, values and different tolerance levels for the stress. To get collective intelligence and get maximum benefit for the programme I am managing, I do have to analyse the capacity and mental well-being of my teams. At times, I forget to take care of myself on this. With this CCHN retreat, I felt that self-awareness is the key; sometimes taking a pause and reflecting on whether what you are doing is the right thing and whether you are doing things in the right way is okay. I also understood not everyone has the same reaction or the same resilience to a situation. Although I am not fully qualified, I will try to read micro-expressions. I also learned that sometimes even saying something like "I feel you" can mean a lot to a person. I will try to be an active listener and I learned some key concepts: "it's okay not to feel okay", "it's not just me" and "it's okay to share your feelings and thoughts and reach out for help.
During the last day of the retreat, participants discussed the next steps towards building a community of frontline negotiators that will offer support and guidance.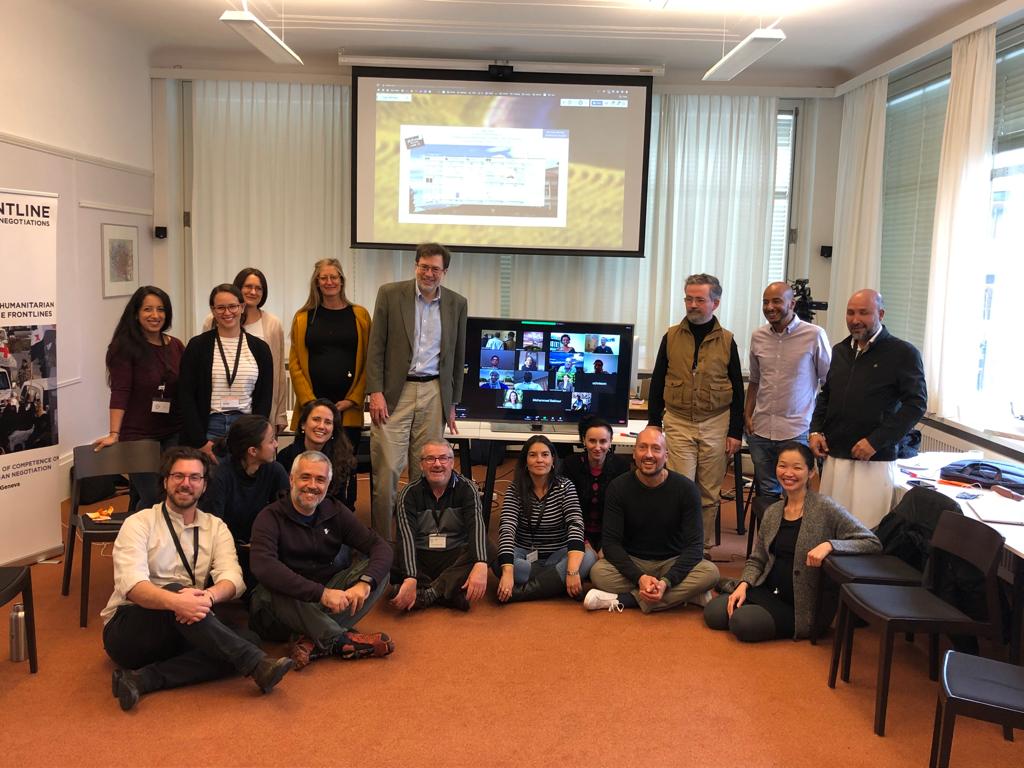 Online and on site participants gather for a group photo at the end of the 2020 Caux Retreat. (Photo: CCHN)
A new community of care for humanitarian negotiators
The main objective of this retreat and the previous work was to foster an informed community of professional negotiators who are willing to share their know-how, experience and lessons learned on stress management with their peers.
The resulting support system, also known as the CCHN's Community of Care, will be led by field negotiators and aims to equip humanitarian professionals with easy-to-use self-care tools and practical methods to help them face the challenges they face.
Kimon Ioannides added, "The Community of Care for me has two important pillars, one being the community, the other being the care. I see the CCHN as a community of practitioners – its purpose is to pool experience and provide support to its members. The CCHN's strength lies in its members and their capacity to engage with each other as little or as much as they want to, in a safe, confidential and global space that transcends organizational and operational environments. It is an initiative being built from the roots up – with facilitators from the field being capacitated to build on the existing scaffolding established."
Another result of this retreat was the idea of a "Passport for Resilience" programme. Composed of different levels, which participants can complete separately, this programme aims to provide an extensive range of information and practical tools for frontline negotiators, to increase their control of sources of stress in a negotiation and to enhance their ability to manage difficult interlocutors. It also aims to improve their resilience, their physical and psychological safety, their ability to work sustainably in pressured contexts and stay effective in high stake negotiations, and prevent burnout or PTSD.
Additionally, a series of ad-hoc advanced workshop activities will take place, providing the community with more information, tools, and methods, and offering members a safe space where they can exchange with peers on this topic.
One or two retreats are planned for 2021, to explore and experiment with new approaches, methods, tools and best practices for stress management and resilience linked to difficult negotiations. These retreats are also an opportunity for the Community of Care to meet, exchange and foster.
Lastly, in response to requests from participants, self-care sessions have been included in several peer workshops. CCHN community members have greatly appreciated the combination of practical, self-care methods and negotiation tools.