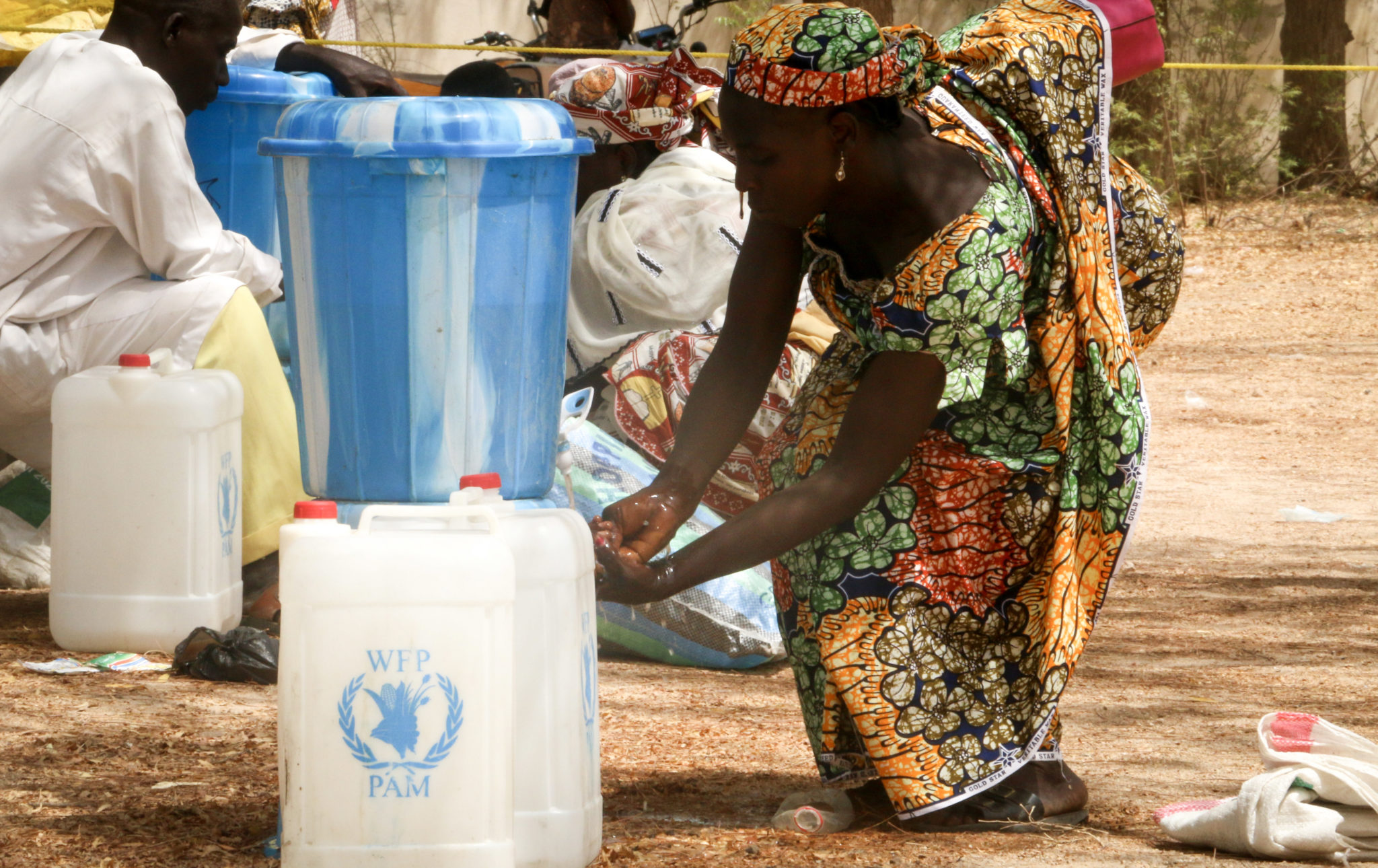 Photo Credit: An internally displaced woman washes her hand during a WFP distribution site in Mora, Far North region, Cameroon. (Photo: Glory Ndaka/WFP)
In response to the precarious global health situation, poor health infrastructure, and political tensions surrounding restrictions due to the COVID-19 pandemic, frontline humanitarian negotiators are confronted with specific challenges and dilemmas. In a CCHN survey conducted in March 2020, members of the CCHN Community of Practice requested a briefing on the essential elements of public health to support their engagement with local state and non-state authorities. To fulfil the demands, the CCHN has organized a series of Online Briefing Sessions focused on public health approaches and provided by specialists and researchers.
Online Briefing Session: How Public Health Can Inform Humanitarian Negotiation in Times of a Pandemic uses a case inspired by current challenges in addressing the impact of the pandemic on the most vulnerable to provide specific negotiation tools applicable to health crises. The first session was held on 5 May 2020, attended by 50 professionals from CCHN Strategic Partners, other humanitarian organizations, and academic institutions.
Brett Davis, CCHN Project Manager Research and Development explained, 'These Online Briefing Sessions are articulated around a short briefing on a set of essential elements of the public health approach to respond to the pandemic.  These are then applied to the specific context and state of the health system and discussed in breakout rooms, with humanitarian practitioners focusing on specific challenges or dilemmas in the case under review. The final part of the briefing is a negotiation simulation combining elements of the case study into one negotiation scenario designed to engage with participants in defining a collaborative response.' 
Providing Advisory Support for Humanitarian Negotiators in Cameroon
One of the CCHN's main activities is to provide advisory support to frontline negotiators by advising field teams on certain thematic issues. Based on discussions during the recent Digital Office Hours, Regional Peer Circles in Africa, and the Monthly Forum in May, there was clearly an opportunity for additional collaboration with the community related to how to negotiate and operate with the additional challenges presented by a public health emergency such as during COVID-19 pandemic.
With COVID-19 measures having made onsite CCHN workshops impossible, Will Harper, CCHN Negotiation Support Specialist – Africa used a different approach to strengthen the community engagement in Cameroon.  "We had planned to return to Douala, Cameroon in mid–2020 to organize a peer workshop to maintain the relationships and expand our network of humanitarian negotiators. Due to the current travel restrictions, remote advisory support was a great option to re-engage with the Community of Practice who had participated in the Peer Workshop last year. The public health briefing, refresher training on negotiation tools and methods and a space to exchange and collaborate – specific to the context and the challenges related to the COVID- 19, all aimed to support frontline negotiators in their work." explained Harper.
On 2 June 2020, we organized an Online Briefing Session on Public Health Approaches for humanitarian negotiators in Cameroon.  The presentation on Essential Elements of Public Health Approaches for Humanitarian Negotiators was delivered by Claude Bruderlein, CCHN Director and can be watched below.
Exchanging Current Challenges and Dilemmas in Cameroon Due to COVID-19
As a safe space for humanitarians to exchange their experiences, challenges, and dilemmas during this Online Briefing Session, CCHN allowed time and space for peer exchange among the participants. This helped us to understand and analyze the contexts that they faced and what kind of further support the CCHN could provide in the future for planning negotiations. Two community members who attended the online briefing session explained the need for specific practical training to tackle the current problems in the field as the results of the current situation in Cameroon.
"The delivery of humanitarian assistance during this COVID 19 period has been a challenge especially at the level of the perception people have as far as the virus is concerned. Rumors and misinformation have made it very difficult to deliver. This made it very difficult to deliver services, especially health services which included the supply of medications including vaccines. We have also observed the burning of distributions because some organization members were seen in a government company, due to the fact that the response cannot be coordinated independently by civil society which results in a need for government coordination. Negotiating around these issues looked complicated as we believed at the time that we were breaching some of the humanitarian principles especially that of neutrality, which even made us have fear before the negotiations or completely ruled it out. We also did not have enough understanding of negotiating in a situation of public health which made negotiations weak. The support from the CCHN through this online briefing provided a clear understanding of the potential areas of negotiation in cases of public health in a pandemic.  This was a blessing since it increased my knowledge on how to go about things, which has been my greatest form of leverage. I also got an understanding of what is the humanitarian standpoint, the public health standpoint and the method to be used in the negotiation process. Another important aspect of this session was knowing that the main role of public health is giving us knowledge on a particular public health issue for negotiation. With this information we are able to build our capacities on what was lacking and hindering the expected results," explained Blessing Sirri Amabo, National Coordinator, Martin Luther King Jr Memorial Foundation (LUKMEF). 
"The situation in the Northwest region of Cameroon has continued to deteriorate. Barely a week into school re–opening, the number of confirmed cases has risen by more than 70 (from 105 to 179 within one week). It is disturbing to note that some individuals within the communities in the camp where I work, still live in denial and don't respect the preventive measures put in place by the WHO and the government. Many people exhibiting the symptoms refuse to consult experts for fear of being put in isolation centres, and only do so when the situation gets critical. This training helped equip us with some techniques that could be used to reach these communities while minimizing the risk of contamination from either camp.  We also understood how we could maintain our neutrality while accompanying other actors in the fight against COVID-19," described Tohnji Cosmas Mbe, INTERSOS Protection Monitor. 
Considering the interests of having a similar online session in the other CCHN operational regions, we have organized a series of Summer Online Briefing Sessions on the Response to COVID-19 in the Middle East for CCHN Community Members and open to the public who have experience in the related topics below.