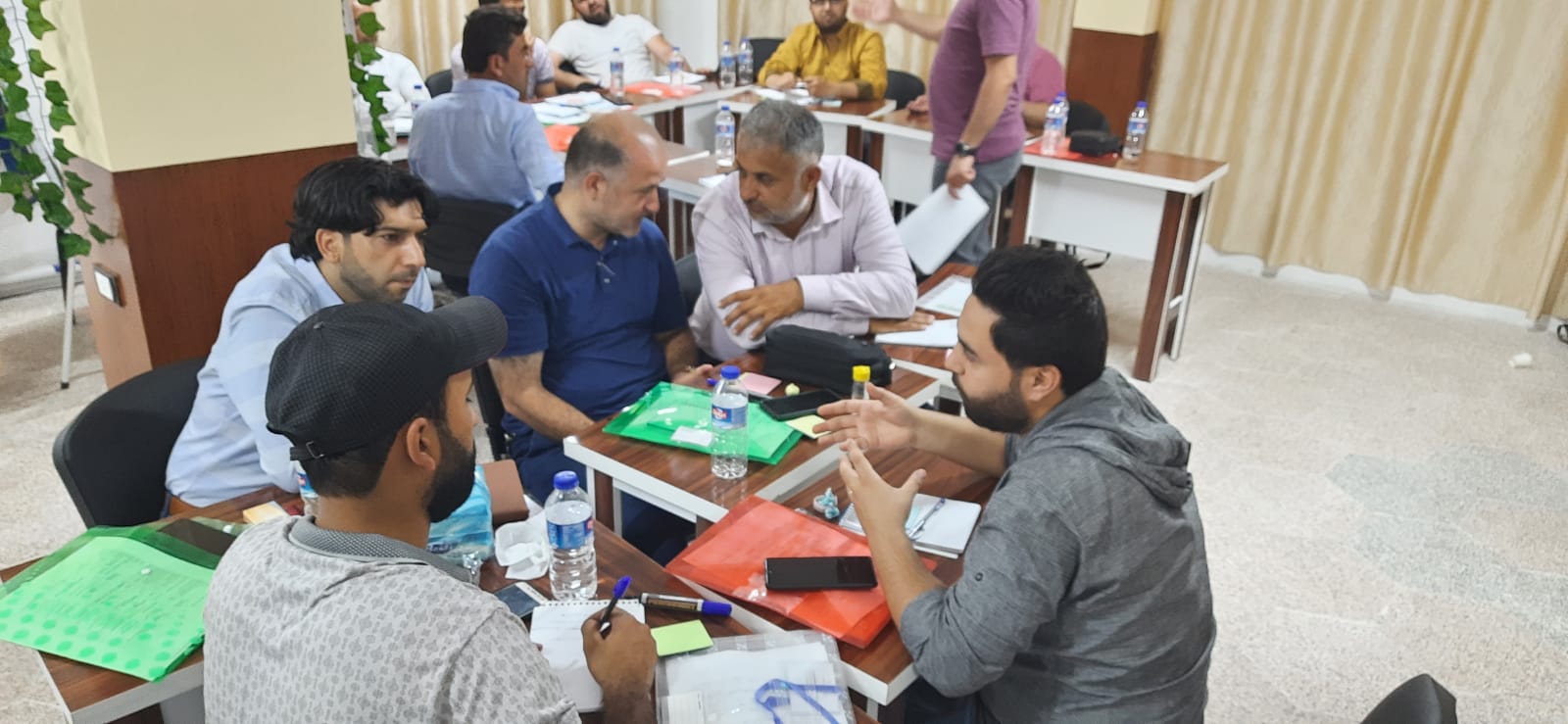 Humanitarian professionals share negotiation stories and learn how to use negotiation tools during the CCHN Peer Workshop held in northwest Syria. (Photo Credit: Maen/POINT)
In northwest Syria, millions of people have been forced to flee their homes because of armed conflict. Escaping violence, they often settled in camps or sites in territories controlled by armed groups.
For humanitarian organizations and their staff assisting these populations, part of their work means negotiating with the groups who control the territories where these camps are located.
"Access needs to be negotiated and renegotiated again and again on a regular basis."
Saad Rustem,

Project Coordinator in northwest Syria, working for Geneva Call on International Humanitarian Law
So how exactly do you go about negotiating with an armed group? What skills will help you get access to populations in need?
Get your best players together
Negotiating for access brings its own set of challenges, which is why several humanitarian organizations and their partners gathered in Azaz city in northwest Syria for a three-day workshop on humanitarian negotiation from 27 to 29 July 2021.
The event was organized by the International Organization for Migration (IOM) and the Centre of Competence on Humanitarian Negotiation (CCHN), in collaboration with the United Nations' Office for the Coordination of Humanitarian Affairs (OCHA) and Geneva Call.
The organization POINT hosted the event with 29 senior humanitarian staff from 23 different humanitarian organizations working in northwest Syria and four CCHN facilitators who gathered onsite. Four additional CCHN facilitators followed the event online.
Each organization brought their know-how to the workshop. Their staff shared their negotiation experiences to better learn how to negotiate access to populations in need with the best possible outcome.
"In northwest Syria, UN agencies apply a remote management modality, meaning that partner organizations implement project activities, with field staff acting as first responders […]. Hence, building the humanitarian negotiation capacity of field staff is key in safeguarding and enhancing principled humanitarian access and reaching the most affected and vulnerable populations."
Adnan Baghajati, Programme Officer working for IOM in Gaziantep, Turkey
Apply your humanitarian principles
To access populations safely, organizations must comply with humanitarian principles such as neutrality, impartiality, and humanity.
For example, assisting families or wounded people without preference, or solely on the basis of need, shows armed groups that humanitarian organizations can be trusted to not favor one party to the conflict over the other.
Having multiple organizations working in the same region also means that they have different mandates and apply humanitarian principles differently.
Without a united front, armed groups can pit humanitarian actors against each other and choose to negotiate with the organizations that will offer them the most beneficial solution.
"Failed negations leave people in a very weak state as they are deprived of aid."
Mohammad al-Joulack, WASH and Shelter Manager at Arche Nova, CCHN Facilitator
To tackle the question of how humanitarian principles are applied in field work, Anastasya Atassi, Access Support Associate, and Mutaz Banafa, Humanitarian Affairs Officer, both working for OCHA's Access and Civil Military Coordination Unit, joined the workshop remotely from Gaziantep, Turkey.
Having experience working in the field, they explained what access constraints they face in the region and how their organization views humanitarian principles and applies them to their work.
Know yourself better than your interlocutor
Negotiating with someone who understands perfectly how the humanitarian system works puts humanitarian workers in a corner and limits their negotiation power.
Many have asked for additional training in negotiation to be able to keep up with their counterparts.
When armed groups are aware of humanitarian law principles and follow them, such as providing safe access to humanitarian organizations and facilitating their work, civilians are better protected from the devastating effects of civil war.
By familiarizing themselves with international humanitarian law, humanitarian organizations can also support their arguments better when negotiating safer access to populations in need.
Many humanitarian organizations are funded by donors. Donors define with whom a humanitarian organization can negotiate and with whom it is absolutely forbidden to do so. For example, some donors completely prohibit negotiating with designated terrorist groups.
However, how a terrorist group is defined varies from donor to donor. While for some donors, speaking with a member of the -a de facto local authority in the northwest of the country- is an issue, others are more flexible.
When projects are funded by different donors, it leads to a certain grey zone where humanitarian staff do not receive clear instructions on what the red lines are for a negotiation.
Since 2016, the CCHN has been developing a set of practical negotiation tools, including a way for humanitarian organizations and their staff to clearly define what compromises they can make and what is entirely off-limits during a negotiation.
During the workshop, participants shared their own negotiation experiences, which they later applied to negotiation tools, such as how to integrate institutional policies and establish red lines.
Don't miss the next Peer Workshop on Frontline Humanitarian Negotiation!
As they say, two heads are better than one. Participating in this workshop has meant that humanitarian professionals have also had the opportunity to network and build a stronger humanitarian community, online as well as onsite in northwest Syria.
Sharing similar challenges and exchanging about the best solutions to face them creates a stronger sense of confidence in humanitarian workers, improving their negotiation outcomes and assisting those who need it the most.
The IOM, with the support of CCHN, will organize a workshop dedicated especially for senior management staff from 7 to 9 September 2021.
But this is only one of the many opportunities humanitarian professionals have of participating in workshops on frontline humanitarian negotiation, and we have many more coming up!