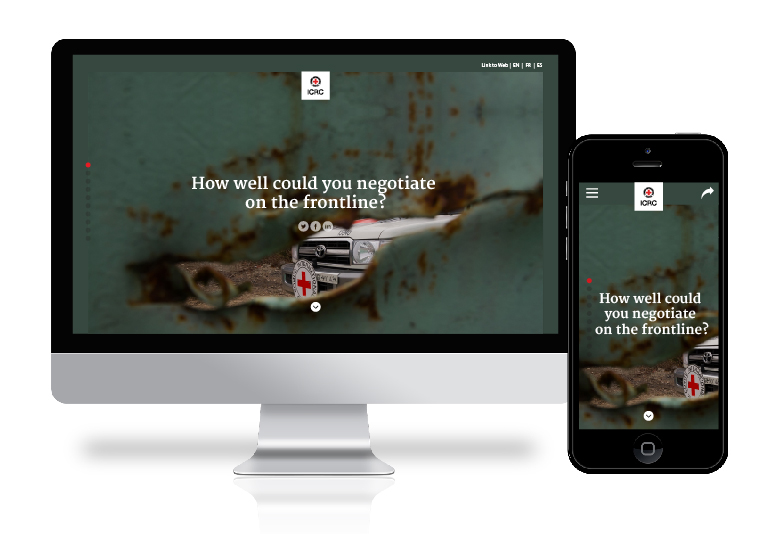 Find out yourself how well you could negotiate on the frontline. (Photo Credit: ICRC)
ICRC launches new interactive storytelling initiative in collaboration with Twitter. The initiative showcases challenges and dilemmas featured in the CCHN Field Manual on Frontline Humanitarian Negotiation.
Humanitarian field teams work tirelessly to protect the lives and dignity of victims of armed conflict and other situations of violence. Their ability to negotiate under pressure and in insecure environments is critical in a humanitarian operation.
"Negotiating access with all parties to a conflict, from regular armies to rebel groups, is how we're able to help victims of war. No access means that we cannot help the most vulnerable in hard-to-reach areas and besieged cities. We are dependent on our ability to negotiate with all parties. If we fail people may suffer or die," said Claude Bruderlein, Strategic Advisor to the President of the ICRC and Director of the Centre of Competence on Humanitarian Negotiation.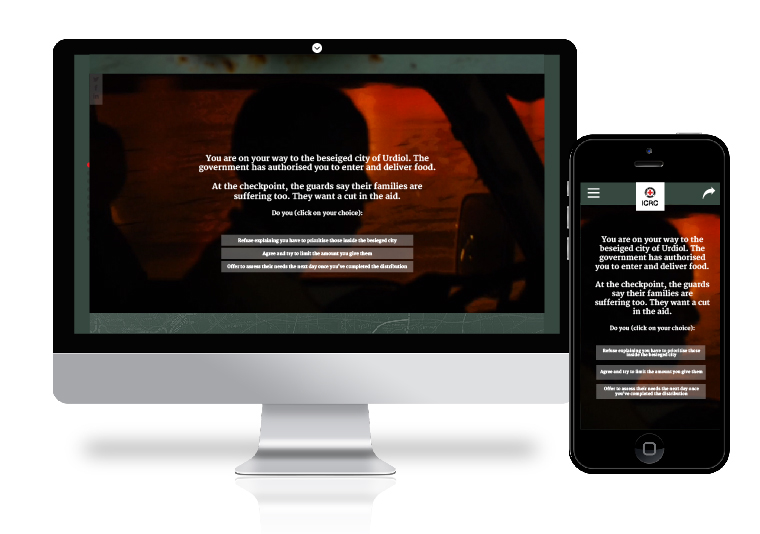 Negotiators face difficult choices when trying to deliver the assistance to the right population at the right time. (Photo Credit: ICRC)
Striking a difficult balance
As the ICRC storytelling initiative shows, negotiations on the front-line are highly challenging and fraught with dilemmas. Negotiators must strike a difficult balance between making an impact, reaching those in need, while remaining safe and keeping humanitarian principles intact. If negotiations fail, people may not receive the assistance and protection they so urgently need.
"Finding an agreement with fighters in a remote village in Afghanistan or the Democratic Republic of the Congo is often an incredibly difficult task and requires specific expertise, instinctive feeling and a lot of experience," added Bruderlein.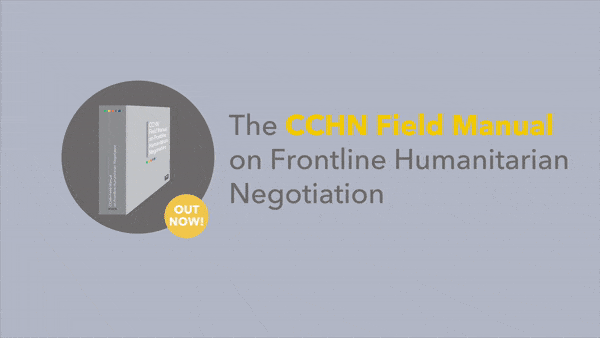 The CCHN Field Manual was launched in the end of 2018 and is available to download to support the frontline negotiators in the field. (Photo Credit: CCHN)
Inspired by the CCHN Field Manual
Since 2017, the CCHN has analysed how humanitarian field teams negotiate and how they devise effective negotiation strategies and tactics. Drawing on these first-hand experiences, it published the CCHN Field Manual on Frontline Humanitarian Negotiation in December 2018.
Although the story featured in the ICRC initiative is a work of fiction, it is inspired by case-studies in the CCHN Field Manual on Frontline Humanitarian Negotiation.
The CCHN is a joint initiative of the ICRC, UN Refugee Agency, the World Food Programme, Doctors Without Borders and the Centre for Humanitarian Dialogue. It facilitates the capture, analysis and sharing of humanitarian negotiation experiences and practices with a view to supporting a more systematic approach to frontline negotiation. It provides a space for multiagency dialogue and intends to foster a community of practice among humanitarian negotiators.
Play the storytelling project