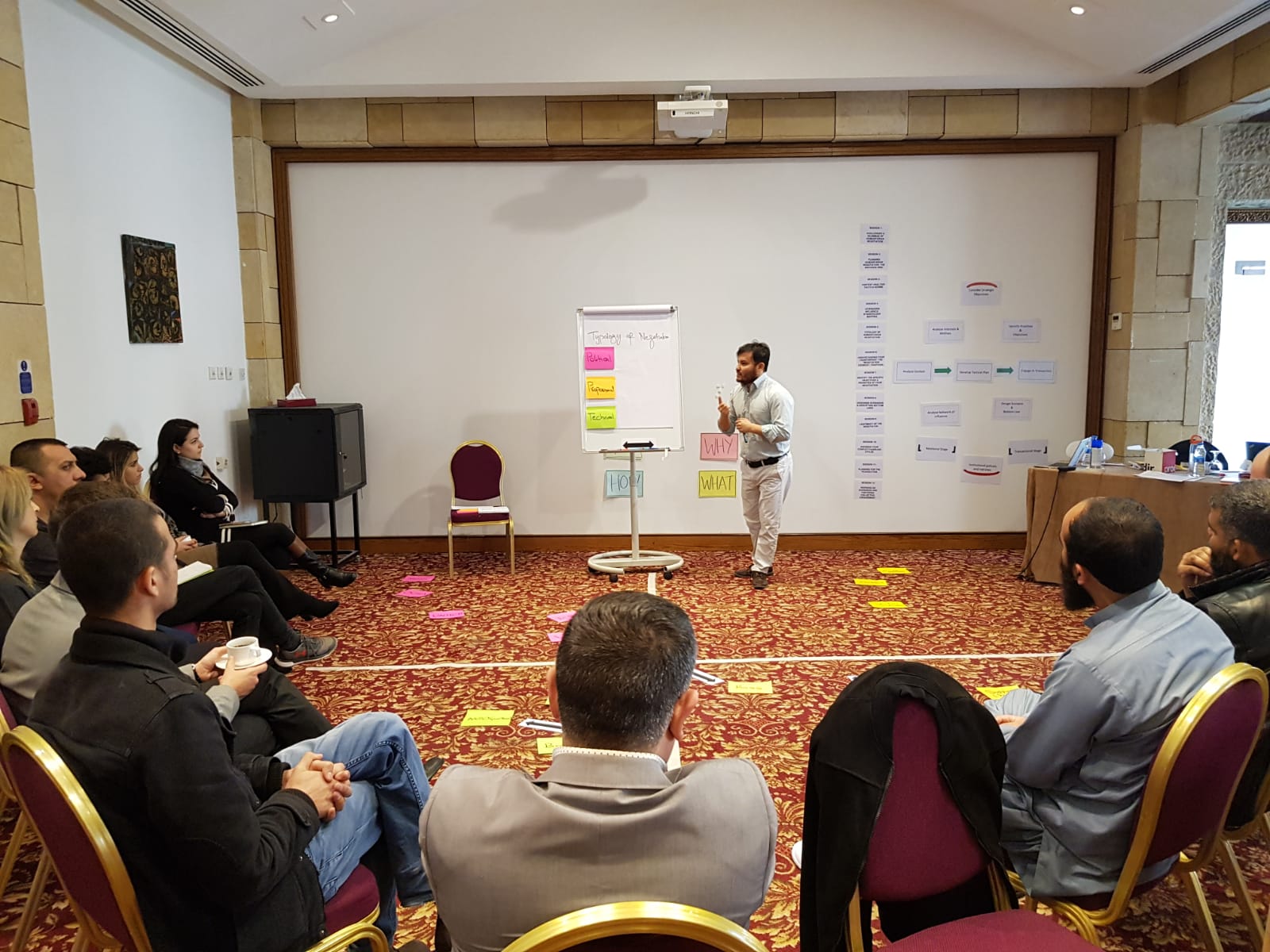 With smaller group, each participant could practice facilitate one CCHN tool and got direct collective feedback from the other participants to improve their facilitation skills. (Photo: Toufik Naili/CCHN)
Starting in 2020, the Training of Facilitators (ToF) programme has a new curriculum designed to give facilitators a deeper understanding of the CCHN negotiation tools and methods so that they can better pass on that knowledge. The new curriculum is the result of recommendations made in a professional consultation, held in Caux, Switzerland, in June 2019, with members of the CCHN's community of practice.
"Because the CCHN is a community-driven initiative, we're always looking for ways to improve our peer-to-peer learning programmes, says Toufik Naili, a CCHN negotiation support specialist on the curriculum. "This new programme better equips facilitators to support their peers, and still teaches them the key skills they need to facilitate round tables and plenaries."
Based on these recommendations, the CCHN asked Bhavesh Patel, a facilitation expert with Initiative of Change Switzerland, to collaborate in designing a programme that would be ideal for maximizing the peer-to-peer learning experience.
"It's a result of what was needed has been evolving. The main objective of the current ToF is that participants have a deeper understanding of the content (CCHN tools and methods) so that they can better explain to and support their peers to learn. They will still learn the key facilitation skills, both as the table and the plenary facilitators." Bhavesh Patel, a facilitation expert with Initiative of Change Switzerland.
The new four-day programme combines the old A and B sessions: rather than focusing on the negotiation tools in one session and on how to facilitate generally in the other, the entire four days will be devoted to facilitating these tools specifically.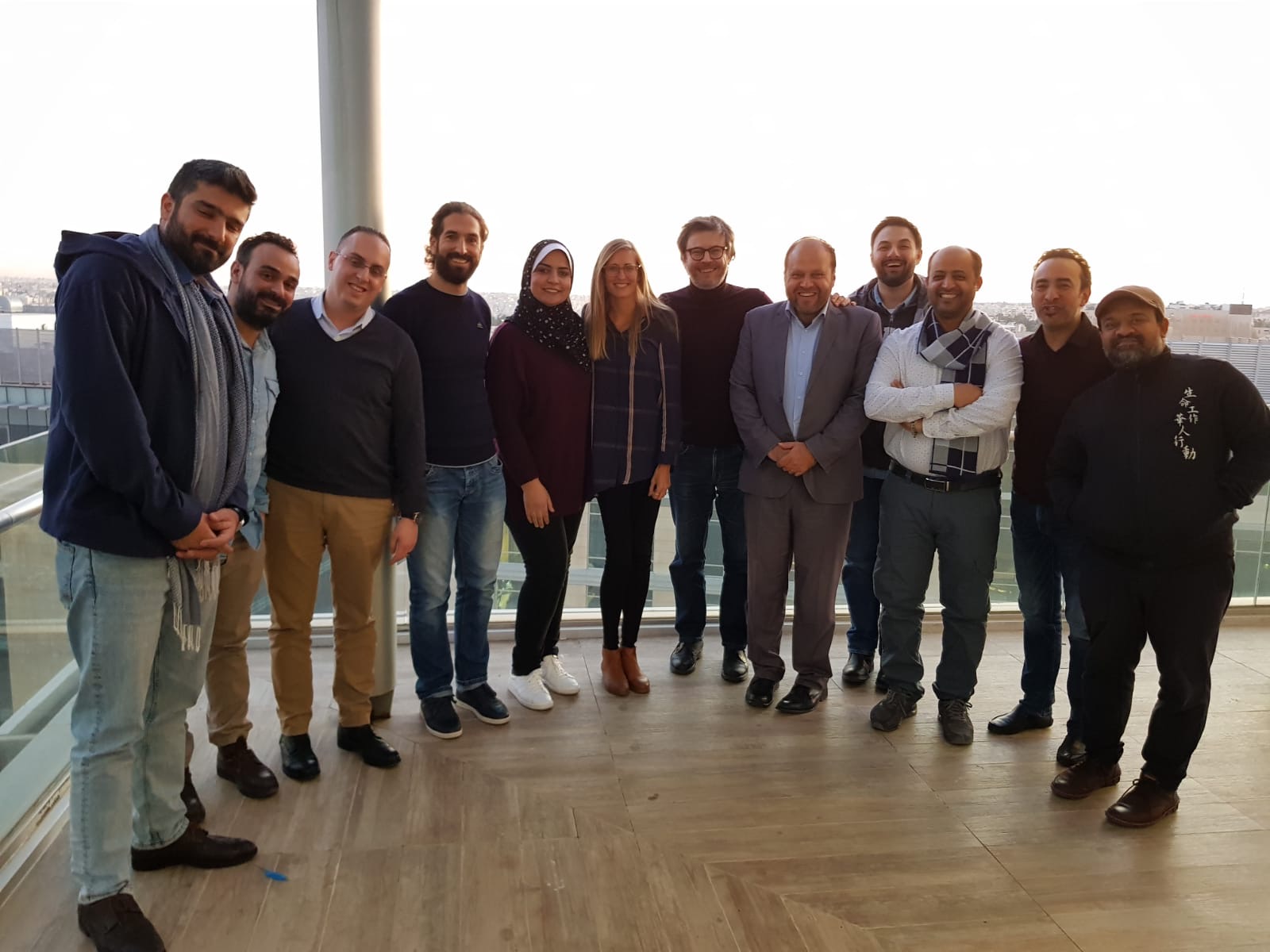 The participants of the new Training of Facilitators on 27-30 January 2020 in Amman, Jordan. (Photo: Toufik Naili/CCHN)
Two trainings already held
The new curriculum has already been used in two workshops, held on 27–30 January and on 16–19 February 2020 in Amman, Jordan for a couple of a dozen humanitarian negotiators from over ten different humanitarian organizations. The number of participants was limited to allow more time for interaction and for each participant to develop their facilitation skills.
The participants particularly appreciated the storytelling session that was added to reinforce the understanding of CCHN materials. They also got feedback from their peers in the training which was helpful to build their facilitation skills.
"This training is very helpful because you have the opportunity to work with others who have experience facilitating in a humanitarian context. The exposure to different styles of peer training helps with bringing together a diverse group and getting the double benefit from facilitators and participants. To those who would like to facilitate, I would recommend reviewing the content beforehand, so everyone is on the same page." Suzanne Alfares, WFP National Programme Policy Officer.
"During the part on round-table discussions, it would be useful to have feedback on the facilitating. It would be a way to get feedback on fulfilling that role as well as an opportunity to learn from each other." Rajaa Halabi, UNHCR Senior Public Health Assistant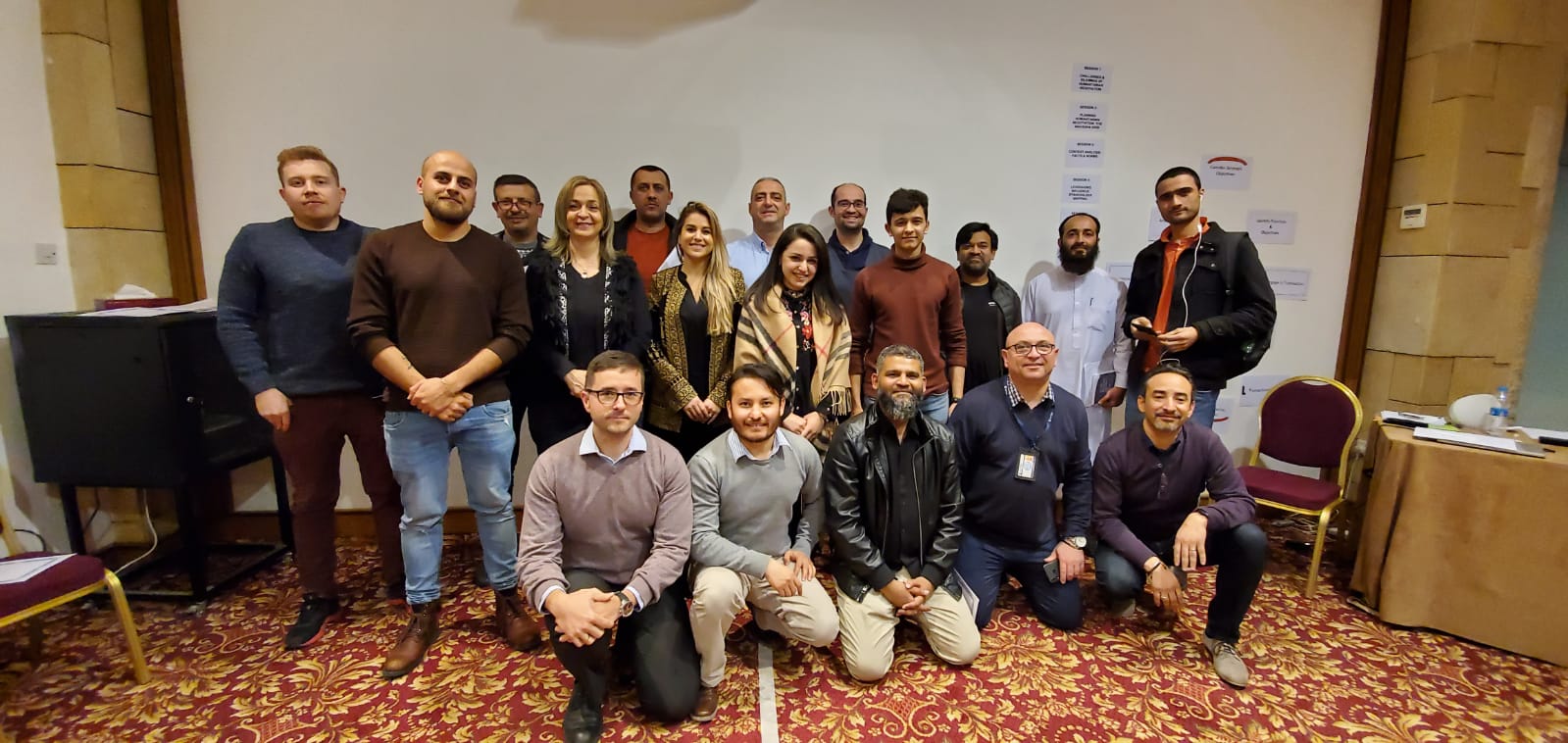 The participants of the new Training of Facilitators on 16-19 February 2020 in Amman, Jordan. (Photo: Toufik Naili/CCHN)
Passing on the knowledge
CCHN's learning model is peer-to-peer learning where the members of the community of practice share experience with each other during workshops to gain knowledge about humanitarian negotiations. By training more facilitators in 2020, the CCHN hopes the new facilitators will offer workshops in the five regions, in addition to facilitating within their organizations.
Some participants have already said how they plan to share their knowledge of CCHN tools and methods, independently or with CCHN support.
"I plan to build a learning programme for UNHCR staff, in collaboration with CCHN, in the different regional bureaus of the organization; I also intend to develop a new training package (a 2–3 hour session) modelled around the concepts and tools used by CCHN (Naivasha Grid) and to introduce it in flagship GLDC–UNHCR learning programmes." Jacopo Giorgi, UNHCR Senior Staff Development Officer.
"I plan to introduce some negotiation tools that my team in the Protection Department can use prior to our detention visits. I am thinking of the iceberg tools and exercises as a start and then following with the baseline tool." Raad al-Husban, ICRC Deputy Protection Coordinator.
CCHN had planned 3 Trainings of Facilitators in other regions until end of August, which unfortunately have to be cancelled due to the COVID-19 pandemic. We have developed ways to deliver safe platforms for discussion on humanitarian responses and negotiations. Currently, we offer different peer-to-peer learning activities on the CCHN negotiations tools and methods under these circumstances through digital activities.