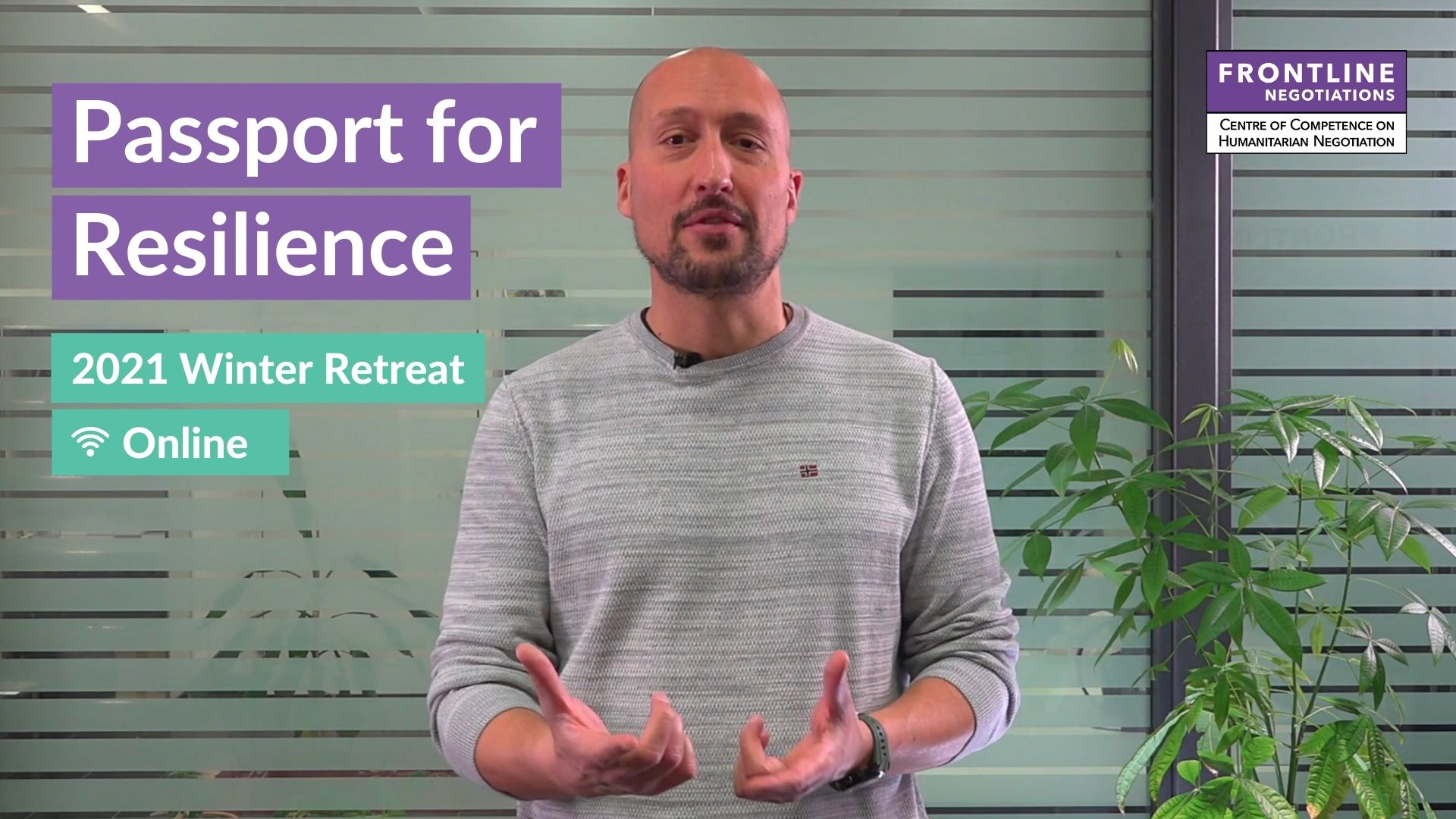 Introducing Passport of Resilience during our Winter Retreat 2021. (Photo: CCHN)
The Centre of Competence on Humanitarian Negotiation (CCHN) organized the 2021 Winter Retreat for community members with a focus on self-care. With sessions from experts in stress management and mentor relationships, the retreat focused on practical tools to improve well-being and the creation of a supportive mentoring community. The retreat was held online between 8 and 12 February 2021.
After two years researching the subject of negotiating under pressure, the CCHN identified an underlying need for practical stress-management resources and a shared space where community members can support each other.
A tailor-made programme
The Community of Care project encompasses individual support in recognition of the fact that these professional negotiators have an incredibly challenging job. This is not only because of the difficult situations they work in and the challenges and dilemmas they face, but also because of the level of personal engagement required to carry out their work.
The project itself is managed by Maude Pittet Nazareno, CCHN Research and Development Project Manager. She carried out interviews and consultations with community members to identify the main factors that help negotiators build their resilience.
"Two main factors (among others) help successful negotiators working under pressure: having someone to back them up, support them or be available for discussion, on a technical level as well as on a human level, and knowing how to lower the pressure for themselves and their interlocutor – be it someone external, from their organization or even a team member – before, during and after a difficult situation," Maude explained
These separated, yet related topics formed the basis for the 2021 Winter Retreat, during which members took part in sessions on how to foster personal resilience and build a mentoring relationship within the CCHN community.
The event was streamed live from Geneva, Switzerland, which made it easier for participants to join online from their duty stations. Two daily sessions were offered as part of the "Passport for Resilience", which meant those working in the field could adapt their schedule to take part in the event. The mentoring programme comprised a single daily session that focused on practical exercises.
"I really enjoyed the winter retreat for three main reasons. The first is that they teach you how to relax by yourself. The second is that humanitarians don't always have access to this kind of professional service. And finally, it was very interesting to be in a zen environment with other people, to exchange and relax and not only talk about work. I can only recommend this retreat to all of you. When you want to help others, you need to feel good yourself. So just try it! You deserve it too," Stéphanie Ferland, CCHN Thematic Consultant described.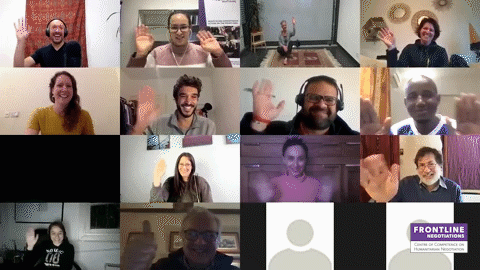 Even though the whole Winter Retreat 2021 was organized online, our community members we still fully engaged. (Photo: CCHN)
Using breathing techniques to reduce stress
Vincent Hurner, a criminologist and therapist, led the two daily Passport for Resilience modules in the mornings and afternoons. During these sessions, he presented a methodology designed specifically for humanitarians working in volatile and stressful environments. To build their resilience, Vincent presented practicable tools to help them become more aware of their internal processes, to prevent acute stress and to help lower the tension during a negotiation.
Sylvester Eromosele, third-party mediator, Society for Peace Studies and Practice, Abuja, Nigeria reflected, "I used to have difficulty preparing myself before going into a negotiation, but after taking part in this programme, I understand the skills that can make you calm inside, which are essential for a negotiation. I also learned how to negotiate an approach with a counterpart without being left in the dark,"
During the sessions, participants were given guidance on how to put the tools into practice and they experimented with what works best for them. They experienced the connection between body and breath and learned how to use this as a method to manage stress and find a more relaxed state, even when under pressure.
"I negotiate daily with various counterparts. During this workshop, I realized I was not giving any attention to my body, so learned how to control my breathing in order to heal myself, feel energized and control my emotions, and how to keep listening to my body during a stressful negotiation. Now that I know how to inhabit my body with my breath, I can follow my breathing, whatever I am doing – walking, working, writing emails, sitting, negotiating or enjoying my life – and this helps me relax," Suna Aweida, Access and Liaison Officer, UN Access Coordination Unit, Jerusalem added.
Finding the perfect match
"What is a good mentor–mentee relationship?" Participants of the mentoring programme set out to answer this question under the guidance of Émilie Biare, a project coordinator with Médecins Sans Frontières and also the instructional designer and facilitator of the mentorship programme.
The programme will be trialed over a six-month period. Designed and informed by members, it aims to establish a community support system and comprises 90-minute daily sessions over the course of a week.
At the beginning of the week, participants set their expectations for the programme and established a jointly agreed set of rules, such as sharing feedback for improvement, encouraging interaction and practising active listening.
With this in place, participants then carried out a role-play exercise, taking it in turns to play the role of mentor, mentee and observer. They also spent time considering what being a good mentor means. Finally, during the last session, participants joined two groups focused on different aspects of the programme: how to put everything into practice and how to define a framework – such as a code of ethics – for this type of relationship.
Members of the mentoring programme will come together in June for the 2021 CCHN World Summit, which will be live-streamed from Caux, Switzerland. During the summit, participants will talk about their ongoing mentoring relationships and they will continue to shape this pilot programme. A second round of the mentoring programme will take place shortly after the summit.