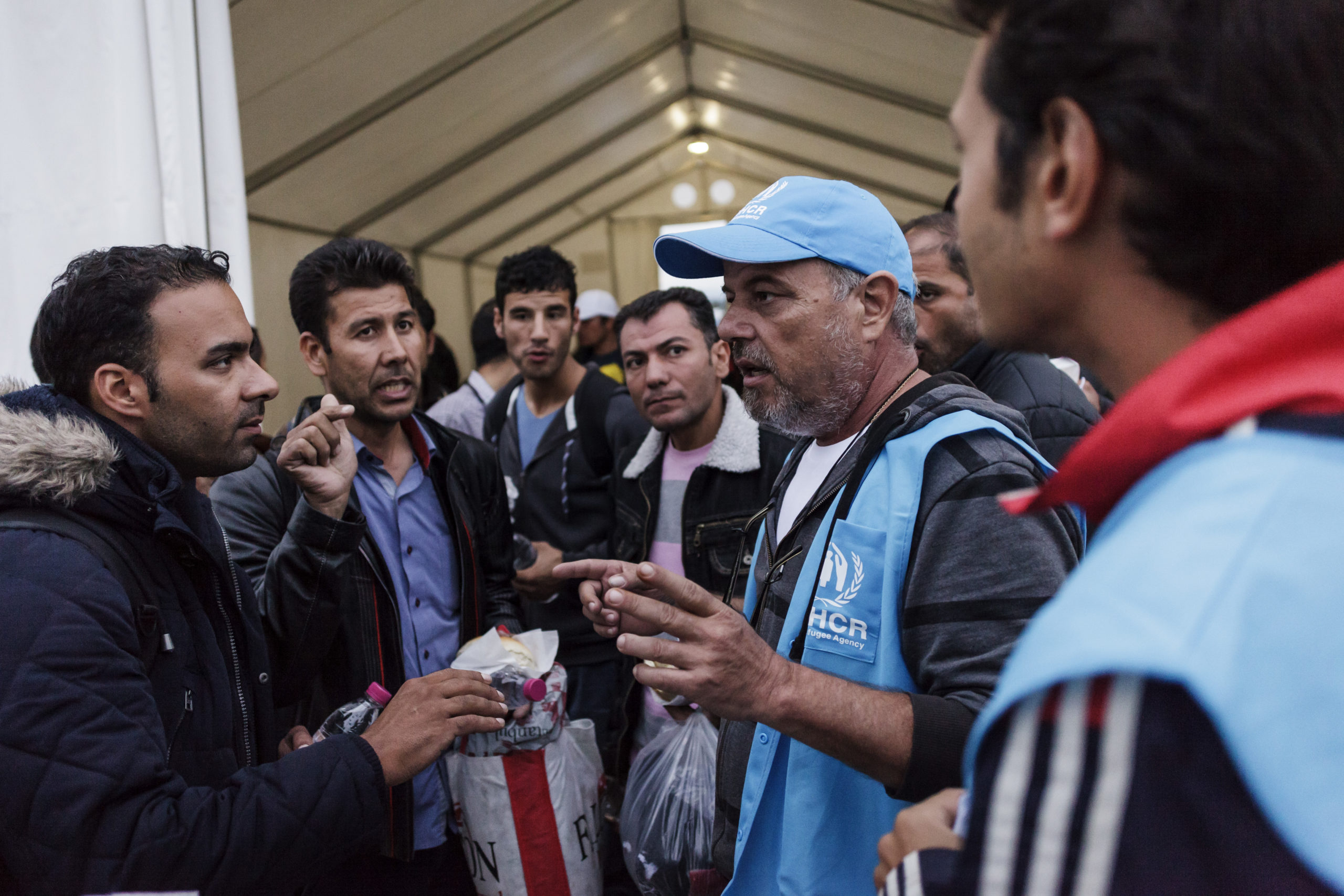 Greece. Refugees and migrants waiting at the Idomeni transit station to cross the Greek-FYROM border in to the former Yugoslav Republic of Macedonia. Photo credit: UNHCR/Achilleas Zavallis
When thinking about "humanitarian negotiation", the first image that comes to mind is often that of humanitarian workers negotiating their way through a check point or reaching a compromise with a government representative, local authority, or members of an armed group.
This is not always the case, though: humanitarian professionals work in a wide range of contexts and sometimes need to negotiate with different types of counterparts, including local communities living in a crisis-affected region… or even the very people they are aiming to assist.
This would be the case, for instance, when negotiating with a local mayor to extend a city's electricity to the neighboring refugee camp, or when host communities block the road to a refugee camp.
Humanitarian negotiators may face specific difficulties when their counterparts are displaced persons, migrants, refugees, or again a member of the community hosting them.
The Centre of Competence on Humanitarian Negotiation (CCHN) gathered experiences of skilled frontline negotiators working in settings where migration is taking place. Keep reading to find out what these professionals believe are the ten most important strategies when negotiating assistance for (and with) people on the move.

You've learned some tips to negotiate in the context of migration. What now?
Negotiating at the frontlines remains a complex challenge for many humanitarian practitioners. If you still feel the need to learn more, the CCHN provides several tools to support you as you plan and implement your negotiation strategy:
Our manual draws on the experiences and perspectives of hundreds of humanitarian practitioners. It offers a set of practical tools to plan and prepare negotiation processes for the purpose of assisting and protecting populations affected by armed conflicts and other forms of violence.
The CCHN's "Peer Workshops" provide a safe space for sharing negotiation experiences, acquiring new skills and learning from other practitioners. The CCHN organizes several workshops every month, both in person and online, entirely free of charge. All the practitioners who complete the workshop become part of the CCHN Community of Practice, a group of professionals who share a passion for humanitarian negotiation and support each other through all kinds of negotiation challenges.
If you are a field practitioner involved in a negotiation process, maybe you're facing many of the challenges and dilemmas we described in this article. Get in touch with the CCHN and tell us more about it – we'll provide additional information on the tools and methods available to support you.