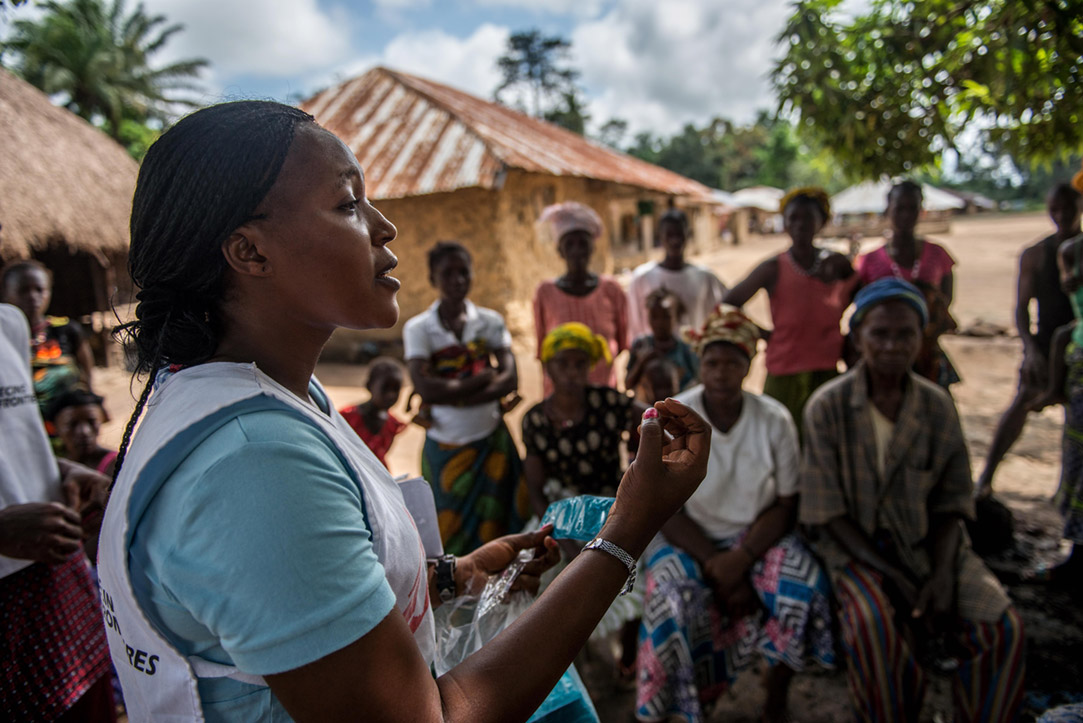 An MSF female health promoter talks to villagers about health issues to treat survivors of Ebola who still suffer from physical, social, and psychological problems after beating the virus in Kumrabai, Sierra Leone. (Photo: Tommy Trenchard/MSF)
Historically dominated by Western men, the humanitarian world has become much more diverse in the past decades. To better support field practitioners, the Centre of Competence on Humanitarian Negotiation (CCHN) is committed to exploring this diversification and its impact on frontline negotiations.
In an interview series with female negotiators from our Strategic Partners and other humanitarian organizations, Fiorella Erni, CCHN Negotiation Support Specialist – Middle East, explores the career paths of some of the most influential and diverse women in the humanitarian sector and discusses the challenges and opportunities they have faced negotiating in the field. The conclusion is clear: although gender stereotypes can be present in the dynamics of a negotiation, the combination of a negotiator's personal identity and the skills of her and her negotiation team far outweigh questions of gender. Conducting a successful negotiation is about being respectful, understanding the local context and culture, preparing, and, most of all, focusing on the beneficiaries. 
Stay tuned for this article series if you are curious to read more about what Liesbeth Aelbrecht (former General Director of MSF Operational Centre – Geneva), Joyce Kanyangwa Luma (Director of Human Resources at WFP), Bernadette Castel-Hollingsworth (UNHCR Deputy Director of the Division of International Protection), Dr. Asha Mohammed (Secretary General Kenya Red Cross) and Parvathy Ramaswami (Humanitarian Coordinator a.i. & Deputy Country Director, WFP Afghanistan) have to stay about diversity in frontline negotiation, challenges, secret weapons, role models and advice for female frontline negotiators. If you are a CCHN community member you can reach the full interviews in our mini-blog series on CCHN Connect.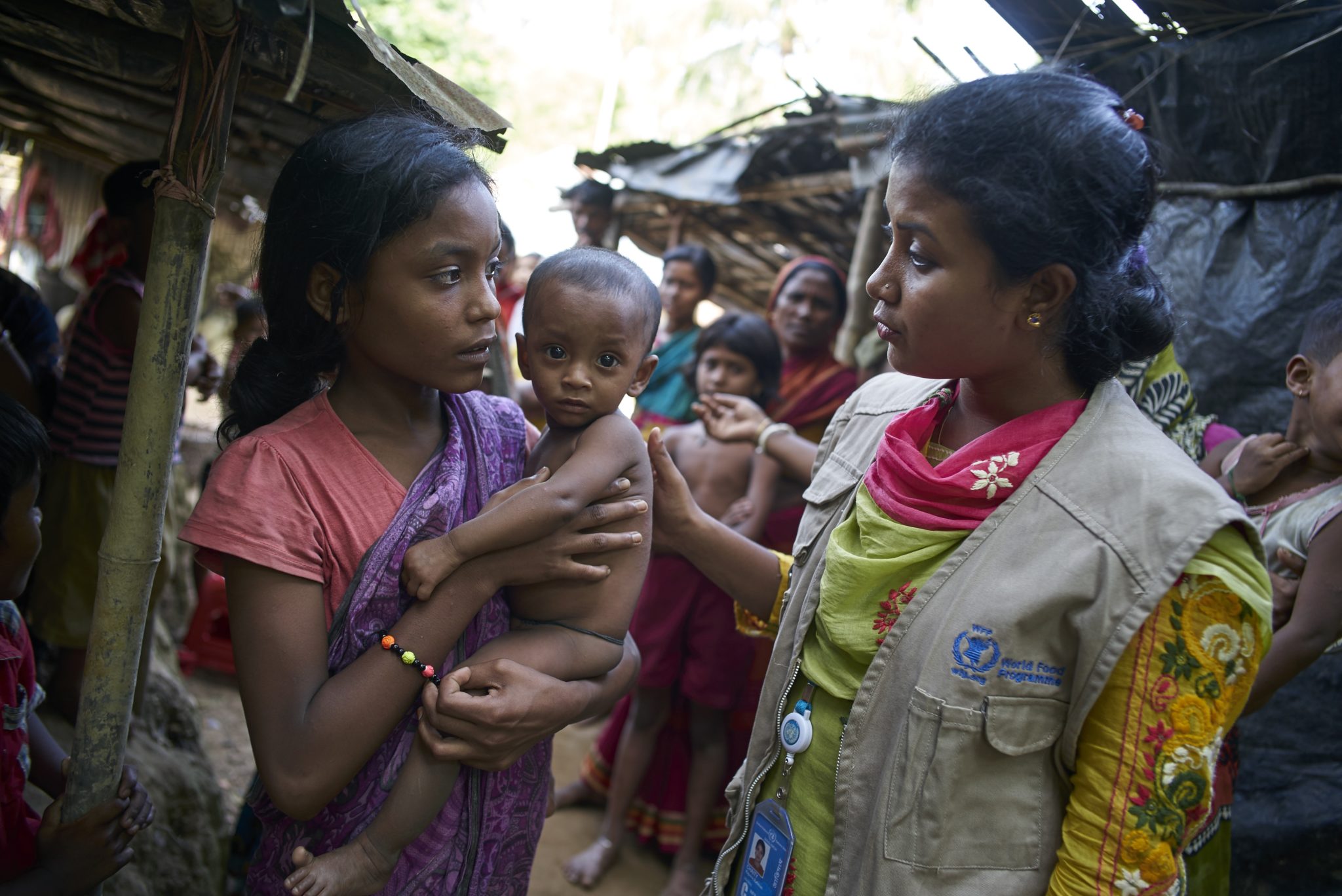 A female WFP field staff speaks with a Bangladeshi who holds her sister who suffers from malnutrition in Harasia Village of Rajapalong Union in Cox's Bazar District, Bangladesh. (Photo: Shehzad Noorani/WFP)
About CCHN's Research on Diversity in Humanitarian Frontline Negotiation
In 2018, the CCHN carried out a study to determine the role of diversity in humanitarian frontline negotiations, drawing out key themes, perceptions, and biases. Later the same year, we held a panel discussion on the subject at our Annual Meeting, in which the speakers highlighted the need for multi-faceted and culturally sensitive approaches to humanitarian crises. The issue of gender diversity came into sharper focus at our 2019 Community Assembly in Naivasha, which led to a peer circle discussion on the challenges and opportunities of being a woman negotiating access for humanitarian operations in the field in June 2020. This peer circle discussion kick-started our interview series on Legitimacy, Diversity, and Women Negotiators. 
CCHN will continue the conversation on the topic of diversity in frontline negotiations and empower local and international humanitarian workers through our peer-exchange events. We also encourage more women to take part in our workshops, designed to build skills and knowledge in preparation for negotiations in the field.