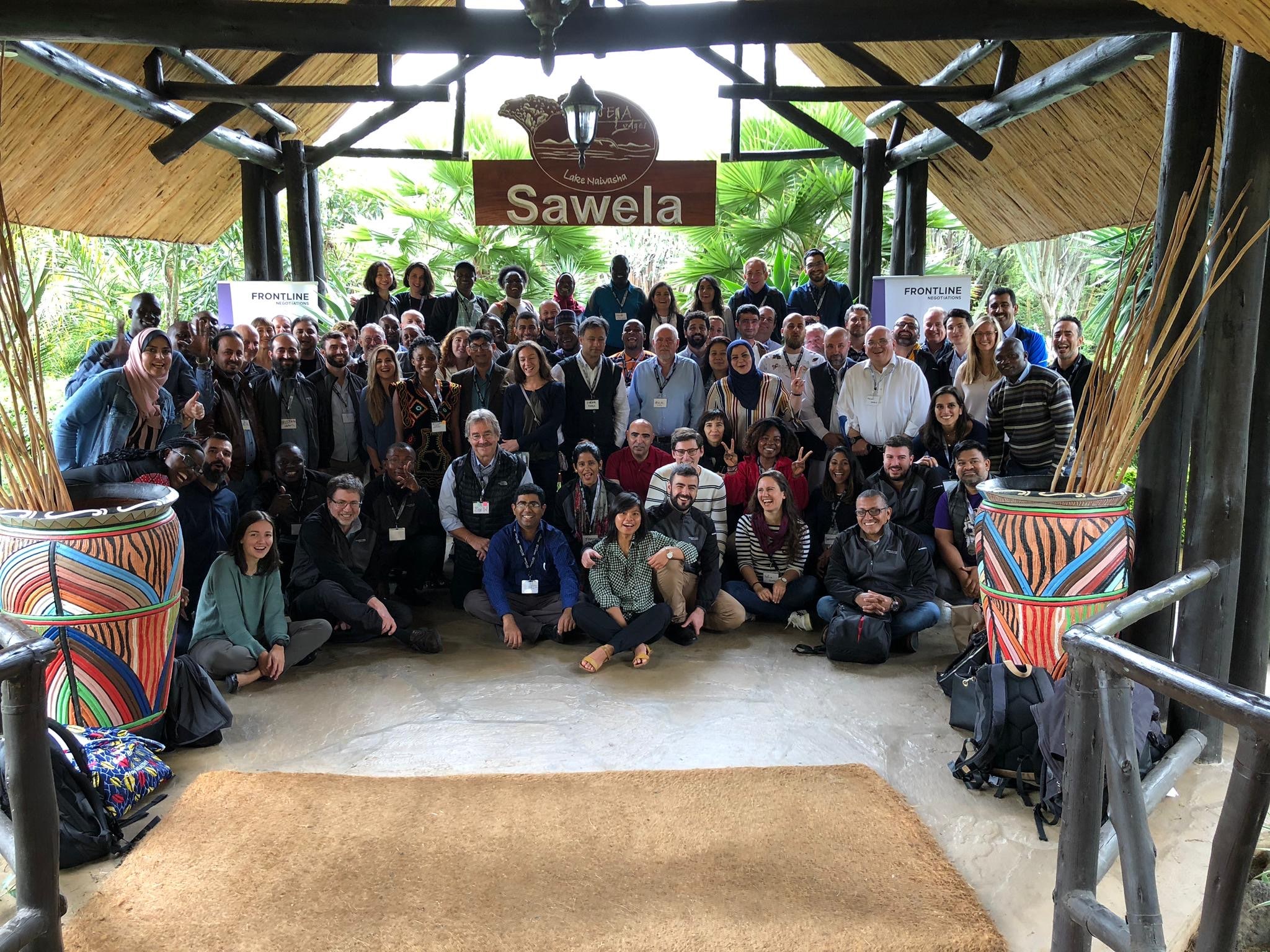 CCHN's first Community Assembly in Naivasha, Kenya. (Photo: Andreas Kaufmann/CCHN)
The first CCHN Community Assembly took place in the birthplace of the Naivasha Grid.
In 2014, the ICRC held an informal meeting of 24 seasoned front-line negotiators in Naivasha, Kenya. The aim was to identify common features of humanitarian negotiation practices. That gathering led to the first iteration of the Naivasha Grid, an analytical tool for planning and reviewing humanitarian negotiation processes.
Since then, the Naivasha Grid has been adopted and further developed by the Centre of Competence on Humanitarian Negotiation (CCHN), a joint initiative of the International Committee of the Red Cross (ICRC), the United Nations High Commissioner for Refugees (UNHCR), the World Food Program (WFP), Médecins sans Frontières (MSF) and the Centre for Humanitarian Dialogue (HD). It has served as the main framework for analysing and reviewing negotiations in CCHN activities worldwide.
CCHN director Claude Bruderlein (second from right), with senior ICRC managers Pascal Daudin (retired), Pascal Cuttat and Ishfaq Khan (from left to right) who had worked on the first iteration of the Naivasha Grid in 2014. (Photo: Agusmia Putri Haerani/CCHN)
The Community Assembly was designed to promote solidarity and engagement among field practitioners who have so far played a key role in developing CCHN's community of practice and leading CCHN activities in the field.
CCHN Head of Operations Joëlle Germanier described the event as an opportunity to "bring together and empower community members towards their role as facilitators, mentors and ambassadors of the CCHN within their organization and local communities." Jöelle saw this as a chance to "channel their participatory energy by inviting them to share their vision and perspectives about the future of the CCHN community."
Participants played an active role in all sessions. (Photo: Agusmia Putri Haerani/CCHN)
Fostering ownership and commitment
Participants were in the driving seat of this three-day gathering. Facilitation expert Bhavesh Patel, from Initiative of Change Switzerland, helped the CCHN to design and prepare the assembly. He explained that the aim was to "put the community into an increasing leadership position."
The gathering allowed each participant to be closely involved in each session, to maximize their sense of ownership and commitment.
They told stories, shaped conversations, shared self-care tips and facilitated sessions themselves. Building on their knowledge and field experience, they reflected on how they could best support further the development of negotiation tools and methods relevant to their daily work in armed conflicts.
Alhadi Albaridi is a Humanitarian Affairs Officer with the UN Office for the Coordination of Humanitarian Affairs in Syria. "I'm glad that CCHN has created this positive atmosphere that allowed me to meet and interact with many experienced humanitarian workers around the world," he said. "It's very important for me to hear from others and try to implement tips and methods used in other contexts."
Community members learned from each other by sharing their own successes and failures. "I hope CCHN will continue further providing a safe place for humanitarian negotiators wherein they are never judged, only welcomed, supported and respected," said Robert Weibel, director of the Centre for Experiential Negotiation and Applied Diplomacy, who facilitated one of the competency-development workshops on negotiation skills.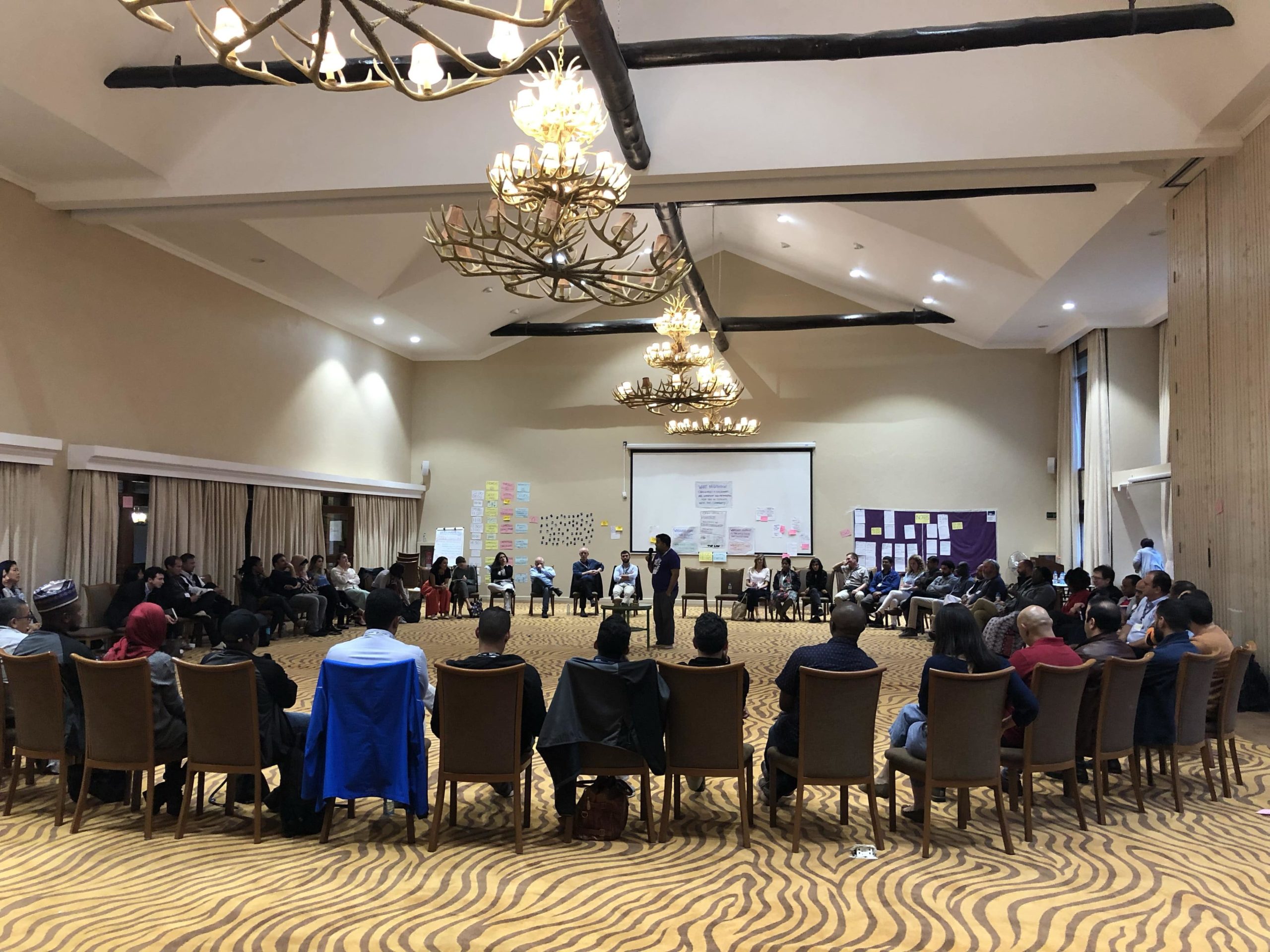 Solving operational challenges in a peer discussion based on Open Space Technology, with Bhavesh Patel. (Photo: Agusmia Putri Haerani/CCHN)
Building capacity and elevating peer support
On the second day, participants could choose between five capacity-development workshops. Facilitated by leading experts in their fields, these workshops focused not only on developing specific negotiation skills but also on fostering mentorship and leadership.
One participant described the session with Emily Biare on coaching and mentoring as "a real eye-opener. Not only for what mentoring is and could achieve but also in terms of the substantive discussion I had with my peers. It was basically a moment of epiphany."
Participants took part in thematic conversations on themes ranging from crisis negotiation, humanitarian containment and confinement measures related to migration, to value chain diplomacy for humanitarian diplomacy and partnerships.
"As an individual who has been working for some time in many different settings, it was a privilege to have met so many honest and talented practitioners. The transversal aspects were illuminating. We all know that operations are 'context specific', but there's so much we can learn from experiences from others," said Peter Scott-Bowden, WFP Senior Adviser to CCHN.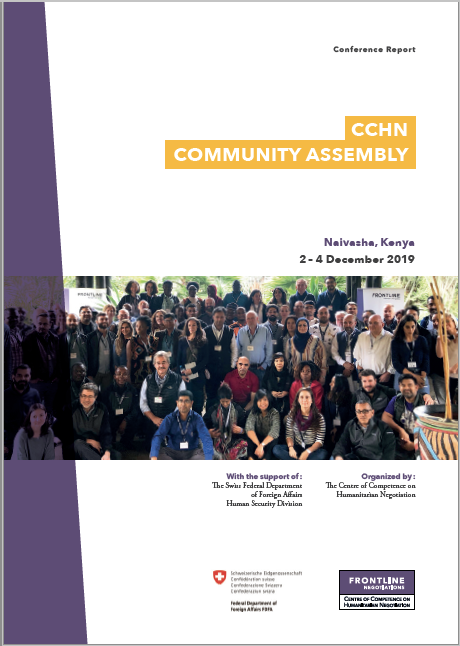 Conference Report
This report summarizes reflections and recommendations of participants of the first CCHN Community Assembly in Naivasha, Kenya from 2–4 December 2019.
Download